Friends! After sharing Bachelorette Weekend Recap No. 1 with y'all last week, I'm giddy to be back with more photos (thank you, John!) and stories from the best weekend ever with my favorite girls, my favorite brand and in my favorite place. #KatesLastSplash
There were many moments of my bachelorette weekend that made it incredibly special, but I think my very favorite part of the weekend was the setting… my very favorite place in the world, Seaside, Florida!
Many of you know this, but my family and I have spent a week in Seaside, Florida every summer for as long as I can remember. Right next to Seaside is the town of Watercolor, which is pretty much the exact same concept! Pastel homes, front porch swings, all the charm of Seaside that I hold so dear. The main difference? The homes tend to be a bit more expansive there. (Perfect for large groups!)
So when Lilly Pulitzer decided to make my dream bachelorette weekend come true by bringing my friends and I to the land of sunshine and sandy floors, I knew it was going to be amazing. What I never could have guessed, however, was just how gorgeous the home we'd all get to stay in would be!
The incredible team at Sanders Beach Rentals completely blew us away by putting us up in our own little Watercolor paradise… One in a Vermillion! Talk about southern hospitality, am I right?
Today, I'm thrilled to share some beautiful imagery my wedding photographer John captured of this beautiful home. So grab a cup of coffee and get ready to scroll, then head to the end of the post for more details on our stunning stay. Don't forget, you can use the code "BeachPlease" for 10% off any Sanders Beach Rentals property!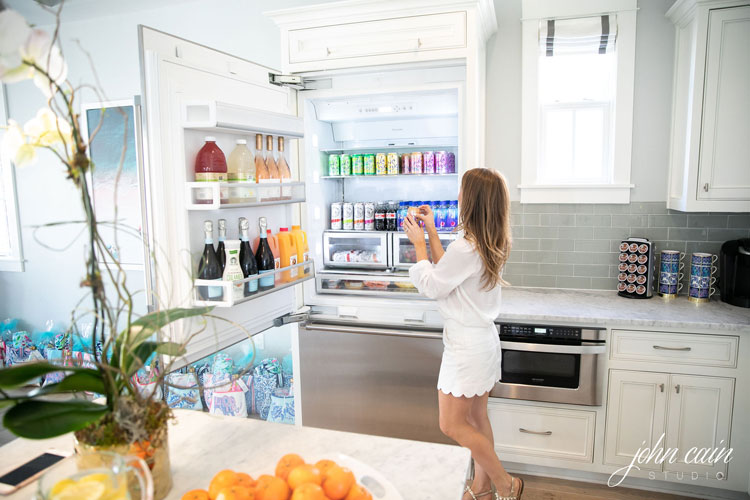 To put it in a nutshell, spending a weekend in One in a Vermillion was a total dream. When my sister and I first walked in on Thursday afternoon, we could hardly breathe. Picture gorgeous windows, dreamy, neutral furnishings, and our favorite part… a living room that opens up completely to the back patio! With the weather being perfect all weekend, we kept that back wall open the entire time.
The Lilly Pulitzer team decorated the entire house in Lilly… from patterned pillows on every chair and seat cushions in the living room to wine glasses, cups and champagne flutes in the kitchen. Don't even get me started on the unreal candy bar they set up. They made sure to stock up on all of my beach favorites… Swedish Fish, mini york mints, peanut butter M&Ms, and sour patch watermelons!
They even set up an accessory bar filled with gorgeous statement earrings, and put together the most adorable welcome bags for every girl! We were completely spoiled, to say the least, because the Sanders team also put together gift bags for each of us. Did you see the huge assortment of goodies they packed into my cooler?! To die for!
I received tons of questions about these Lilly Pulitzer welcome bags, so I thought it would be fun to show you all the details. Everyone was so excited to open these up, and we ended up using our totes, towels and swell bottles all weekend and especially during our time at the beach Saturday! Feel free to click directly on a product to shop it.
Eight out of my twelve bridesmaids were able to make the trip, so before everyone arrived, my sister and I went around and placed name signs on each of the seven rooms (yes, seven!) so no one had to fret about finding a bed. Steele and I slept in the master, and it was the most beautiful room I think I've ever been in. Just look at this view I had one morning! And yes… that is a swinging daybed on the private porch. Can you even?!
Calling One in a Vermillion home for the weekend was a dream come true, and I can't thank the Sanders Beach Rentals team enough for hosting us so generously! My girls and I are already dreaming of a reunion, and honestly, is it too soon to start planning? If you're looking to head to Watercolor, be sure to check out their stunning homes here! These would be perfect destinations for multi-family trips, friend reunions and so much more. Again, don't forget to use the code "BeachPlease" for 10% off your rental!
Now that we have set the stage for the weekend, I can't to fill y'all in on all of the fun Lilly Pulitzer planned for us on Friday! See you tomorrow for more details! :)
Love from Texas,
Kate
Photography by John Cain Photography