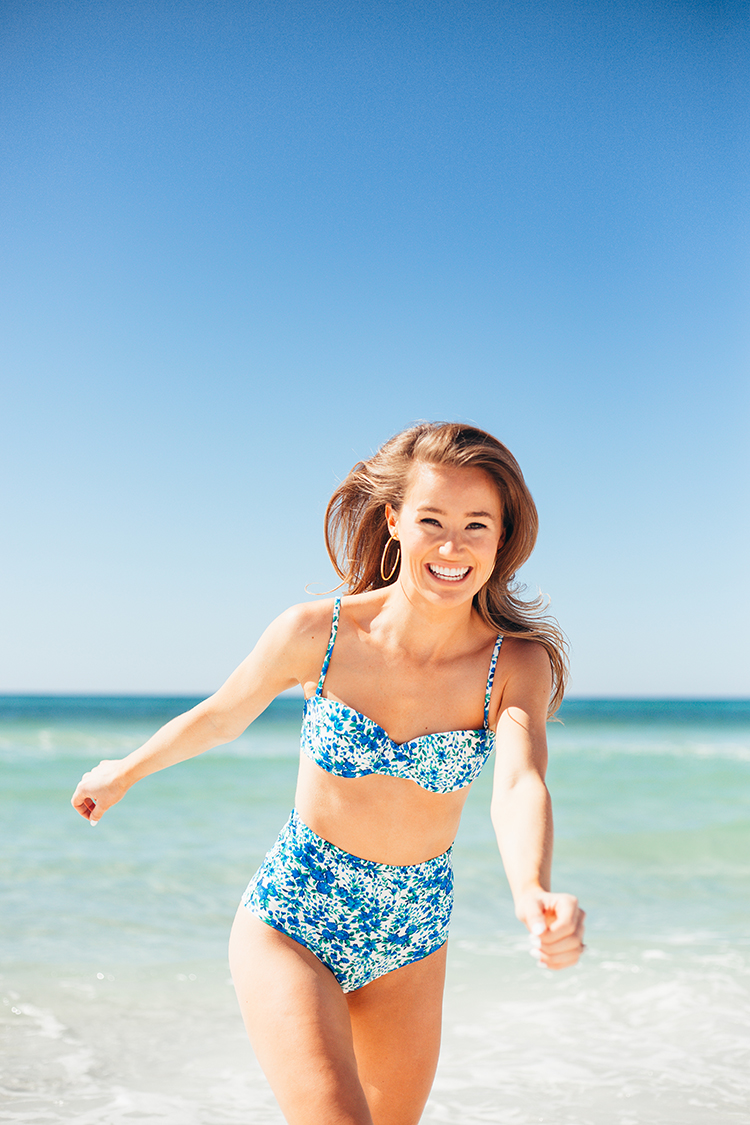 TOP j.crew bikini top | BOTTOMS j.crew high waisted bikini bottoms | EARRINGS gold hoop earrings | SANDALS white sandals
Last week, I got my very first taste of salty air and sandy beaches, and my goodness did it feel amazing! Springtime is here, y'all, and with it all of the spring break fun in the sun that makes this my favorite season of the year!
It also means swimsuit shopping season is here, and today I am truly giddy to be partnering with J.Crew one of my absolute favorite brands, in sharing their incredible swim collection!
Just last weekend at my bachelorette party, my friends and I started talking about the always-arduous swimsuit hunt. I mean really, who enjoys the process?! We were sharing horrible swimsuit shopping stories, laughing/grimacing about the super high-cut style that's so in right now, and quickly started talking about our love for the J.Crew swim line!
You can fact check me on this, y'all. My friend Julie literally exclaimed, "I swear, J.Crew is really the only place I shop for swimsuits anymore!" (She was wearing this bikini at the time.) Another friend, CA, jumped in with how much she appreciated the "long torso" options available in some of the one pieces. (She had on an adorable eyelet one-piece from last year.) We all agreed… J.Crew swim is the best.
And it is, don't y'all agree?! From the adorable, classic prints to the tastefully on-trend silhouettes, J.Crew is always the first destination I head to for swimsuits. Not only that, but the styles are always so timeless that I end up wearing them year after year. Here are a few J.Crew swimsuits I own and love from past seasons!
This spring, they have so many adorable styles out! I had a hard time choosing just one for this post, but couldn't say no to the beautiful blue hues in this tasteful two-piece. It was just made for the pristine cerulean views of Seaside, Florida, don't you think?
Here are a few of my other favorites I'm loving at the moment!
two piece favorites
one piece favorites
For those of you packing up for spring break or planning your summer getaway, start your swimsuit search here. Something tells me you're going to find lots of fun favorites!
Love from Texas,
Kate
Thank you, J.Crew, for sponsoring this post!