A few weeks before the wedding, I posted about the process of designing my dream wedding reception with Porch Event Decor. Today, I'm absolutely thrilled to share the finished result with y'all!
It wasn't until I sat down with the Perch team that I realized how much you could do with a reception. That's one of things that most surprised me during wedding planning… I had no idea that there were such things as "stage facades," or that you could bring in furniture to bring a theme to life. It was a whole new world to me, and one of my very favorite parts of planning!
Needless to say, I couldn't believe how everything came to life so perfectly. My dream of a classic, southern wedding (with plenty pops of pink, of course) was so much more than what I had imagined throughout all of those months of wedding planning. Even the downpour that took place that evening couldn't damper it!
You've already see our rehearsal dinner images and our wedding ceremony images. Today, I'm so excited to share our reception decor images with you! Soon, I'll be sharing our dance party images, along with details on all of the "party props" we used and our menu! I'm hoping that breaking the night up into these categories makes our wedding easy to follow and enjoy!
Without further ado, welcome to our wedding reception! Be sure to stick around to the end of the post to read about all of the details Perch Event Decor brought to life!
our wedding reception decor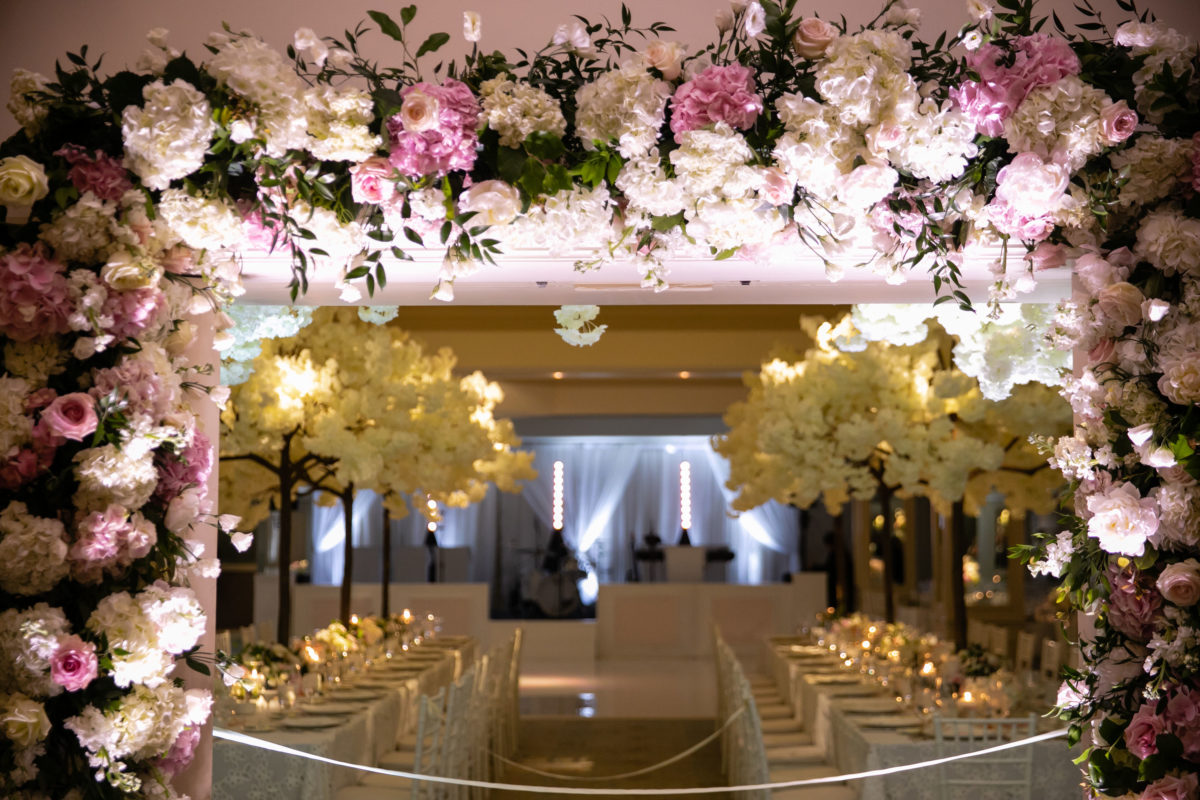 For a full list of our wedding vendors, click here.
Oh, what a night.
Our reception took place at Northwood Club, which was so special to me since it's the very same country club my parents had their reception at years ago! It's a beautiful space, and we laid out the flow of the reception to take advantage of the beautiful, window-lined sunroom and gorgeous patio that looks over the golf course. With a June wedding, we knew we'd have sunlight well into the evening and hoped we'd catch a sunset as dinner ended!
When I first met with the Perch team, we went over the layout and I explained my "vision." We played around with pillows, looked at different furniture options, and finally decided on the perfect combination of pieces to translate my classic, southern theme. Here's a look at everything we used!
Bar & Stage
Surprise, surprise, I wanted the look of everything to feel very fresh and light. The Hampton Bar Facades provided just the look I was going for. I immediately fell in love with the timeless look!
But the fun didn't stop there. One of the things I loved about working with Perch was their endless creativity. The panels of the Hampton Bar Facade, for example, can actually be customized!
I found this adorable pink chinese lattice wallpaper from Annie Selke and knew it would be a perfect, personal touch. If you look closely, you'll see it on our bars and stage front! I love the subtle "pop" and consistent theme it gave to our event.
Patio Furniture
Who could have ever predicted that our wedding day, which started so sunny and bright, would turn into a huge thunderstorm as I walked down the aisle! One of my favorite aspects of our wedding reception was the beautiful patio space I designed with Perch. While I'm so disappointed I didn't get to enjoy it myself, the good news is that the rain let up during cocktail hour and friends and family were able to enjoy the patio after all!
We knew we'd have a third bar out on the patio for guests wanting to take a break from the dance floor or enjoy the evening outside, but it wasn't until I saw the Malibu Daybed in the Perch showroom that I was inspired to really create something special with the space.
We decided to place two daybeds back to back and display a gorgeous ginger jar floral arrangement in-between. We also added a pair of Chandler Chairs closer to the bar for a perfect spot to sit and enjoy a cocktail! And can you even get over the blue and white porcelain lamps?! I would joke with the Perch girls that I wanted to move into their showroom. But who could blame me!
Finally, let's talk about the boxwoods! One of my favorite details of the patio space, these white boxwood covers not only made the space beautiful but also served an important purpose. The Northwood Club patio was divided in two… half for member dining, half for our reception! The boxwoods made the prettiest partition between the two, don't you think?
Indoor Seating
Remember the sunroom I referred to earlier? Northwood Club had existing furniture placed there, but the Perch team suggested creating our own seating areas with the Edward Sofa and Lindsey Accent Tables. I'm so glad we did, because some of my favorite pictures from the reception are friends chatting there.
To keep the color palette consistent, we decided to bring in these white Chiavari chairs for dinner seating. Even though the club had some we could have used, they were clunky, dark and not at all the look we were going for. I think these Chiavari chairs made a huge impact on the room, and highly recommend them!
Floral
Now that we've covered the design, let's talk about floral! I cannot, and will not ever be able to sing the praises of our florist, Junior from The Garden Gate, enough! We looked into quite a few different florists in Dallas, and are so grateful to have landed on Junior. So many friends recommended him to me, and I now know why!
Flowers, when you think about it, are one of the few things about a wedding you don't actually get to see until the big day! I'll never forget the brides and bridesmaids bouquet arriving as we were getting ready. I knew immediately that Junior had worked magic, and I couldn't wait to see the rest!
Our altar arrangements were so stunning that I kept sneaking peeks at them during the ceremony (oops!). We actually used those to adorn each side of our stage for the reception! And when I saw the flower arch (which was the #1 decor element I wanted at our reception) leading into the reception for the first time, it literally took my breath away.
It was Junior who came up with the idea to line our head tables with the beautiful, towering white trees. I really wanted to do something unique and dramatic to center the room, and initially, we had decided on large, high floral arrangements. So when Junior first presented us with this idea… we were a little skeptical. Trees? On tables?! But I couldn't be happier that we decided to trust him! They made for a canopy as Andrew and I entered the room, and totally transformed the low-ceiling ballroom of Northwood Club. If you want to get a true feel for the effect, watch our wedding video trailer!
Well, friends, yet again I have managed to talk your ear off, so I'll sign off now! I've been getting lots of questions about our reception, so I hope this answered them! I can't wait to share more soon… let's just say the dance party photos are my favorite! Thank you again to Perch Decor for designing such an amazing reception, and to Junior from The Garden Gate for making our floral dreams come to life!
Love from the Sunshine State,
Kate
P.S. For more wedding-related posts, click here!
Photography by John Cain Photography