Fall in Florida. Is there even such a thing?!
If the progression of my hair from the first photo in this post to the last is any indication… there's enough humidity in the air here to fill up an Olympic-sized swimming pool. And that is NO exaggeration!
My new home has also brought me a new challenge as we enter into the very first few months of autumn. How on earth to transition to fall when cold temperatures are still a ways away! Today, I'm thrilled to be partnering with Forever21 to share a few amazing pieces to do just that… keep you cool while still looking seasonally-appropriate!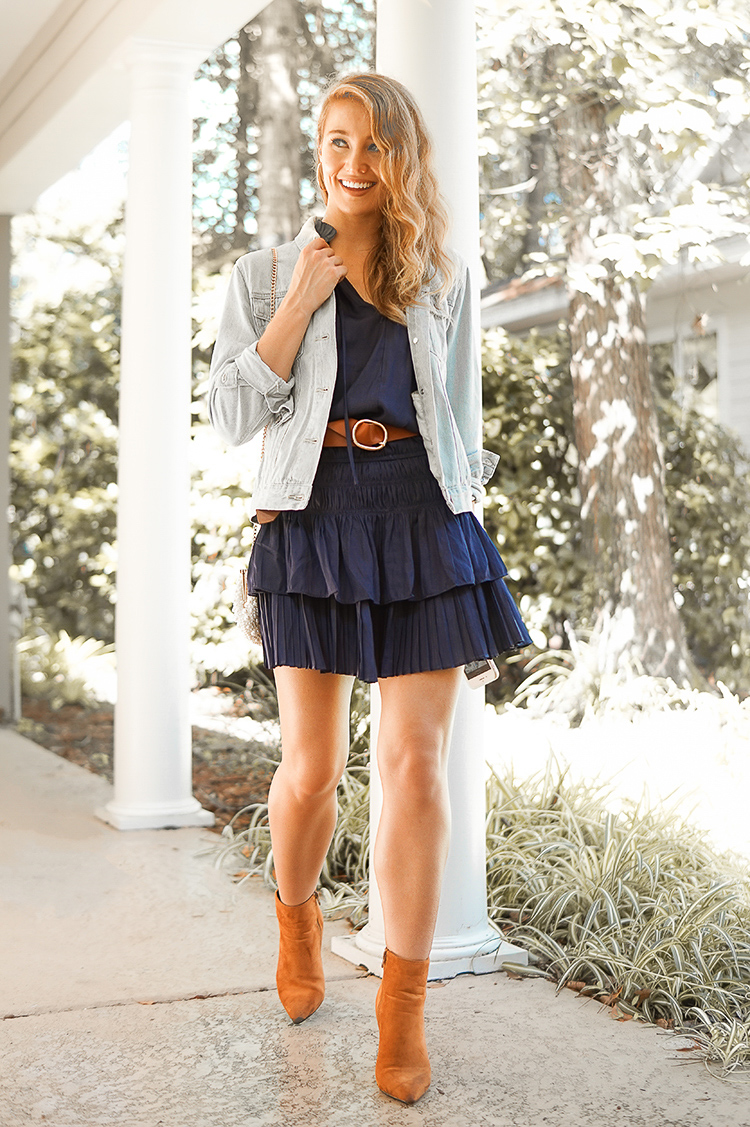 DRESS pleated mini dress // BOOTIES faux suede booties // JACKET denim jacket // PURSE pearl bag // BELT faux leather belt
My favorite way to transition out of summer is to stock up on lightweight, long-sleeved dresses in pretty, muted hues. This pleated mini dress is a perfect example. The uper soft, lightweight material in a beautiful, rich navy makes for an autumn look that still fits summer temperatures! And can we just talk about the fit?! So, so fun. It also comes in a muted khaki color too, and I'm thinking I need it as well!
My favorite "hack" for turning any summer look into something autumn-appropriate is to throw on a denim jacket over it. This one, in particular, has a great cut to it. Not too loose and baggy, not too short or tight. Plus, it comes in this light wash and a deeper one as well!
Finally, I've always felt like adding a few tan accessories gives a timeless, true "fall" feel to any ensemble. This belt (which sits at the hips, I just rigged it to tighten at my waist) and these heeled booties (which are still in stock but are selling out quickly!) add a perfect touch of warmth that I'll be throwing into outfits all season long.
The best part about this entire outfit, in my opinion, is that each piece is under $50! That's one of my favorite things about Forever21. So many adorable, on-trend pieces at an affordable price point!
Speaking of… Forever21 has an amazing Labor Day Sale going on right now! Extra 60% off sale items now & 30% off sitewide starting Saturday through September 3 with the code "LABORSLAY". Extra 60% off sale items (starting now) with the code "add2cart".
forever21 fall favorites

Happy shopping, friends! One more day until the weekend!
Love from the Sunshine State,
Kate
Thank you, Forever21, for sponsoring this post.