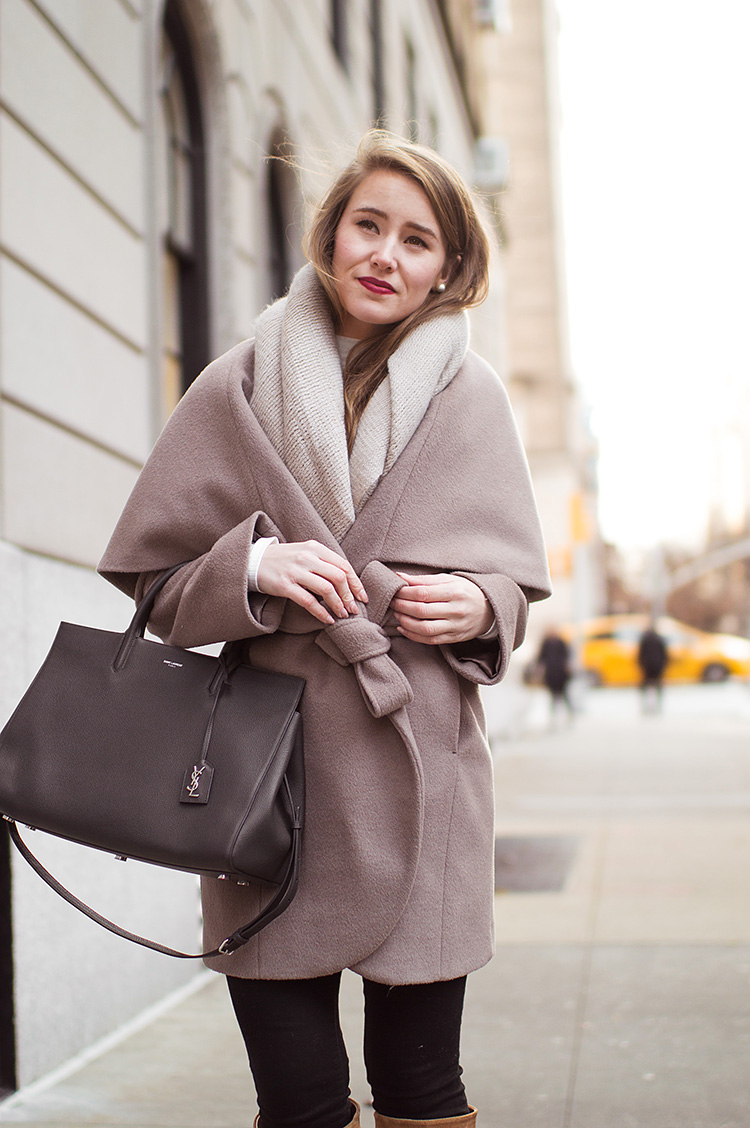 COAT   wrap coat (on sale, 5 color options)   |   SCARF   cozy blanket scarf ($29, worn as a normal scarf)   |   BAG   YSL bag   |   JEANS   black toothpick jeans   |   SHOES   slouchy heeled tall boots   |   SHIRT   white turtle neck tee   |   EARRINGS   pearl studs
This Monday morning, I am sitting in disbelief at just how much happened over the past week! A quick, three night trip to NYC with my mama followed by my college roomie getting married on Saturday night makes for quite the eventful few days, let me tell ya. All the merriment has me in the perfect mood for Christmas. We're so close to the big day, y'all!
I can't wait to share a full recap of my trip to New York, but today I wanted to briefly talk about the amazing wrap coat I packed up for the adventure! Obsessed doesn't begin to describe my feelings for this beauty. As a Texas girl, I simply don't own many (or any, really…) heavier winter coats, as lighter layers seem to get me through our mild winters just fine. But in packing up for NYC, I knew I'd need something a bit cozier than my usual shrug!
I couldn't contain my excitement, therefore, when I came across this wrap coat. Not only did it flawlessly combine the elements of style and practically I was in search of (I mean… hello Olivia Pope moment) but it was also on SALE! And available in 5 COLORS!
I worried it was going to be a too-good-to-be-true kinda thing, but upon receiving it in the mail my fears were completely laid to rest. Perfection, friends. The fit. The color. The numerous ways you can style it! (You can wear the lapel down for a cape-like look, bunched up on the shoulders as seen in the second photo, and even over the head as a hood!) I ended up wearing it every single day of the trip, where it proved to keep me cozy and confident every step of the way.
This coat would make a fabulous Christmas gift, and I cannot recommend it highly enough. You can get yours in time for Christmas by choosing 2 business day shipping up until Wednesday, or by selecting the "buy online, pick up in store" option… one of my favorites for avoiding the holiday crowd!
I hope everyone had a fabulous weekend, and is looking forward to all the merriment ahead these next few days!
Love from Texas,
Kate
P.S. If you commented on my Black Friday sale guide in order to get a Christmas card, please email me the name you left your comment under as well as your mailing address at [email protected] I can't wait to get those off in the mail today!