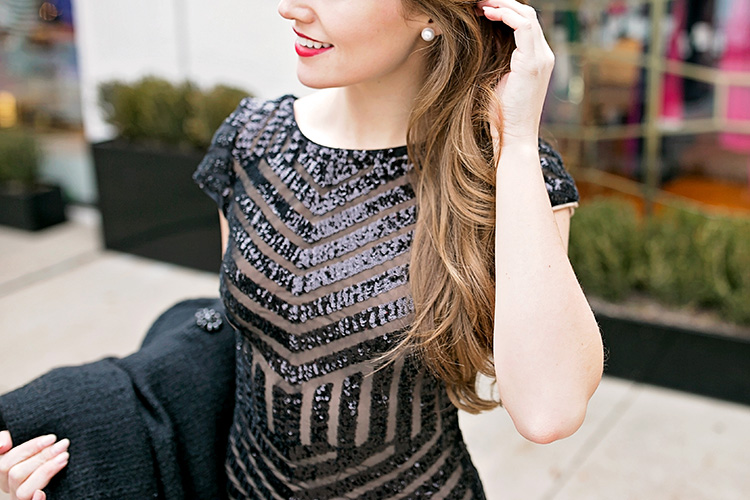 DRESS   tabitha sequin dress the population dress   |   SHOES   stuart weitzman nudist heels   |   BAG   chanel crossbody   |   EARRINGS   pearl studs   |   LIP COLOR   "it's cherry"   |   COAT   kate spade jewel button coat c/o (on sale!)
During the flurry and rush of the holiday season, NYE always manages to spring up on me. I can't tell you how many times I've made mad, last-minute dashes to the mall or fruitless forays into the depths of my closet in search of something fabulous to wear for this fun occasion. But let me tell you… this is just one event that's always worth planning for! Whether you're attending a fabulous party or watching the ball drop with an intimate group of friends, I've always found adding some sparkle adds the most festive of touches to the occasion.
This year, I decided to get on top of the ball! After seeing this sequined dress the population dress, I immediately knew what I'd be bidding adieu to 2016 and cheering the arrival of 2017 in! I've always wanted a fabulous sequined dress, but finding one proved to be quite the challenge. The fit and detailing of this piece, however, were too good to be true. I'm smitten!
I'm extra excited that I'll get to break this in before new years! This weekend, my college roomie of two years, Olivia, is getting married… swoon. While she has us bridesmaids in the loveliest floor length gowns for the actual occasion, I'll be wearing this to the rehearsal dinner!
In other news, my mama and I are on an early flight this morning headed home from NYE. What a trip! I can't wait to share more details from our adventure with you. Happy Thursday, everyone!
Love from Texas,
Kate
Photography by Angie Garcia