This post is brought to you by Bloomingdale's.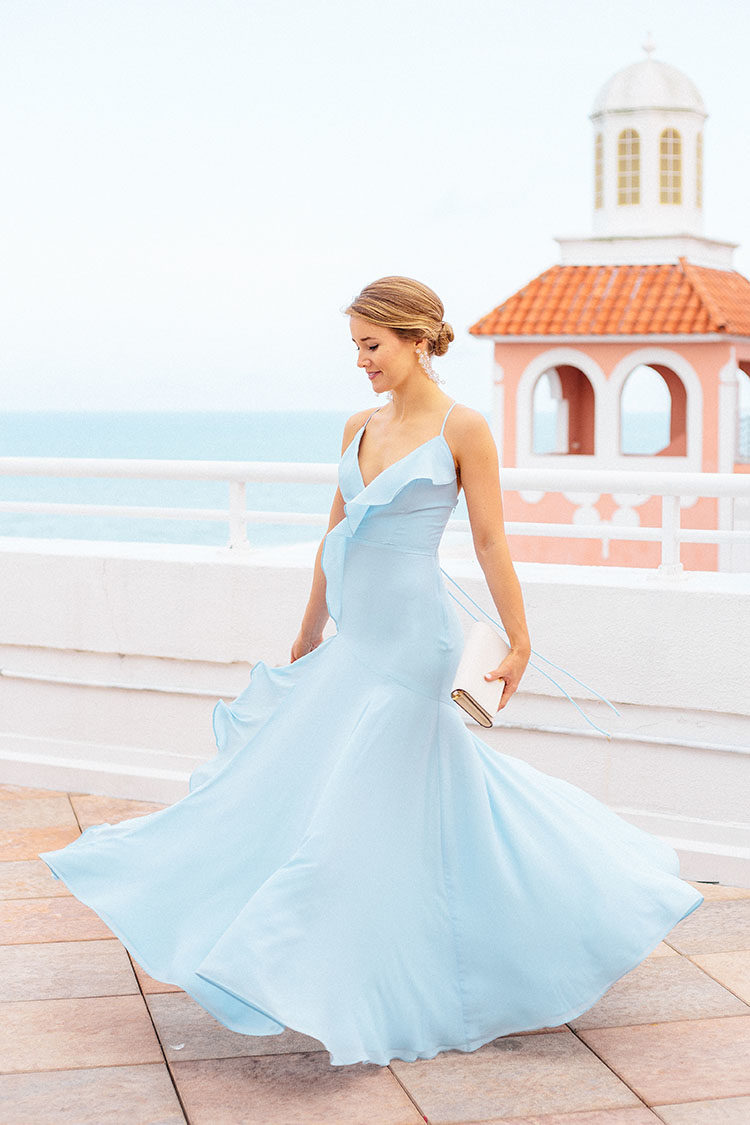 DRESS   fame and partners blue ruffle dress   |   EARRINGS   floral drop earrings   |   SHOES   gold glitter heels   |   CLUTCH   tory burch crossbody
Last week, I had the best time sharing a look back at my senior prom and how I recreated the look with this season's gorgeous selection of prom gowns from Bloomgindale's. (If you missed it, be sure to check it out here!)
I loved, loved, loved hearing from so many of you how much you enjoyed the post and that many of you were in need of some serious prom dress inspiration. So today, I thought it would be fun to share with you what I would wear if I was heading to prom this year!
If you've frequented Lonestar Southern over the years, you know my fondness for clothing that not only looks gorgeous on, but is truly fun to wear. In the case of prom, it's especially important to select a dress that you can move, dance, sit and stand in!
That's one of the main reasons I selected this gorgeous fame and partners dress. While this style is stunning on, there are so many design details that make it a perfectly practical option for prom.
First off? The lace-up back! This detail makes the fit of this gown instantly customizable, giving you the ability to adjust the waist and neckline to your own silhouette. Dealing with unruly straps or waistlines that dig are the last things you want to be concerned with on your big night, and the lace-up back ensures you won't have to!
I, without exception, always have to get formal dresses tailored because of my petite build and height (5'2″ over here), but didn't have to touch this dress because of the lace up back! Truly a miracle.
Secondly, let's talk about the skirt. Doesn't it make this gown absolutely jaw-dropping? If you look closely, you'll see that the fullness of the skirt comes in on the lower third of the dress. This keeps the silhouette streamlined and flattering up top, since extra material isn't bulking up the waistline.
Finally, the leg slit. This detail not only adds a chic touch to the gown, it also makes it comfortable and flattering. Breaking up the skirt with this detail elongates your silhouette and keeps you from looking like you're "swallowed" in a bunch of fabric.
It also allows you to move much more freely, not to mention making spins and twirls 100x more dramatic. (Yes, please!) If the slit is too high for your taste, keep in mind you can always add a safety pin to shorten it or let a tailor adjust it to your preference.
This dress is part of the Fame and Partners line, which I highly recommend checking out not only for prom but also for any black tie weddings or other formal occasions you have coming up! A few of my favorites? This glamorous black beauty, this blue lace dress, and this lovely lilac wrap.
Don't forget, Bloomingdale's has an entire prom department, with everything from stunning shoes to picture-perfect accessories. Shop it all here!
Love from Texas,
Kate