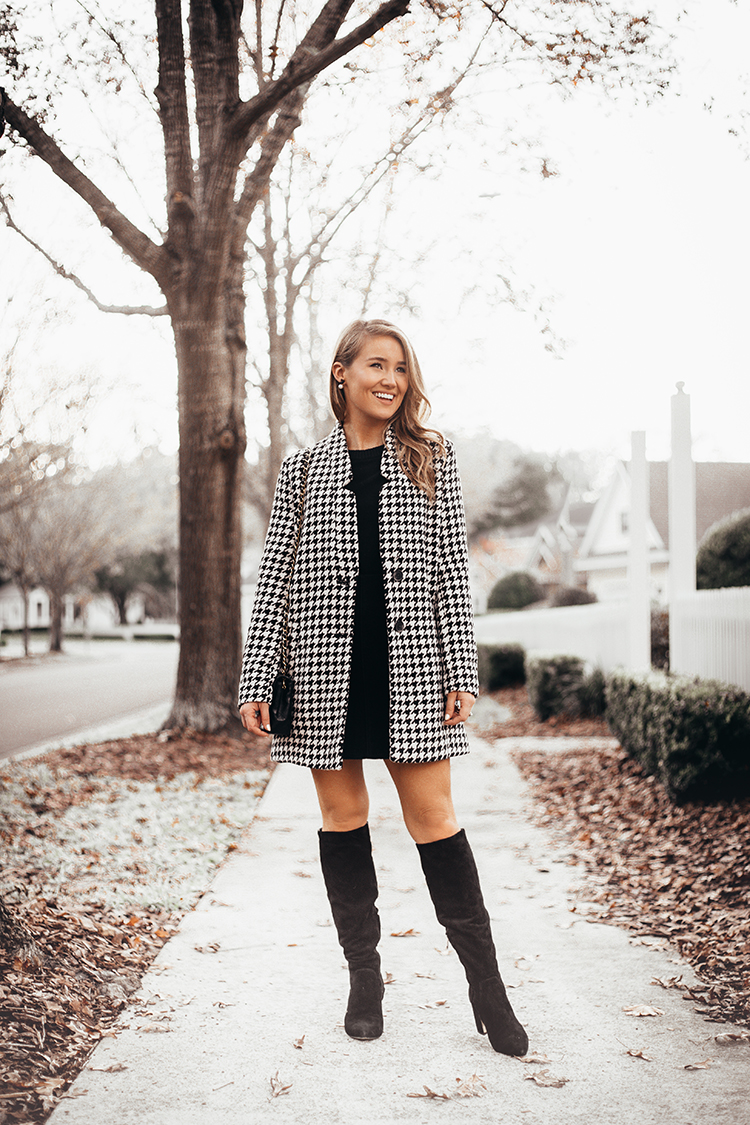 COAT houndstooth coat (also available in plus sizes!) | SWEATER j.crew jeweled sweater | SKIRT cos black wool skirt | BOOTS black knee high boots | EARRINGS pearl swan earrings
Here we are, friends. The Friday before Christmas! I feel like we've blinked, and it's here. How on earth did this happen?
I'm cozied up on the couch finishing up this last blog post before taking my Christmas break. Each year, I talk 1-2 weeks off to unplug and enjoy the season. It always leaves me refreshed and reinspired for the new year ahead! While I'm sure I'll be popping onto Instagram Stories here and there, I'm planning on (key word: planning) putting away my keyboard until 2020. And goodness knows I'm excited!
Since this is our first married Christmas, and our first spent away from family at that, Andrew and I have been thinking of lots of fun new traditions to make this week feel festive and fun. A few things on the list? An upcoming white elephant exchange + pizza party with his residents, a Christmas movie marathon, and lots of holiday baking. I can't wait!
For today's look, I'm wearing a lovely houndstooth jacket I picked up before my trip to Paris. Unfortunately, it didn't fit into my suitcase and sat forgotten in the corner of my office until this week. (When I finally cleaned everything up, as you may remember from this vlog. Oops!)
The bad news is it's selling out quickly. The good news? I decided to scour the internet and find a few similar pieces. Scroll on through below!
Wishing you a hustling, bustling holiday weekend before the very best day of the near next week! I can never say it enough: I am so thankful for each of you!
Love from the Sunshine State,
Kate