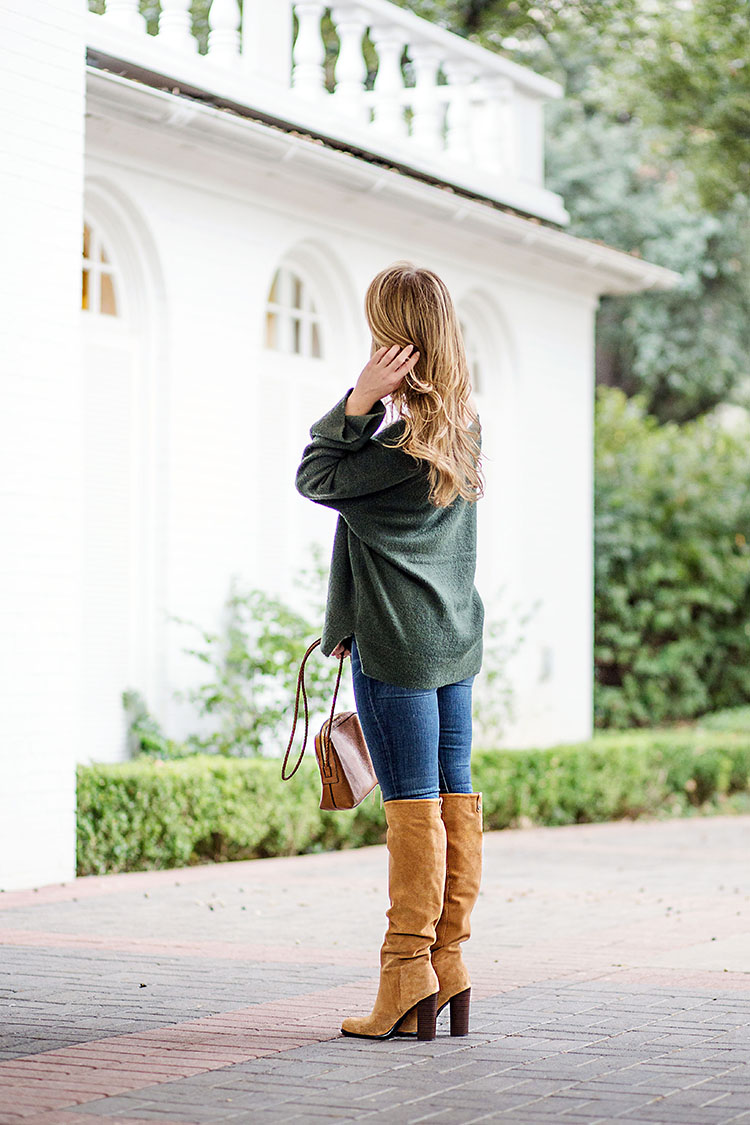 SWEATER   green off the shoulder sweater   |   BOOTS   sam edelman heeled suede boots (on sale!)   |   EARRINGS   lisi lerch gold earrings   |   BAG   tory burch camera bag (on sale!)    |   JEANS   current elliot jeans   |   BRACELET   david yurman bracelet
Over the past few years, I have become such an online shopper that I've begun to take trips to the mall less and less regularly. (RIP to those middle school days when my friends and I would get dropped off to roam free on Saturday afternoons. Anyone else?!) I'm so happy a few errands took me there this past week, though, or I would have scrolled right past this green off the shoulder sweater.
You'll notice from the product photo that it's actually not intended to be off the shoulder! But the loose v-neck makes it perfectly adaptable to this style, which creates a fun twist to your typical bundled-up sweater look. I do recommend using fashion tape to secure it on your shoulders! Luckily, this sweater is super lightweight so it holds quite well.
Another thing I wouldn't have known from merely viewing this sweater online? How incredibly soft it is! I love how chic it looks paired with boots (my favorite style from last year that's currently on sale) and gold statement earrings for dinner with friends, but don't get me wrong… this is one sweater I'll be cozying up with in leggings and slippers!
This sweater was just the inspiration I needed to remind me why I love actually, physically shopping. Now that stores are decorating for Christmas (and blasting Christmas music, bless) it's even more fun!
Love from Texas,
Kate
Photography by Hilary Rattikin