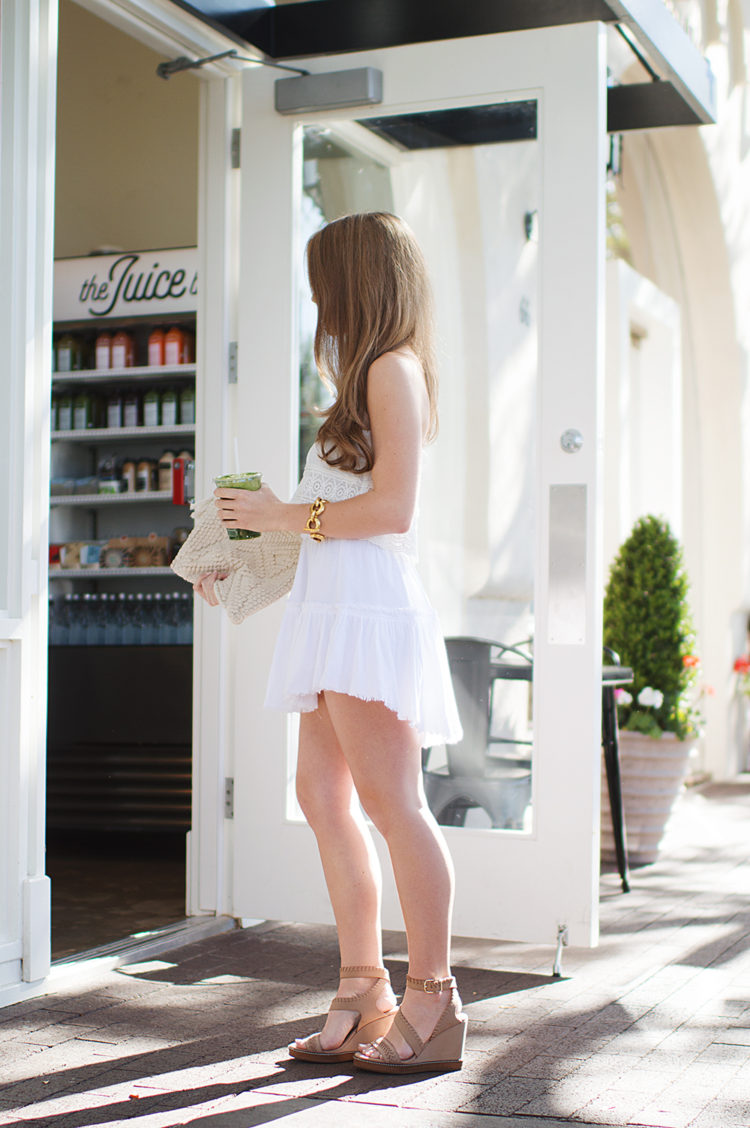 TOP   lace tube top   |   SKIRT   white mini skirt   |   SHOES   ankle wrap wedges   |   CLUTCH   white embroidered tassel clutch   |   BRACELET   link bracelet c/o   |   EARRINGS   gold hoop earrings
April, to me, has always signified the true start of spring in my book. The day before it rolls around, I pack up all of my winter clothes and flood my closet with all of the color and light I can! Out with the old, in with the new. And by new I mean maxi dresses and sun dresses and jean shorts and off the shoulder tops and shift dresses and peplum tank tops and printed shorts… you get the idea.
I'm embracing that mentality full-on with today's all-white ensemble! You may remember this white mini skirt from the Palm Beach blog post I published a few weeks back. I don't repeat here on the blog often, so when I do you know it's a piece I can't get enough of! It made the perfect pair to this lace tube top, since I loved the unique and darling look of the blouse but wanted a waistline high enough to prevent a lot of skin showing. (I actually tucked the top into the skirt so none showed at all.)
The product shot shows the model wearing it with high-waisted jeans, and it's darling! That's the look I'll be creating with it next, and yes… the jeans will most certainly be white. I have to admit it… white on white is one color combination I simply never tire of!
In other news, I wanted to let y'all know that a site-wide sale by one of my favorite retailers is starting tomorrow! Be sure to check back here on Wednesday morning for a full guide.
Love from Texas,
Kate
P.S. I made a fun new spring purchase yesterday, and am SO excited about it! Click here to see what it is!