Wedding month is almost here! Can you even believe we're almost to June? I feel like April and May have basically flown by, and something tells me I'm going to wake up as a wife before I even know it!
Want to hear a bit of a confession? I started shopping for my honeymoon pretty much right after Andrew and I got engaged, y'all. Yes… it was in the middle of fall, but I couldn't wait! Whenever I've felt stressed out by wedding planning, it's been fun to daydream about heading off to the honeymoon as husband and wife. That's been the light at the end of the engagement-tunnel for us!
Now that we're finally getting close, I've started to let myself pack a few things for our post-wedding week away as newlyweds! (As a reminder, I have no idea where Andrew is taking me. He's determined to make it a surprise, and all I know is we're headed somewhere warm with a beach!)
Today, I'm absolutely giddy to share my new Barrington bags that I'll be bringing along with me! Complete with my married initials, of course. Eek! It's so fun to see them on something real and in front of me!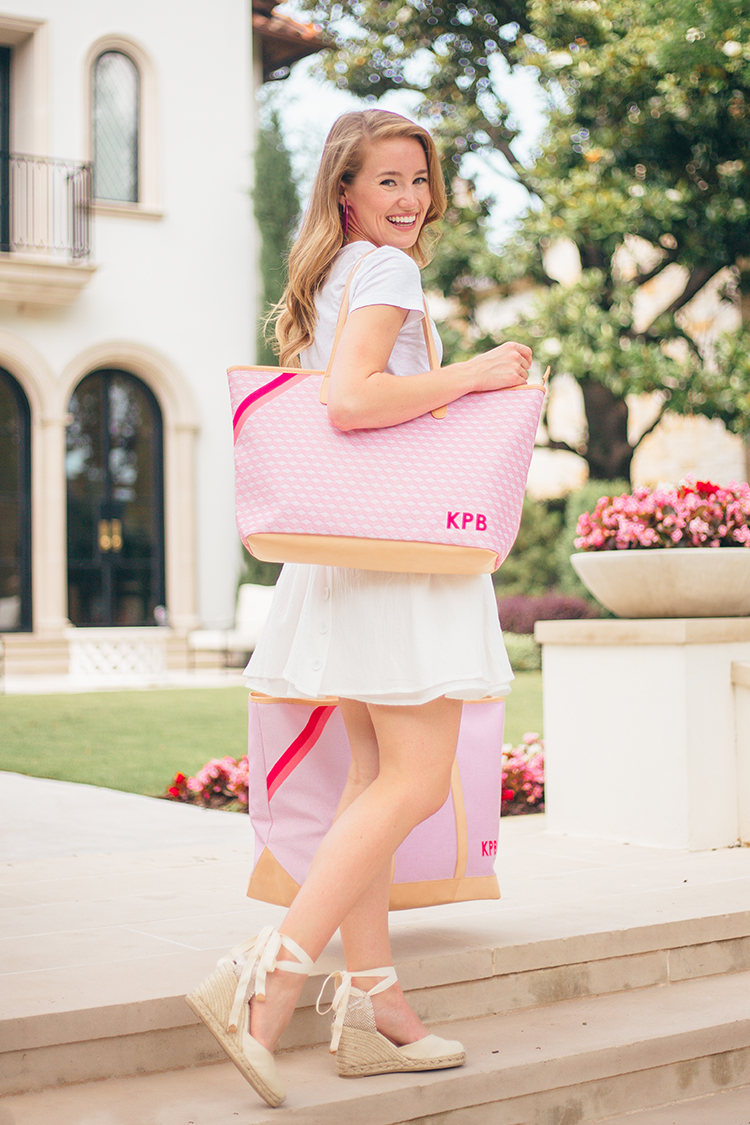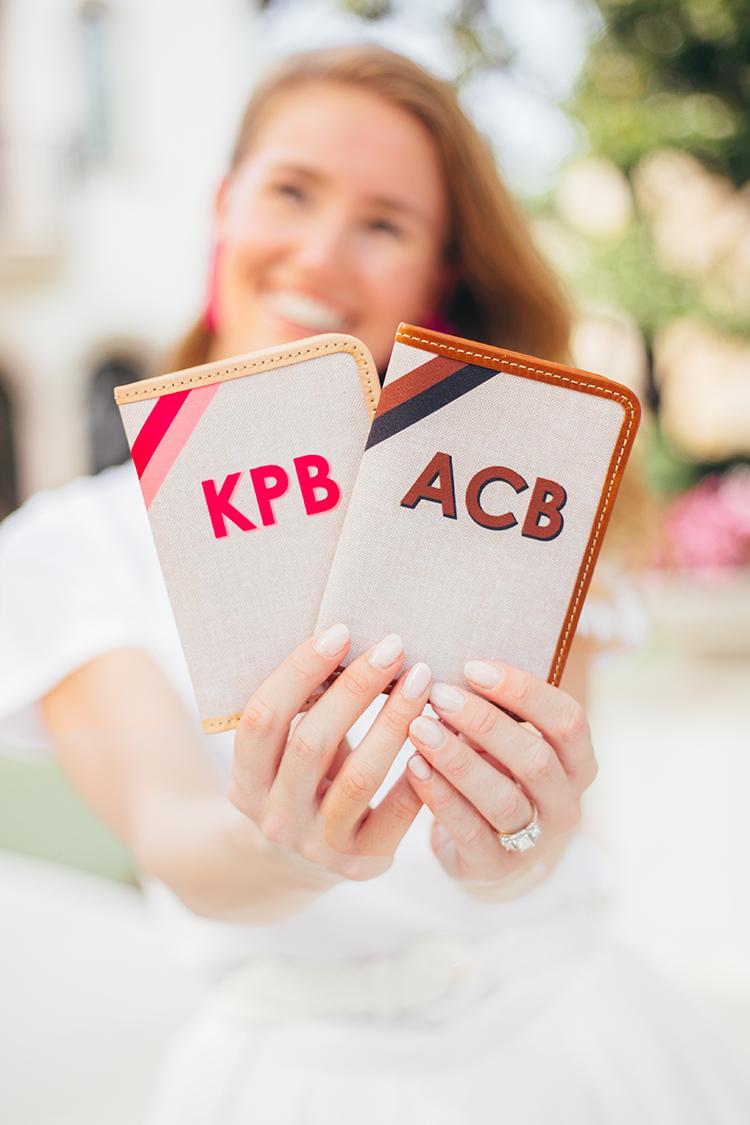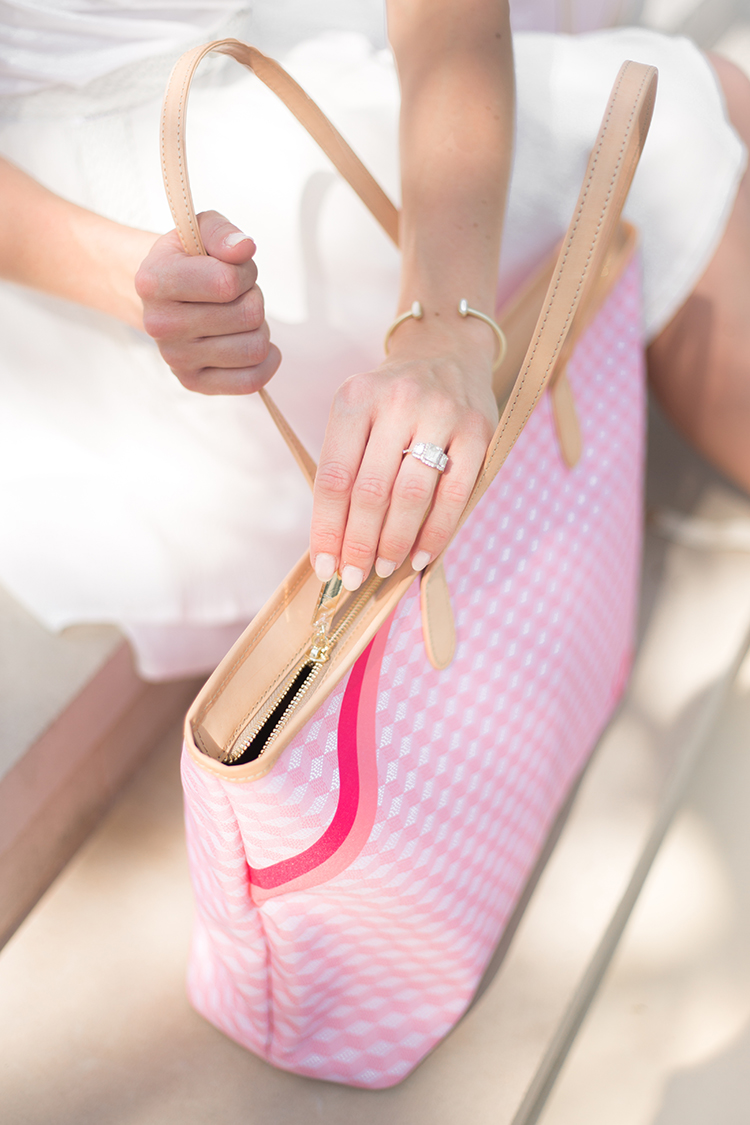 SMALLER TOTE st. anne zippered tote | LARGER TOTE st. charles zippered yacht tote | PASSPORT CASE glasgow passort case | EARRINGS kendra scott kat earrings | BRACELET gold mavis kendra scott bracelet | SHOES white espadrille wedges | SHIRT j.crew white tshirt | SKIRT white mini skirt (old, similiar linked) | BELT white belt
color combinations
St. Charles Zippered Yacht Tote // blush chambray + rose/geranium stripe
St. Anne Zippered Tote // blush geometric + rose/geranium stripe
Glasgow Passport Cases // stone chambray + rose/geranium stripe OR black/coffee bean stripe
Y'all know I've been an avid Barrington-fan ever since college, when I first fell in love with the St. Anne tote. Over the years, that love has only deepened as I've had the chance to wear more and more of their designs. (See some of my favorites here, here and here!)
They just keep getting better, y'all, and to kick off my first week as a "Mrs" I decided to try two new-to-me styles… the St. Anne Zippered Tote and the St. Charles Zippered Yacht Tote!
While I've owned and loved my fair share of St. Anne and St. Charles Totes over the years, I've never opted for the zippered style until now! Since Andrew and I have a connecting flight to our final honeymoon destination (another clue he let me in on!) I knew I wanted bags I'd be able to zip and secure for all of the commotion that comes with travel.
I'm here to tell you that the zippered style is my new absolute favorite! Incredibly secure, incredibly high-quality, incredibly chic, they're everything I love about Barrington bags plus a bit of added shiny security.
And don't they look adorable in these fun pink color combinations?! I usually choose more versatile tones for my Barrington bags since I carry one nearly every day, but I couldn't help but choose this beautiful hue for the summer months. It turned out even more gorgeous than I had imagined!
I'm also a little too excited about the matching passport holders I made for me and Andrew. One of the many things I love about Barrington is that their pieces are incredibly customizable, both for ladies and gents! I loved using the Stone Chambray fabric as a base for both of our pieces… you can make it girly, manly, neutral, school-spirited, the options are truly endless!
Needless to say, I am too excited to walk through the airport sporting my new married monogram thanks to these beautiful Barrington bags here soon! Want to know another thing I'm too excited for?
Sharing a Barrington discount code with y'all!
That's right, friends. The Barrington team knows how much we love their pieces around here, and have graciously offered 10% off with the code BowmanAndWife from now until Thursday, May 30th at noon! (Psst… that's also our wedding hashtag!) Barrington discount codes are incredibly rare, so I cannot recommend using this before it expires enough!
Whether you're in the market for graduation gifts, fathers day presents, engagement gifts or a new school tote for yourself, head here for my absolute favorite leather goods. And be sure to share this code with all of your Barrington-lovin' friends. It's too good to pass up!
Love from Texas,
Kate
Thank you, Barrington, for sponsoring this post.