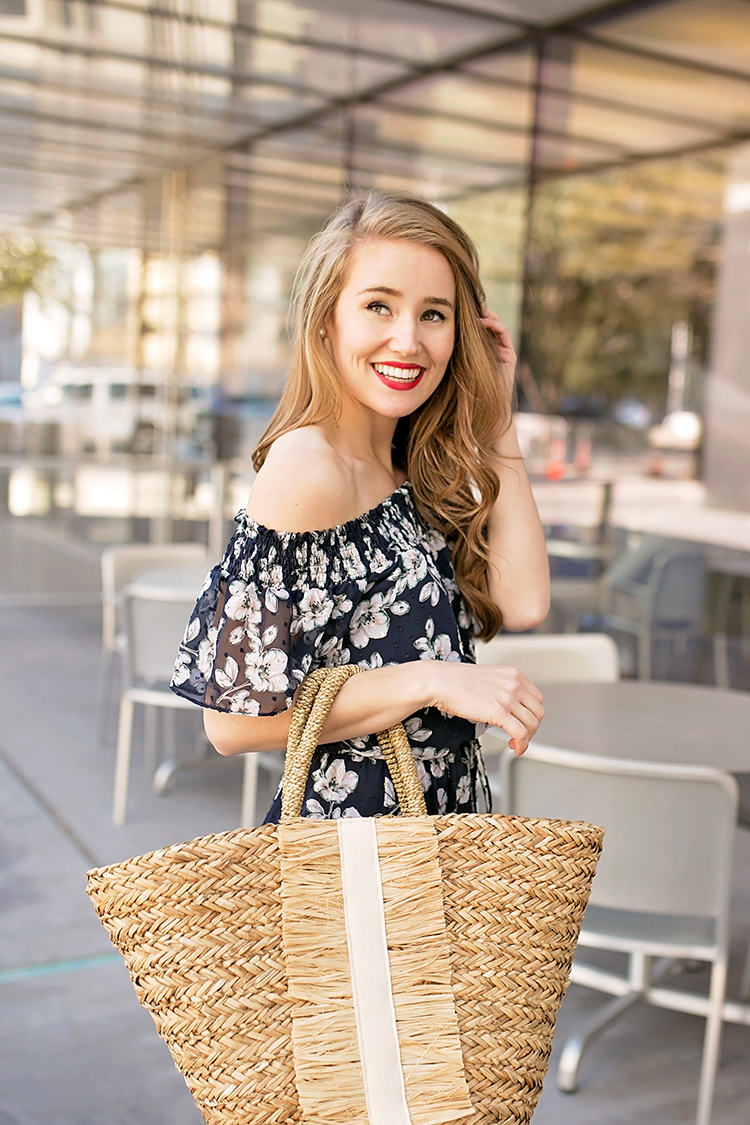 DRESS   navy floral off the shoulder dress (also available in all sizes here)   |   BAG   straw tote bag   |   SHOES   suede ankle strap wedges   |   EARRINGS    pearl studs
Happy Thursday, friends! First off, I am so sorry I didn't get a post up yesterday! It was one of those 24 hours that you have a really great game plan going into, all productivity and efficiency and the like, and then nothing goes according to plan. But we're back in action, and I'm so excited to show you the two new spring items I've added to my closet in todays post!
First up, this sweet, feminine floral dress! It immediately caught my eye because of how perfect it is for this time of year. (That is, if you have mild temperatures like Texas currently is experiencing!) I love how the off the shoulder neckline and sweet floral chiffon give off a hint of spring, while the length and classic navy hue keep it subtle enough for these last few months of winter. I don't typically wear this midi-length, as it can look overwhelming on my shorter frame, but loved stepping out of my comfort zone in this number.
Secondly, this straw bag! How cute, right? I love how a really fun bag can truly transform an ensemble, and this one does just that! I went ahead and jumped on this purchase early, as items from this line, Hat Attack, typically sell out quickly! I absolutely can't wait to bring it on spring break (um, hello cutest beach tote ever) and other travels throughout the summer!
Wishing everyone the loveliest day… we're so close to the weekend! I have an especially busy one coming up (which I'll share more about tomorrow) so today consists of checking things off the to-do list at lightning speed. Wish me luck!
Love from Texas,
Kate
Photography by Angie Garcia