Friends, it's finally my favorite time of the year… blanket scarf weather! Blanket scarves (great selection here) are the easiest way to achieve that fall layered-up look. I've received a few questions regarding how I tie my blanket scarves, so I thought I'd share a quick step-by-step below!
How To Tie A Blanket Scarf
1. Fold the scarf in half. It should look like a triangle.
2. Fold down the folded edge 6″ – 12″ towards yourself. In essence, you're creating a slightly smaller triangle. This keeps the scarf from being too bulky around your neck.
3. Cross the two points behind your neck. Less is more! If you pull too tight, the scarf will look claustrophobic around your neck.
4. Tuck the two ends beneath the rest of the scarf. This creates a cleaner look, and keeps your scarf from unwrapping itself. To secure further, fasten the two ends down with safety pins.
The more you practice, the easier this little method becomes! Best of luck and let me know if you have any questions!
P.S. For the details on the rest of this outfit, read on below!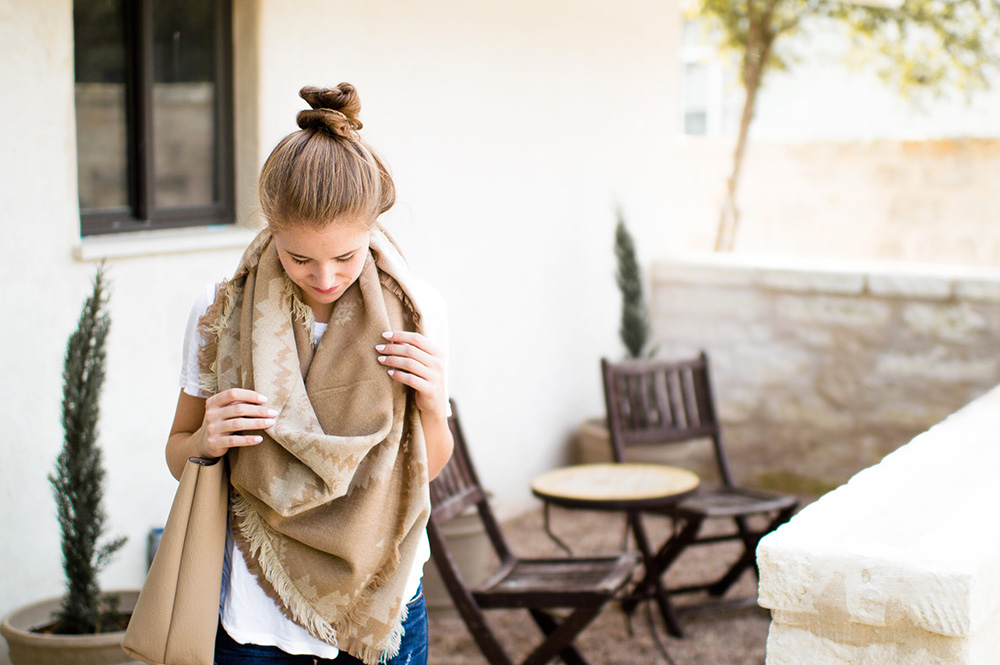 SCARF   tan aztec blanket scarf  (also comes in grey)  |   JEANS   destroyed skinny jeans   |   BOOTIES   fringe booties (old Forever21, similar linked)   |   SHIRT   splendid simple white tshirt   |   BAG   reversible tan tote
I'm back friends! Whew… it feels so nice to be home (with the promise of settling back into a routine just ahead) after such a fun but crazy week! The cowboy was in town for his week off, and from a quick visit to Beavers Bend State Park in Oklahoma (spoiler alert: it's STUNNING) to obligations in Houston and Austin, it's safe to say we definitely made the most out of his time off!
If you were following along on Instagram and Snapchat (LonestarSnaps) you may have seen a peak at just how jam-packed this weekend was. I had the unreal experience of meeting and working out with Carrie Underwood in Houston on Friday, and then watching Taylor Swift perform her only concert of 2016 in Austin on Saturday! That's a hard weekend to top, y'all. Does it all go downhill from here? (Teasing.)
Sunday morning, I wore this outfit for brunch with my extended family! The weather was perfect, and finally allowed me to bring out this darling aztec blanket scarf. I absolutely love the beautiful tan shade, and with one side being lighter and one being darker, you can really get a few different looks out of this one piece. Plus, it's under $30!
Like I said above, I'm definitely looking forward to settling back down into a rhythm this week. I think hitting the hay at 9pm last night was a good start, no? #GrandmaStatus
Love from Texas,
Kate