Friends, I blinked… and a whole summer passed since my last Coffee Date. THREE months. Isn't that how summer goes, though? Always a little too short for my taste. I think it's high time we get all caught up, don't you?
If you're new around here, my "Coffee Date with Kate" series is one I use to get on a more personal level with y'all! More so than you're typical outfit post. They're my favorite – I love sharing what's going on in life with each of you. If you want the full story since this blog began, check out the past 14 (!!!) coffee dates below.
1   |   2  |  3  |   4   |   5   |   6   |   7   |   8   |   9   |   10   |   11   |   12   |   13   |   14
If I rounded up each of my Instagrams from the past three months, I'd be writing this nonstop for the next week straight. So instead, I thought I'd bring you all of my pictures from my recent trip to Seaside, Florida, and fill you in on everything before and after below!
Starting off the week with "piggly wiggly" snow cones at our favorite stand, Frostbites!
SHOES   jack rogers sandals
Our first night in town, we always dress up and make the trip to George's at Alys Beach. Can't recommend that amazing restaurant (or this amazing dress!) enough!
DRESS   embroidered draw string dress   //   SHOES   nude platform heels   //   CLUTCH   tory burch foldover clutch
My first morning out at the beach! I bought this tasseled coverup last year, and it's still my favorite.
COVER UP   tassel cover up   //   SWIM SUIT   red bandeau
I don't like to play favorites, but this embroidered halter dress was my favorite from the whole trip. So flattering. You can see the back of it here!
DRESS   blue embroidered halter dress   //   CLUTCH   straw clutch (old, similar linked)   //   EARRINGS   oversized gold hoop earrings (old H&M, similar linked)
There's no better time to sport the all-white look than when you have a fresh beach tan!
SHIRT   v-neck tank   //   JEANS   j.crew toothpick jeans   //   CLUTCH   multicolored tassel clutch   //   EARRINGS   blue tassel earrings   //   SHOES   nude ankle strap wedges
This evening, we decided to cancel our dinner reservations and spend the whole evening on the beach. The sunset was unreal!
SWIM SUIT   mint scalloped one piece   //   SHORTS   eyelet draw string shorts
There's something about sandy sidewalks… absolutely stunning and lined with palm trees!
SHIRT   v-neck tank   //   JEANS   j.crew toothpick jeans   //   CLUTCH   multicolored tassel clutch   //   EARRINGS   blue tassel earrings   //   SHOES   nude ankle strap wedges
I fell in love with one piece swimsuits on this trip. This one has sashes that can be tied at the back or at the front!
SWIM SUIT   v neck bow one piece
Our daily afternoon treat? Snow cones… with vanilla ice cream at the bottom! This one was coconut cream pie flavored. To. Die. For.
Dressed for dinner at one of our favorite Seaside spots, Bud & Alleys. How incredible is the color of this dress? (And L O L at the major squinting going on here…)
DRESS   magenta dipped hem halter dress   //   SHOES   nude ankle strap wedges   //   CLUTCH   nude tassel clutch   //   EARRINGS   scalloped gold hoops (old H&M, sold out)
Believe it or not, "golden hour" (the hour right before sunset) was cool and breezy enough for my favorite pullover. The sky that night was unreal.
PULLOVER   patagonia pullover
Um, DUH Serena joined the family vaca! We also brought her ex, Seth (the gold swan from St. Bernards), and you guessed it. DRAMA.
FLOATIE   rose gold inflatable swan (sold out, similar linked)   //   SWIM SUIT   v neck bow one piece (same as pictured above)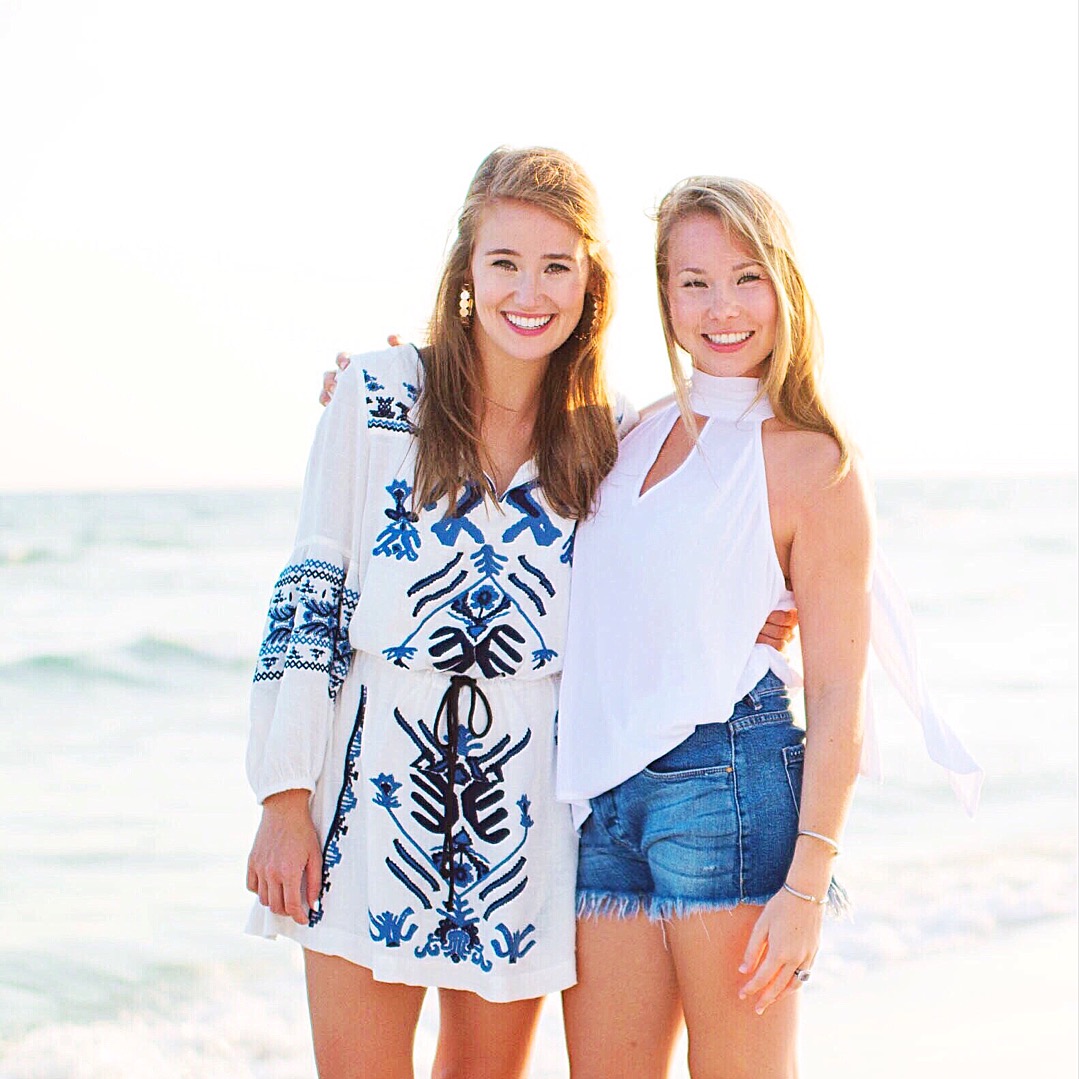 And of course, you can't leave vacation without getting the classic Christmas card photo! My sister Steele's top is from a boutique in Dallas called Upscale – and as for her shorts, I have no clue!
DRESS   embroidered draw string dress   //   EARRINGS   scalloped gold hoops (old H&M, sold out)
Now that we've gotten through all of the more photogenic moments of this summer, I'm left wondering where to even start… Let's begin with travels and see where my rambling takes us from there, shall we?
This summer, adventures included a couple weekends at our farm/lake house in Arkansas, many visits to Oklahoma City to visit the cowboy, a couple trips to Austin to visit friends, the family vacation to Seaside (obviously) and, in saving the best for last, a week in PARIS! You'll find my style diary from that trip HERE and video of my experience HERE.
One of my favorite things about this new(ish) adult world is that all of the sudden there is so much freedom in terms of traveling! In high school, I hardly traveled anywhere without my family and in college, class dictated my schedule. But now, if there's a place I am dying to visit, I can technically plan the trip, purchase the plane ticket, and make it happen all on my own. I'm trying to take advantage of this season of such flexibility, and am wanting to see as many new places as possible. I'd love to hear your favorites below!
I will say that with all of the traveling, however, has come a slight sense of feeling unsettled. Have you ever found that to be the case? Feeling out of sync after a lot of physical back and forth? I am a creature of routine through and through. I love knowing the next step, being in control of the next step, starting the next step on my own terms… you get the idea. While I was spending some time reading the word in Seaside, the Lord placed such a timely message right in my lap. (I love and am continually amazed at how He knows exactly what is on our hearts.) I shared this moment with y'all on Instagram a few weeks ago, and was blown away to hear so many of you had felt the same way. I thought I'd share the image along with the caption again here, as it was definitely a defining moment of my summer!
"Wow, y'all. The Lord has used the little town of Seaside, Florida in crazy ways in my life.
Each summer I return, I love sitting and reflecting on all He's done in my life since my last visit. And my goodness has He done a lot since my visit last July. I can't think of a year that's brought on more change, heartache, joy, new experiences, questions and lessons learned as this past one has. If you'd given me a sneak peek at it this time last year, I'd have said noooo way.
As I reflect on this year, I notice my reaction often took the form of an endless cycle of these anxious questions: "What's next? What do I need to prepare for? What's the correct move? What do I need to be doing? Am I where I need to be?" Me trying to figure everything out, instead of finding rest in Him as He works all things together.
I thought opening up and reading the story of Ruth today was chance. "This sounds nice," I thought. Little did I know it would be exactly what my restless heart needed. (The whole book of Ruth is pretty quick – go read it!) This verse got me. "Wait, my daughter." Ruth waits, and the Lord provides. He turns her crazy, messy, lonely story into something beautiful and far greater than she could have imagined.
Because she was perfect? Because she loved Him enough? Because she deserved it? Nope. Because He loved her. That's it.
He's doing the same in our lives, in my life and in your life, too. Not because we deserve it, but because He loves you and I as we are – as messed up, confused, anxious or oblivious as we might be.
In the questions and moments and pain and things that don't make sense and feel like they never will, He says "Wait, my daughter." Wait and trust. You don't see the full picture yet, but I do. And because I love you, I am writing your story for your good and my glory.
So friends… All this blabbing is to say hey, if you're in a spot you don't understand. If you're worried about the future, lost and afraid and certain you can't fix the mess you're in.. Wait in Him. Run to Him. Trust Him. It's so much better, and so much easier, than relying on your own self to figure it all out. Because of the cross, he already has. What joy!"
My goal as we slowly close the door on summer and head into the very beginnings of fall is to embrace the unknown and unsettled, and focus on settling my heart and mind and outlook instead – regardless of and in spite of circumstances. One tangible way I'm going about that? Spending more time reading.
That may sound silly, but I've realized (in large part due to my bookworm of a boyfriend and my time spent reading at Seaside) there are so many hours in the day I spend on worthless things. (You know that dazed, time-lapse feeling after spending an hour scrolling through Instagram or Facebook?) I've found reading, on the other hand, to be the best relaxer – one that leaves you feeling enriched, not dazed.
There's so much to be learned and gleaned from the pages of a book. My primary goal is to spend more time in the Word itself, but I've also picked up a few books to supplement! Wild and Free by Hayley Morgan and Jess Connolly, and Present Over Perfect by Shauna Niequist. I'd LOVE to hear your own recommendations!
Thank you, as always, for wading through my long-winded updates. Whenever we reach the end of a season, I always feel a mixture of sadness leaving it behind and excitement surrounding what's ahead. With fall, we CERTAINLY have lots to look forward. I would love to hear about what this summer has looked like for you… gives me too much joy knowing we're in this thing together!
Love from Texas,
Kate