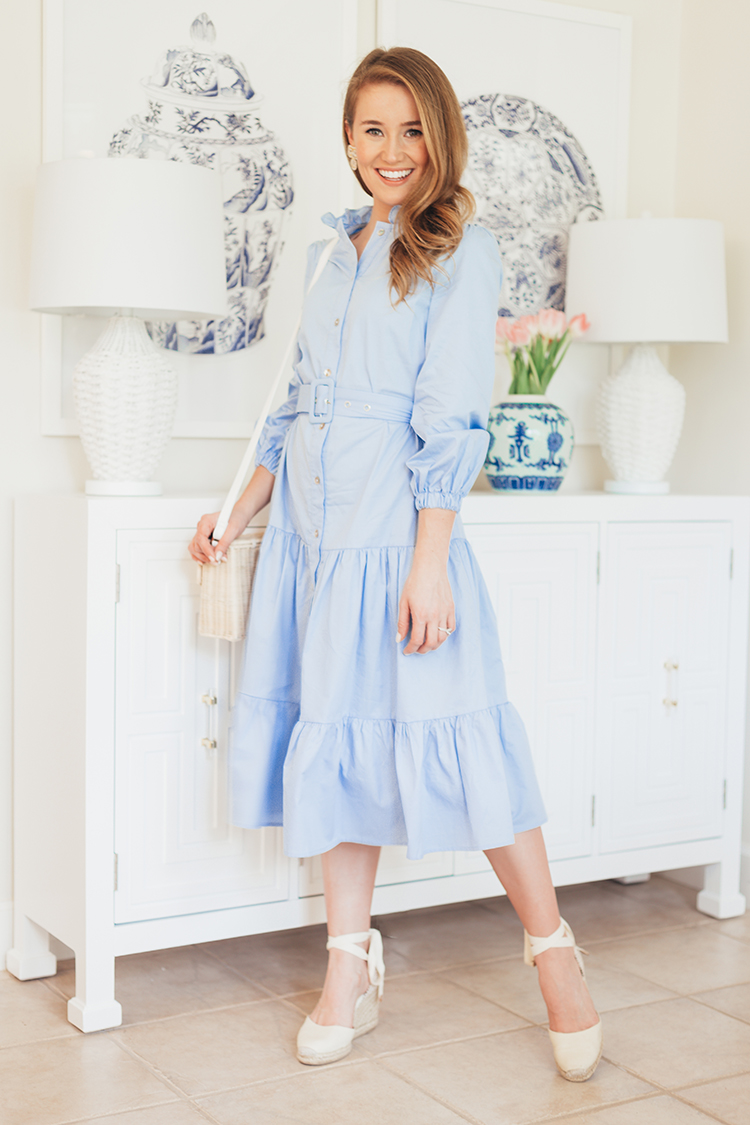 outfit
DRESS belted blue midi dress (wearing size XS) // WEDGES white espadrille wedges (higher heel linked here) // EARRINGS white bridesmaid earrings // BAG straw crossbody bag (old Forever21, similar linked)
home
CREDENZA white and gold credenza // GINGER JAR PRINTS ginger jar prints (sold out from Wisteria, similar linked here and here) // GINGER JAR hand-painted ginger jar (sold out from Wisteria, similar linked)
Hello, hello friends! What a difference a week makes. Right now, whether you're working from home, becoming an impromptu home-school teacher, or simply adjusting to this new normal, I want to send you a big (virtual) hug.
The reality is that much of our normal day-to-day life has shifted and changed, over what feels like the course of a few days, as the COVID-19 situation develops. I know it's been a trying time for all, if only emotionally, and today I hope I can combat whatever anxiety you're feeling and spread a little joy.
How? Today, I want to address those of you who find yourselves with the privilege of working from home! As someone who's been self-employed, and, therefore, has worked from home for the past five years, I could give you a whole list of things to do and not do to have a productive day working from home.
But instead of doing that (there are so many great articles covering that if you're interested!) I want to take a bit of a different approach. I want to share a few simple things I do that, when implemented, almost always result in me not having just a productive day, but a happy, joy-filled day working from home. I want you to enjoy this new season you find yourself in, and I'm hopeful that these tips help you do just that!
Here's the reality of the situation. Once you all of the sudden find yourself alone, free of structure, and with a whole day in front of you, the type of day you have is often a result of the choices you make regarding how you spend your time. Not only how you spend your time, but when you spend it. And on what. Yes, the sequence of things matters!
There's no "one size fits all" to the perfect working from home routine, but over the past five years I've learned a few things that consistently, and without fail, bring joy to my day. So, with that being said, here are seven ways to foster joy working from home!
one
have a quiet time first thing
It's so tempting to think that once you work from home, you'll finally be able to implement the routine you've always wanted. But be careful! I've seen time and time again in my own life how answering "just one email" before starting my quiet time can turn into four hours at the computer before even changing out of my pajamas.
I've found that starting my morning spending time studying the bible and writing my prayers out in a prayer journal has had the biggest impact on my day than any other decision. Carving out the first thirty to sixty minutes of the day to set my eyes on the Lord fills my spirit with peace, broadens my perspective, and gives me a biblical lens through which to view every decision and challenge the day holds.
When I take the first few moments of my day to be still and be with the Lord, the rest of my day is blessed, no matter what ends up unfolding.
Looking for a practical way to start? She Reads Truth has an amazing arsenal of online bible studies you can start right now! Here is a wonderful study of Philippians that is so well-timed. I, myself, am working through Hebrews with this study with my small group and I'm learning so much.
It may feel like there are a million other more important things to jump start your day with, but take it from me. My day is always more joy-filled with I take this first step!
two
get a sweat in
Here's the deal. Sometimes you just want to stay in your pajamas and work from bed all day. But again, I've learned from experience that getting in a sweat before jumping into the demands of the day results in a more peaceful, productive, joy-filled day! (Those endorphins are no joke!)
I almost always have to talk myself into working out right away (I have a knack for "pushing it off" and then, surprise, it doesn't happen) but I never, not once regret taking thirty minutes to an hour to move!
If you're looking for a great at-home working, I love Obe! There's a huge variety of class options, from yoga to dance cardio, and you can do them "live" or choose from the pre-recorded workouts! For $10 off your first month, feel free to use the code LONESTAR.
For me personally, this morning workout consists of a 45-minute Peloton ride. I am loving my bike more now than when I first got it, and will be posting an updated review soon! Let me know if you have any specific questions about it!
three
take a shower & get ready
I know, I know. This sounds so "duh!" But you might start to realize just how easy it is to stay in sweaty workout clothes (or pjs) all day if you jump straight into work!
Force yourself to take a shower, put on makeup and select an outfit for the day. Even if it's just leggings and a t-shirt, I always feel happier when I feel put together! (You've heard me gush about it before, but this allows me to get a beautiful blowout so quickly!)
four
put on a playlist
You did it! You started your day off well and now it's time to get to work.
Now's the time to put on a playlist fitting your mood (sometimes I'm feeling chill, sometimes I'm wanting upbeat country, go with whatever you're in the mood for!) and get to it!
Here's my tip: while playing through a laptop is great, it's even better to use a different speaker in your home. (I use the soundbar on our TV!) For some reason, it allows the music to really create an ambiance and settle into the background of my mind rather than being distracting because of it being so close to my face. So random, but try it!
five
make that checklist
If you were to ask me what the hardest thing is about working from home, I would tell you it's that no one is there to tell you "good job" or "let's shift gears to working on this."
It so simple, but it's wild the feeling of accomplishment I get when I write down achievable tasks for the day (in order of urgency) and check them off. I even write down "quiet time" and "work out." Checking those off before even doing a lick of work puts me in a productive mindset!
It also allows you to structure your next day effectively and accordingly. Feeling productive when working from home plays a huge factor in happiness-level and overall joy, in my experience. This is an easy way to make sure that happens!
six
schedule your breaks
Every day, I look forward to my 12:00pm lunchtime, my 3:30 snack and cup of coffee, and my 5:00pm "closing time." When you work from home, you have all the flexibility in the world to do these things whenever you want to. BUT, my happiest and most joy-filled days happen when I'm able to set up small little incentives for myself and work toward them!
So until that scheduled break arrives, keep the snacks in the pantry and tell yourself you have to earn your afternoon coffee. On the flip side, when your "closing time" arrives, resist the urge to just "squeeze a few more minutes in." (If you can of course.) These mental "rewards" make my day feel more structured, allow me to focus, and overall result in much higher productivity.
seven
shut your screen off
Once evening arrives, turn off your screens! Put your laptop in a different room (key!), and if you can, turn your phone on silent. Give yourself this challenge: watch a tv show without looking at your phone once. Take your phone to another room when eating dinner.
This may sound extreme, but I've found that my evenings "off" are so much more fulfilling and restful when I don't waist them scrolling on my phone. I promise you will enjoy that tv show, dinner conversation or nightly walk 100x more without the distraction of a screen, especially during this season. Don't believe me? Just try it!
And there you have it, friends! I hope these seven tips allow you to not only make the most out of your work-from-home situation, but to truly enjoy them and foster joy through the process.
If you have any other tips you implement to foster joy while working from home, I'd love to hear them! In the meantime, sending lots of love from my home office here in Florida.
Love from the Sunshine State,
Kate