One of the most frequent questions I get is where on earth my planner is from. If you haven't been introduced to Sweet Caroline Designs, y'all, you're in for quite the treat!
I love a large, clean, organized planner. Even though they can be so cute, I don't need itemized lists, quotes, or any "extras." Over time, I've learned those additions can quickly overwhelm when looking at a busy week!
That's why I became an instant fan when I came across the large Sweet Caroline Designs 17 month planner. (There's also a smaller size if you don't carry a Mary Poppins bag like I do!)
The size is perfect for all of my checklists, notes and lists. The layout is clean and simple. The note pages are plentiful. And perhaps best of all, the monthly designs are so adorable, cheerful and southern. Honestly, what's not to love?!
Whenever I use it, it puts a smile on my face. Any way to add a bit of joy into my day is an automatic win – this planner does just that!
So scroll below to see the planner I picked out for this year, along with an amazing discount code just for Lonestar Southern followers!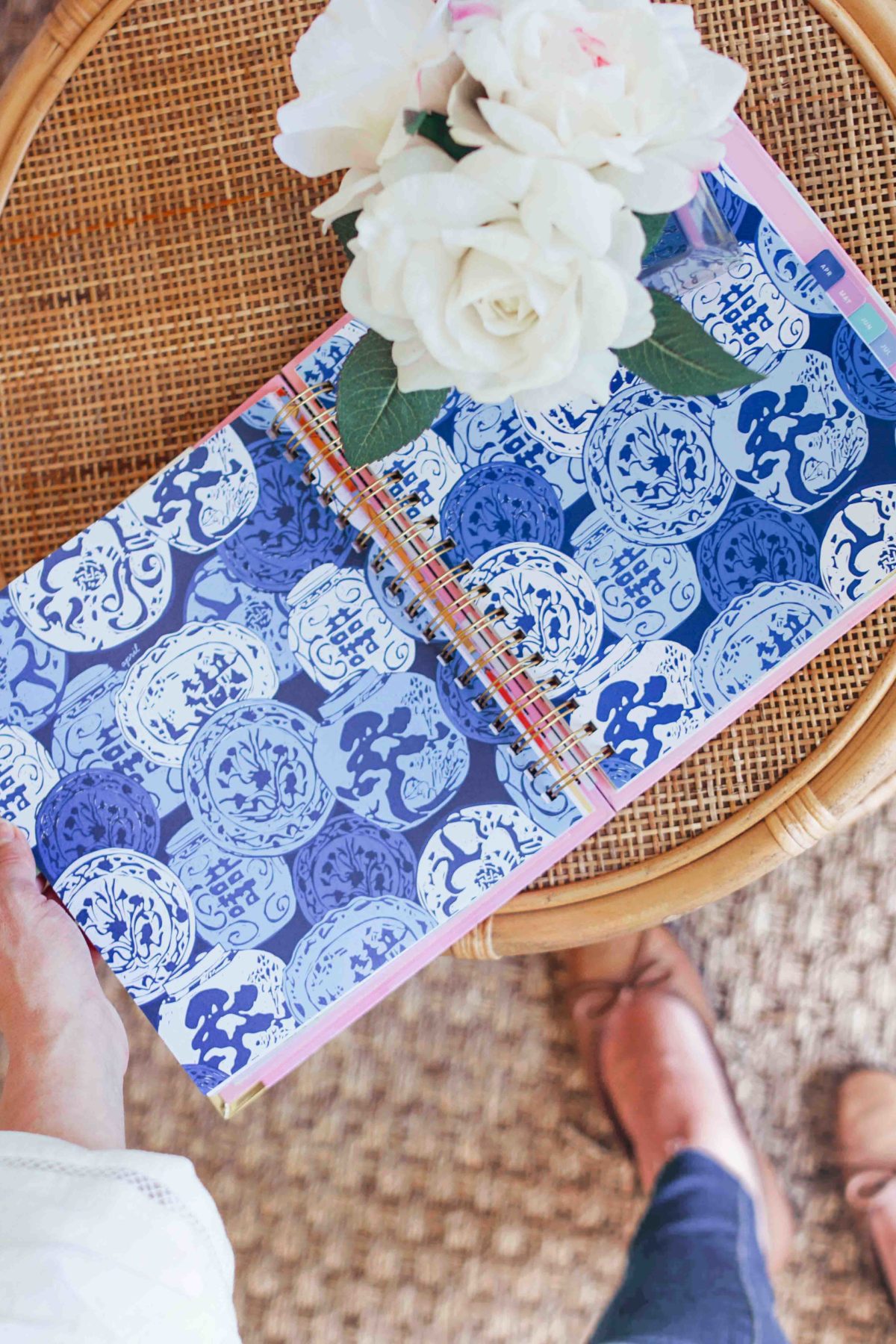 TOP | EARRINGS | JEANS | SHOES (chanel, similar linked)
Let's take a look inside, shall we?! Here are a few of my favorite features. Not pictured is the pocket attached to the inside cover. I put so many pamphlets, business cards and receipts in there!
monthly view // weekly view
Each month is equipped with one full calendar, and then weekly segments divided into two pages. I love how clean and easy to navigate it is. I draw a line through each day on the monthly overview, and draw my own checkboxes to cross off as I complete daily tasks.
favorite months
Whenever I get a new Sweet Caroline Designs planner, I immediately flip through the monthly art. Each of the designs is adorable. (My favorite, the blue chinoiserie collage, is on my birthday month. Yippee!) Once I move on to a new planner, I cut these out and use them on bulletin boards and such.
sticker page
Oh yes I DID just say sticker page! And are these not to die for?! The only problem is they're so cute that I hate to actually use them! Goal for this next month… actually use some stickers! :)
I'm head over heels for the Sweet Caroline Designs planner, and am so happy to share this little piece of my day with you! That's not the only thing I'm sharing today… how does a DISCOUNT CODE and GIVEAWAY sound?!
discount code
use KATE10 for an extra 10% off planners
The best news is that the planners are currently 30% off… so you'll get an extra 10% off with this code! This yearly planner started in August, so you haven't missed much, especially considering it goes until December of 2020!
giveaway
Be sure to check my Instagram Story later this afternoon for a fun giveaway. I'll be sending one of you a large Sweet Caroline Designs planner in pink gingham, just like the one I use and love!
Now I'd love to know what your favorite planner is for tackling each week!
Love from the Sunshine State,
Kate