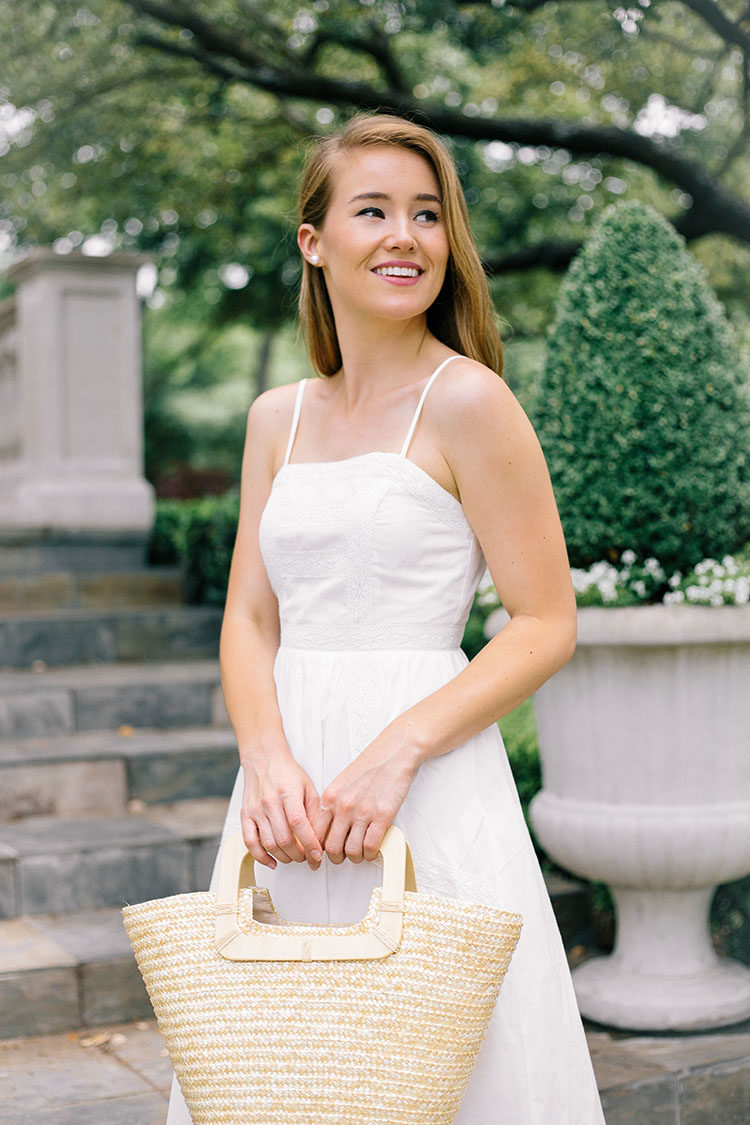 DRESS   white eyelet midi dress (wearing size XS, also in red)   |   BAG   wooden handle straw bag   |   SHOES   nude strappy espadrille wedges   |   EARRINGS   pearl studs
One thing that has surprised me over the past couple of years as an avid online-shopper is how things can so surprise you once you get them out of the box and on your person. Sometimes, the ensemble looking back at you in the mirror isn't what you had pictured in your head. Has this happened to anyone else?
Well, friends, this same phenomenon happened to me recently when I purchased this white midi dress, but in the best way. I instantly loved it on the model for it's simplicity, modesty and $49 price tag, but when I got it on? That's when the true obsession started!
I was pleasantly surprised to see that it looked even more beautiful on than I had pictured! Let me start off by saying the material is absolutely lovely… definitely not what I was expecting given the budget-friendly price. And y'all.. the fit! So ladylike and absolutely timeless. I can't get over how sweet it looks.
I packed up this precious frock for the next week and a half in Italy, and am thinking I might just wear it tonight! It comes in a beautiful red as well.
If you have any photography-worthy moments coming up (graduation photos, family beach pictures, etc) keep this dress in mind. I love wearing timeless pieces for photo shoots since they'll look lovely no matter how trends change, and this dress makes that possible!
Love from Texas,
Kate
P.S. I think few things in life are more lovely than a white dress, don't you agree? If so, check out my full white dress repertoire here!