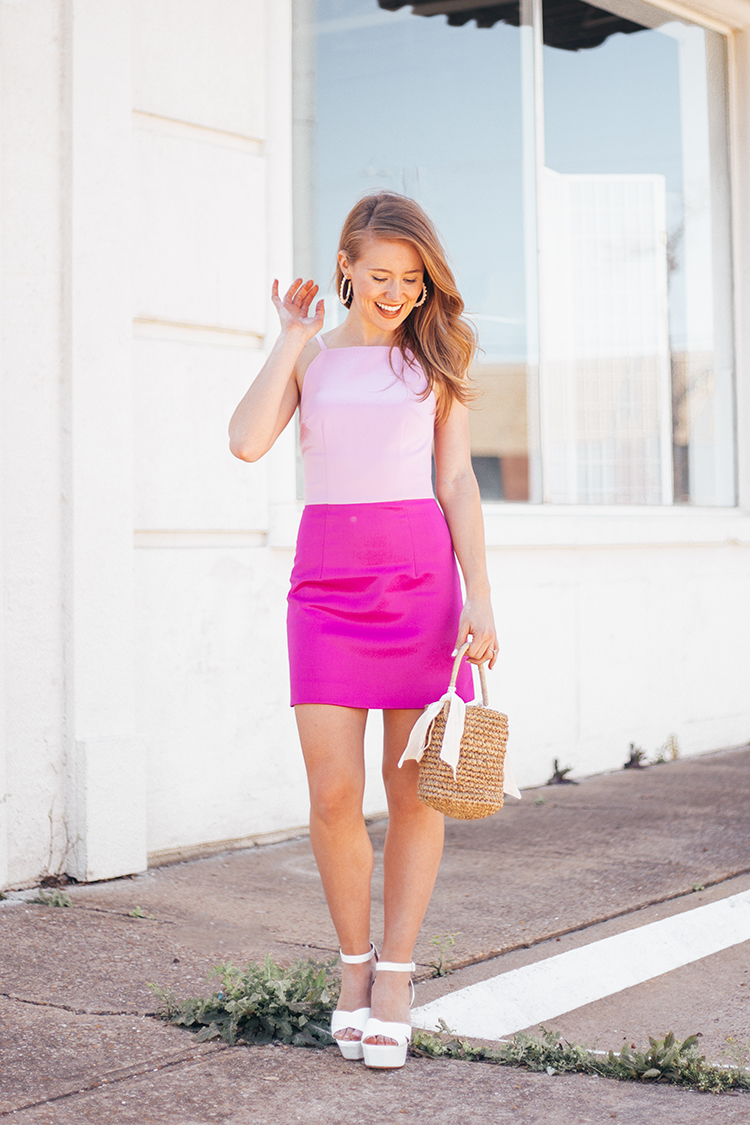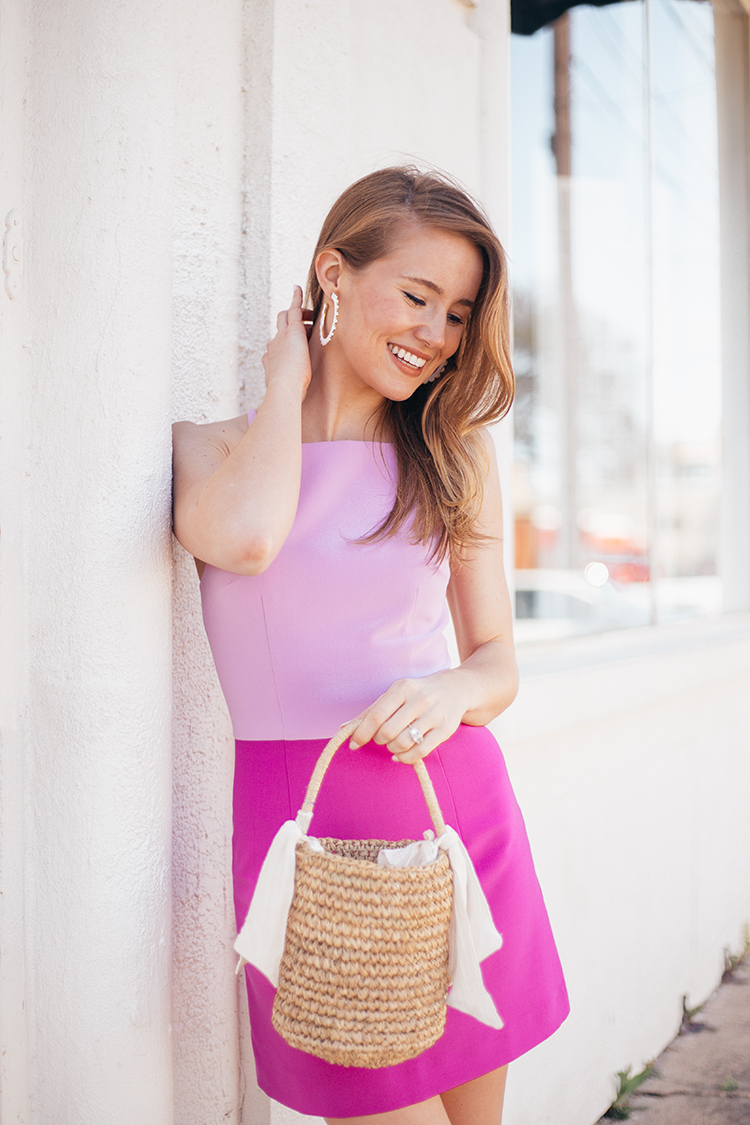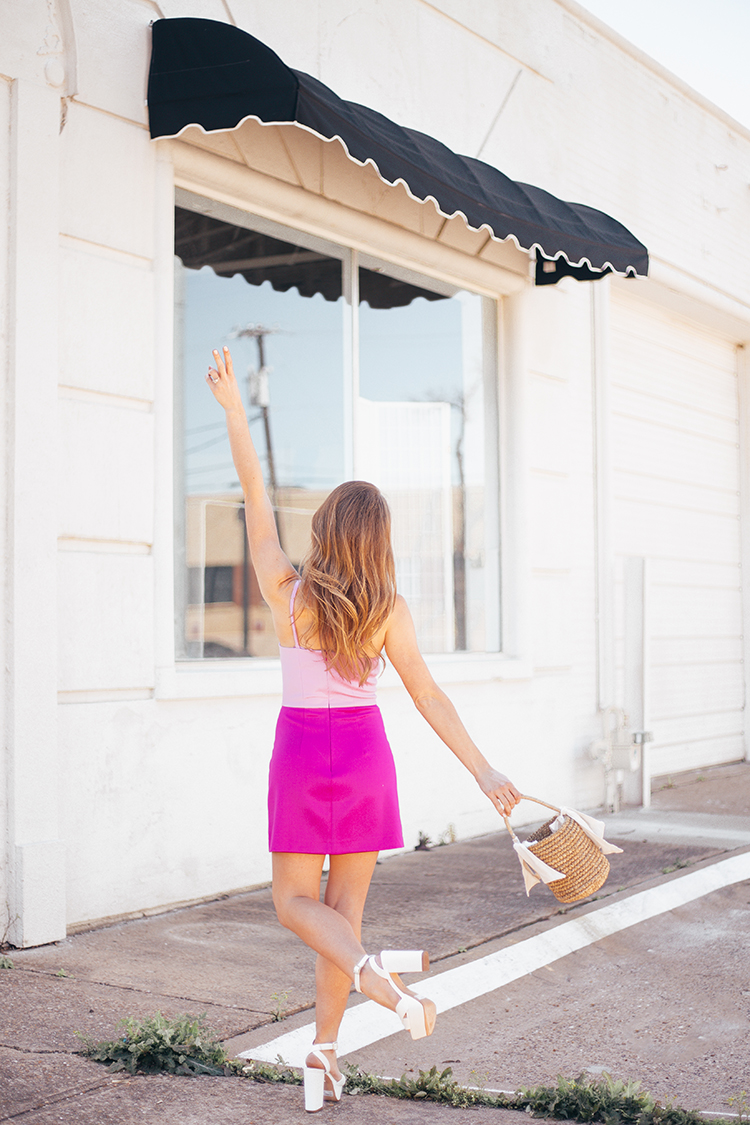 DRESS purple two toned dress | SHOES white platform heels | EARRINGS scalloped hoop earrings | BAG straw tote
If there's one thing I've become increasingly grateful for over the course of these past few years, it's the rise of online shopping. Can I get an amen? It allows me to shop stores I wouldn't otherwise have access to, expands my options tenfold, is ultra-convenient in a pinch, and has resulted in some amazing loyalty programs from favorite retailers.
I know these can be a hit or miss, but one I have truly been loving is the Bloomingdale's Loyallist Rewards Program. Today. I'm excited to be partnering with Bloomgindale's to share more about why I've loved this easy, free, completely fabulous shopping hack, and how it's been so wonderful during all of this wedding shopping!
I signed up a few months ago, and have been pleasantly surprised at how quickly my points have racked up, y'all. I currently have a rewards card sitting in my account for $125! I'm so excited to splurge on something for my honeymoon with it… this matching set? This pink bikini? This adorable romper?
I think a lot of it has to do with the Bloomingdale's-exclusive line I'm obsessed with… AQUA. I have found so many adorable, trendy pieces, and most are under $100! There have been tons of cute white dress options as well, which you know I've loved.
In fact, everything I'm wearing above I got from Bloomgindale's, including the fun shoes I wore all weekend and the dress I wore to Friday's SXSW event… and since I'm a Loyallist, I received free shipping and tons of points towards my next rewards card.
Let's lay out all the good stuff, shall we? Take a look at this list of happy that Bloomingdale's Loyallists have access to:
One point for every dollar you spend on bloomingdales.com, in stores and outlets
Two points for every dollar you spend on all shoes (like this pair I'm wearing in this post!) cosmetics and fragrances on bloomingdales.com and in stores
Free shipping and returns, no minimum purchase required
Double, Triple and Power Points during exclusive events (like the one going on now!)
And best yet, you can sign up quickly, easily, and totally for free here. I mean it when I say I have genuinely loved this program. It's not uncommon to see a cute purple package show up on my door these days!
Whether you're on the hunt for a prom dress, a rehearsal dinner gown, some new summer sandals or a fresh addition to your skincare routine, shopping gets a little bit sweeter when you're a Bloomingdale's Loyallist. Sign up here to join in on the fun! And check out a few of the spring pieces from Bloomingdale's that I'm crushing on below:
click directly on an image to shop
Wishing you a fabulous start to your week! Let's make it a great one!
Love from Texas,
Kate
Thank you, Bloomingdale's, for sponsoring this post.