And just like that, beach towels and lawn chairs are being cleared from every shelf you see in order to make room for three-ring binders and backpacks. This time of year, "back to school season" if you will, remains a favorite of mine even post graduation. There's a sense of anticipation in the air as we all look forward to the "freshness" back to school brings, for as battered and weary agendas nation-wide are replaced with pristine, blank ones, we replace the scattered, hectic nature of our summers for a clean, fresh start.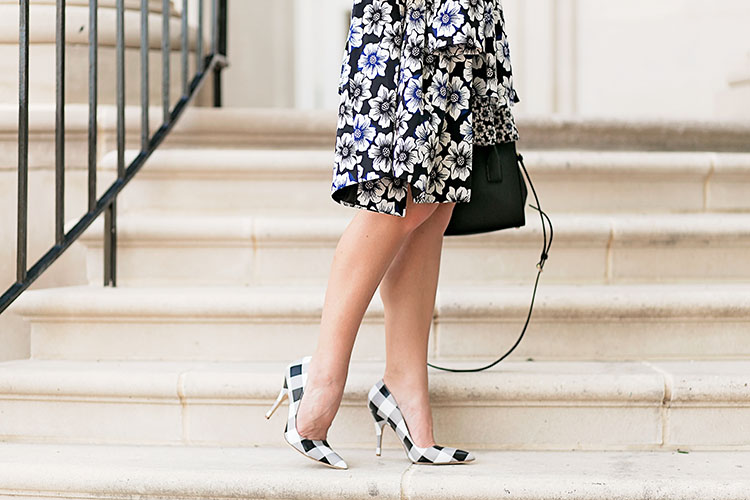 BAG   cameron street mini candace   |   SKIRT   hollyhock double layer skirt   |   COAT   hollyhock coat   |   SHOES   plaid licorice heels   |   SHIRT   sleeveless button down shirt   |   HEADBAND   suede skinny headband   |   EARRINGS   pearl studs
Nothing quite embodies the magic surrounding this time of year quite like Kate Spade's newest collection. Dainty florals outlined in crisp black and navy, timeless silhouettes seasoned with a pinch of femininity… I'm immediately transported to cool fall mornings on the Upper East Side, where everyone you pass seems to be put together in that sort of fashion that you only find in New York.
The hint of whimsy and playfulness sewn into each classic, lady-like piece is my absolute favorite characteristic of the look. There's an air of poise and mischievousness that it exudes. And what good is being poised if there's no mischief to liven things up as well?
So, friends, whether your classroom is one of literal chalk boards and back packs, or more of the metaphorical sort (in which lies a new season of soaking in all the lessons life has to teach) join me in stepping into the new "school year" ahead in confidence and style.
Love from Texas,
Kate
Photography by Angie Garcia
Thank you, Kate Spade, for sponsoring this post.