After a jam-packed day of fun in the sun thanks to Lilly Pulitzer, my girls and I showered, threw on our favorite Lilly shifts and headed to the beach for a few sunset photos! The Lilly team had a gorgeous roof-top dinner planned for us at The Pearl right at sunset. The air was cool and the light was perfect for a few shots beforehand!
My incredible wedding photographer, John Cain, snapped these images that I know I will treasure forever. Scroll below for a few of my very favorites!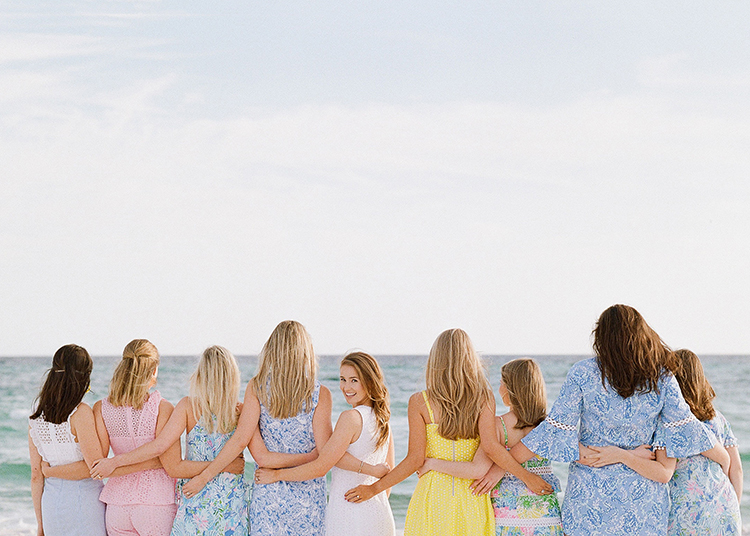 Aren't these girls so precious?! I just love how John captured all of their personalities so perfectly, and how each different Lilly ensemble perfectly suits them. Here are the outfits we had on!
Each time my family and I have visited Seaside, we've done this classic beachside photo shoot. I love looking back on those images and seeing the changes over the years against a backdrop we hold so dear. Needless to say, capturing the same setting, but with my best friends this time, felt so surreal and so very special. Definitely a pinch me evening!
It didn't take us long to capture these photos, and in no time we were headed to Rosemary Beach for dinner! As if the Lilly team hadn't blown us away enough already, we arrived to a stunning cabana on the rooftop of The Pearl. Picture twinkling candles everywhere, gorgeous Lilly flutes and seemingly endless bottles of rosé chamapgne.
I wish I had taken more photos of the evening, but we were having too much fun we didn't even think about our phones. Honestly, those are the moments I cherish the most, don't you? We spent the night walking down memory lane, sharing stories and laughing until we cried.
When the time came to say goodnight and bid farewell to the Lilly Pulitzer team, who had flights out early Saturday morning, we were all so sad! We tried our best to convince Amy and Katie to stay the entire weekend with us, but alas, had to compromise on a reunion trip in the near future. I suppose that will have to do, right?
We headed back to our beach house and all but collapsed into bed. After such a full, fun day, we were exhausted in the best way!
When I look back on Friday, I can't believe it was only one day and not the entire trip. Truly, the Lilly Pulitzer team packed in enough fun for the entire weekend! It was the most unbelievable start to my bachelorette weekend, and I'll never be able to say thank you enough to the incredible people who went into making this dream a reality… like Lilly Pulitzer, John Cain Photography and Sanders Beach Rentals to name a few!
I'll be back with more details regarding the rest of our weekend soon, but let's just say, Saturday and Sunday were incredibly chill in comparison to our Friday fun. This was in every way the best day.
Wishing all of you a wonderful rest of your weekend! And if you're new to the series, catch up on my bachelorette weekend recaps below:
Bachelorette Weekend Recap No. 1
Bachelorette Weekend Recap No. 2
Bachelorette Weekend Recap No. 3
Bachelorette Weekend Recap No. 4
Love from Texas,
Kate