If you did a double take at the title "winter wedges," I can't blame you. That summery shoe-silhouette isn't the first thing that comes to mind when thinking about bundling up for cooler temps, right? I can honestly say that before coming across this special pair, I've always stowed away my wedges during winter. But, y'all… this pair changes all that! With suede accents and a unique build, I've been wearing this shoe non-stop ever since purchasing. For those of us living in locations with mild winters, these cuties are a must-have!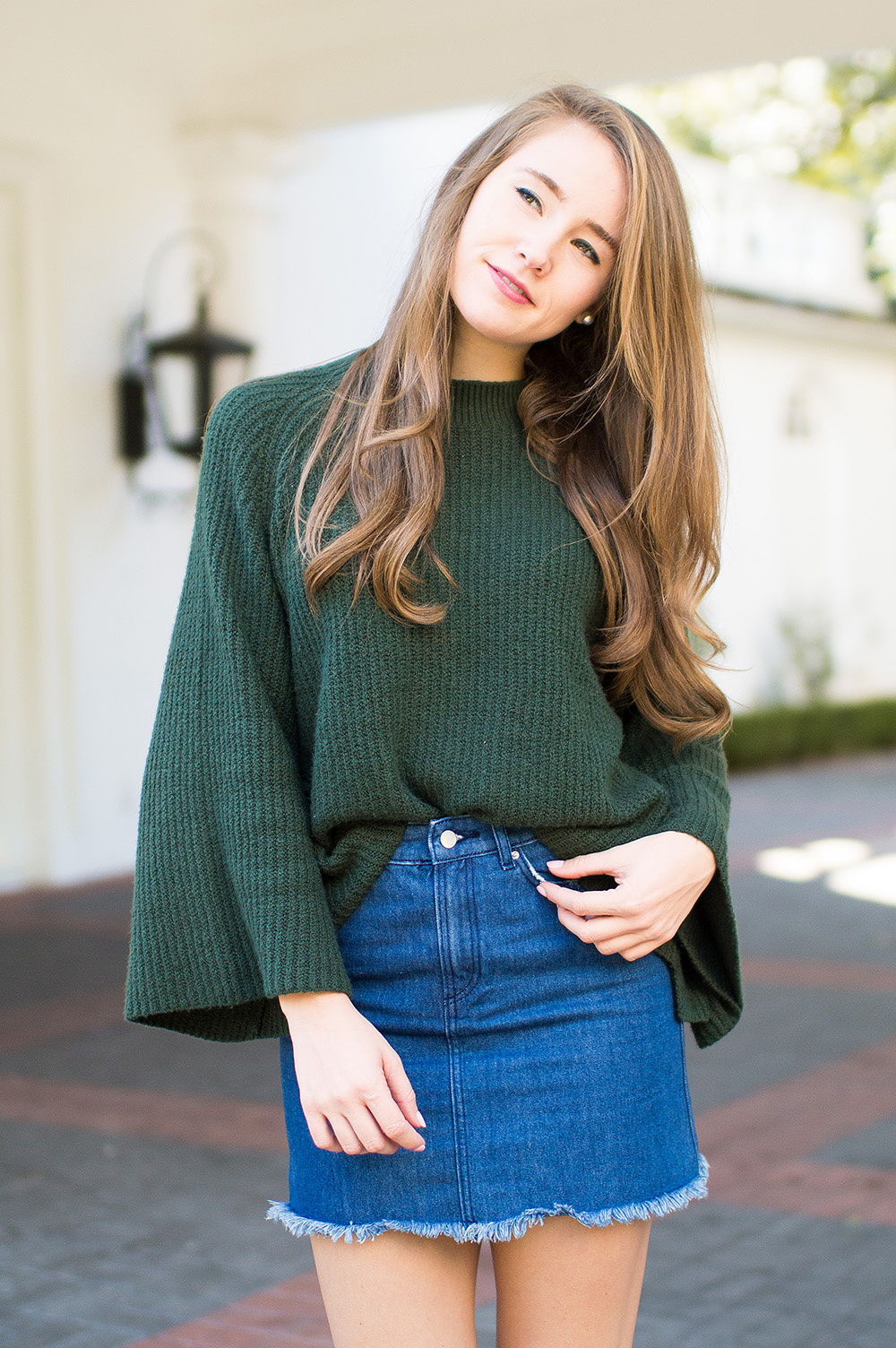 SHOES   suede ankle strap wedges   |   TOP   green bell sleeve sweater (I also own in orange, seen here)   |   SKIRT   denim mini skirt (similar linked)   |   EARRINGS   pearl studs   |   LIP COLOR  gloss in 'scandal'
You may have seen this pair of wedges seemingly break the internet this past summer. For waaay less than half the price, they're literally identical to this designer style! So it came as no surprise that every single time I went to try to purchase a pair in my own size, they were sold out. Womp, womp.
Until, as fate would have it, I was scrolling through the Nordstrom new arrivals page last week and saw they had been completely restocked in every size! Not only that, but they are available in a gorgeous black as well. I knew right away that this was a purchase I would wear year-round. While I'll be styling it with sweaters, skinny jeans and flares for now, you can expect to see them come-spring with white jeans and sundresses! And speaking of… these wedges make the perfect shoe to pair with flared denim. I wore them that way all weekend and got so many compliments! (Side note: I don't normally throw in personal photos to blog posts, but I wanted you to see just how much use I'm getting out of these in my own day-to-day world!)
Leave it to Nordstrom to recognize how loved these wedges were, and bring them back just in time for gift-giving season. There's a reason I'm always checking the Nordstrom shoe department new arrivals page… they're consistently bringing in the cutest, newest styles! Take these ah-mazing rose gold Nike kicks and these bow rain boots, for example. As we head into Christmas-shopping season, you can bet I'll be checking off my list thanks to Nordstrom's amazing selection!
Love from Texas,
Kate
Thank you, Nordstrom, for sponsoring this post!