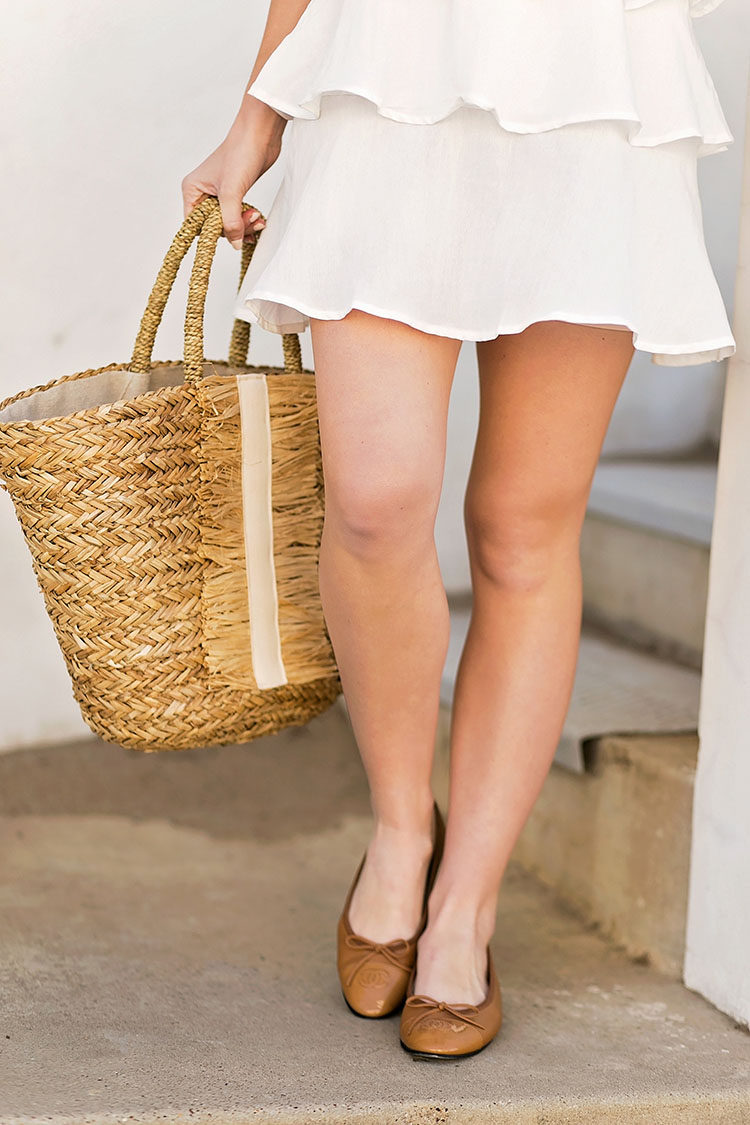 DRESS   white flounce dress HERE and HERE (order one size up)   |   TOTE   seagrass tote   |   SHOES   chanel flats (similar HERE)   |   EARRINGS   pearl studs
Do you remember seeing this white flounce dress in this Latest & Greatest post from a few weeks back? I was immediately drawn to it for its sweet, feminine ruffles, cinched waist and bow sleeves. So many precious details all in one frock! What made me pull the trigger in all of two seconds, however, was the price tag… this lovely dress retails for under $100!
We all know how valuable having a great LBD (little black dress) in your closet is. I'd argue the same with a little white dress! This is a darling option for Sunday brunch, seaside vacations, and even sorority recruitment! Not only that, but you can actually wear this dress off the shoulder, too, giving you two looks in one piece.
A couple of notes on sizing… I actually found this dress to run a little small. If you're planning on wearing it with the sleeves like I am above, I'd recommend going one size up. I ordered my usual size (XS) but wish I had gone with a small. Furthermore, since the dress is linen and unlined, I ended up wearing this pair of nude shorts underneath just to take the worry out of any wardrobe malfunctions! (We all know spring and summer outdoor lighting can be dangerous.)
I hope everyone had a great weekend! My family and I had the best time celebrating my mama's birthday (which is actually today) all weekend! This included a trip down to a beautiful perfumery she had been wanting to try, as well as a huge crawfish dinner last night. I was so sleepy all weekend, so getting to bed early each night (grandma status) proved to be just what I needed for a battery recharge. I am looking so forward to this week, and I hope you are too! Thank you so much for starting yours with me!
Love from Texas,
Kate
Photography by Angie Garcia