A few weeks back (my, how summer flies) I tried out a different sort of post with y'all… "What I Wore This Weekend // Wedding Guest" filled with personal photos and memories from a fun weekend I spent in San Antonio. As it turns out, the feedback y'all so graciously gave me clued me into something fun… y'all love personal life posts!
You know what's fun about that? They just so happen to be the posts I most enjoy writing! So today, I thought I'd share an even more fun one with y'all… a "What I Wore This Weekend" to my best friend's wedding!
Julie and I have known each other since high school, but became best friends after rushing Kappa Kappa Gamma at the University of Texas. We have so many fun memories from college and post-grad together, but y'all… this weekend was by far and away the best yet!
Let's just say, the wedding was spectacular. Every detail was stunning, thoughtfully-planned and perfectly befitting of her and her now-husband, Tim! Andrew was a groomsman, I was a bridesmaid, and the weekend was one I'll never forget. Here are a few of my favorite photos from it all!
Rehearsal Dinner
DRESS   black bow cocktail dress (true to size, wearing 0)   |   EARRINGS   pearl drop earrings (old Kate Spade, similar linked)   |   HEELS   stuart weitzman nudist heels   |   BAG   chanel classic mini square flap bag
After rehearsing, everyone headed to the George W. Bush presidential center for the rehearsal dinner. It was absolutely stunning, and oh so fun to listen to the toasts from people who love Tim and Julie so much.
Funny story, at the rehearsal dinner of one of my other best friend's (which also took place in this exact room) I completely forgot the third point of my speech and stood there stalling for 30 seconds. SO AWKWARD. Needless to say, I brought a cue card along with me this time! ;)
Let me just way, I wish I had a photo of Julie in her dress. It was white, fluttery perfection and we were all drooling over it!
I decided to splurge on this lovely black cocktail dress for the occasion. I have so many friends getting married in the coming months, and wanted a beautiful, timeless dress I could wear again and again. After taking this one for its inaugural spin, it's safe to say it's one of my favorite dresses in my closet! Definitely a "big girl" purchase I'll be wearing for years.
The Day Of
HAIR & MAKEUP   maitee miles   |   DRESSES   alfred sung   |   EARRINGS  lauren huddleston carla earrings (a gift from the bride)   |   LIP COLOR   merry rose (my favorite lip color of all time! looks fresh and natural and glamorous on everyone)
Talk about the best girls day ever! Julie had her bridal party arrive around noon for hair and makeup. Julie had gifted us the softest, most adorable set of pajamas to wear together, which happened to go perfectly with her navy, white and blush color scheme. Even her two little flower girls had a pair… precious!
Maitee Miles did a fabulous job transforming everyone! It's rare that I love an up-do and makeup application so much… I swear I showed her a photo of what I wanted for maybe three seconds, and she then made my vision a reality in 10 minutes!
But y'all should have seen the bride. She wore a gorgeous half-up hairstyle and was literally glowing. A vision in every way. (Tim, you're so lucky!)
After getting dressed (we wore these dresses in navy, which I thought flattered everyone so well), seeing Julie come out in her gown and veil (cue the tears!) and taking a few photos at the country club, we loaded the bus for the church and the real fun began!
The Day Of
I really don't think these photos even need words. Have you ever seen such an elegant bride?! If you know Julie… you can tell that this dress just totally captured her. Elegant, classic, breathtaking. My jaw dropped and stayed open when she first walked out!
The ceremony was absolutely stunning… I don't think I'll ever get over the feeling of having a front-row seat to watching your best friend marry the love of her life!
The ceremony started and was over in what felt like the blink of an eye. Do weddings feel this way for anyone else? The smiles on Julie and Tim's faces when the pastor pronounced them "man and wife" were the biggest I've ever seen.
The Reception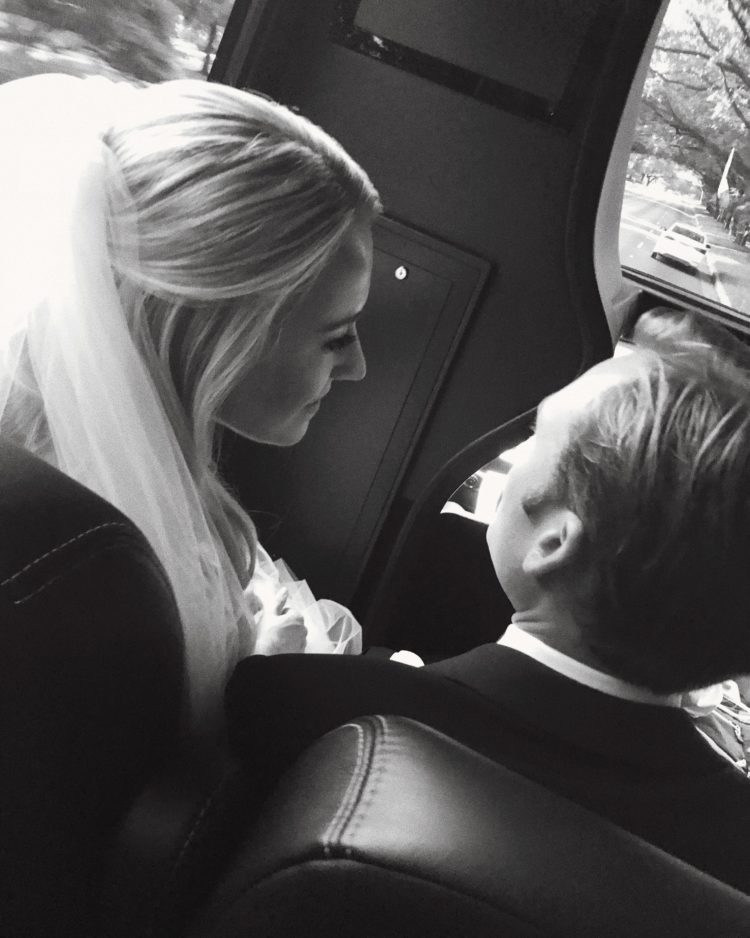 First off… can we talk about the way Tim is looking at Julie in that fourth photo? Y'all.
Can you tell we had fun?! Julie and Tim's reception at the Dallas Country Club was one for the books. They had a stunning seated dinner, the most incredible band I've ever seen (Emerald City Band) and above all, you could tell they were overjoyed to finally be married!
I also loved seeing so many high school and college friends in one room. It felt like a huge reunion in the very best way. I'm serious, we did not leave the dance floor once. That's the sign of a good time, in my opinion!
Needless to say, I am tired this week! :) This weekend took it all out of me, ha! It was one of my highlights of 2018, and I'm so excited to get to share it with you today! Cheers to you, Tim and Julie! Love y'all so much!
Love from Texas,
Kate