In terms of the wedding weekend as a whole, it's safe to say the "big day" gets the most buzz. But growing up, I used to hear my parents go on and on about how their rehearsal dinner, and how it was their absolute favorite part of the entire weekend.
I now understand.
I really don't have words for what a special, beautiful, perfect day the Friday before our wedding was. The weather was stunning, the non-stop hectic nature of planning had finally ceased, and the entire day rang with anticipation of what was just ahead.
That golden, Friday night, Andrew and I were surrounded by some of our very closest friends and the family we love so dearly. We spent the evening celebrating where the Lord had brought us and all of the special people who had been a part of our story. It was absolutely magical.
I am thrilled to invite you into this irreplaceable evening of ours. I hope these images, taken by John Cain Photography, give you a taste of the many memorable moments made that we will cherish forever!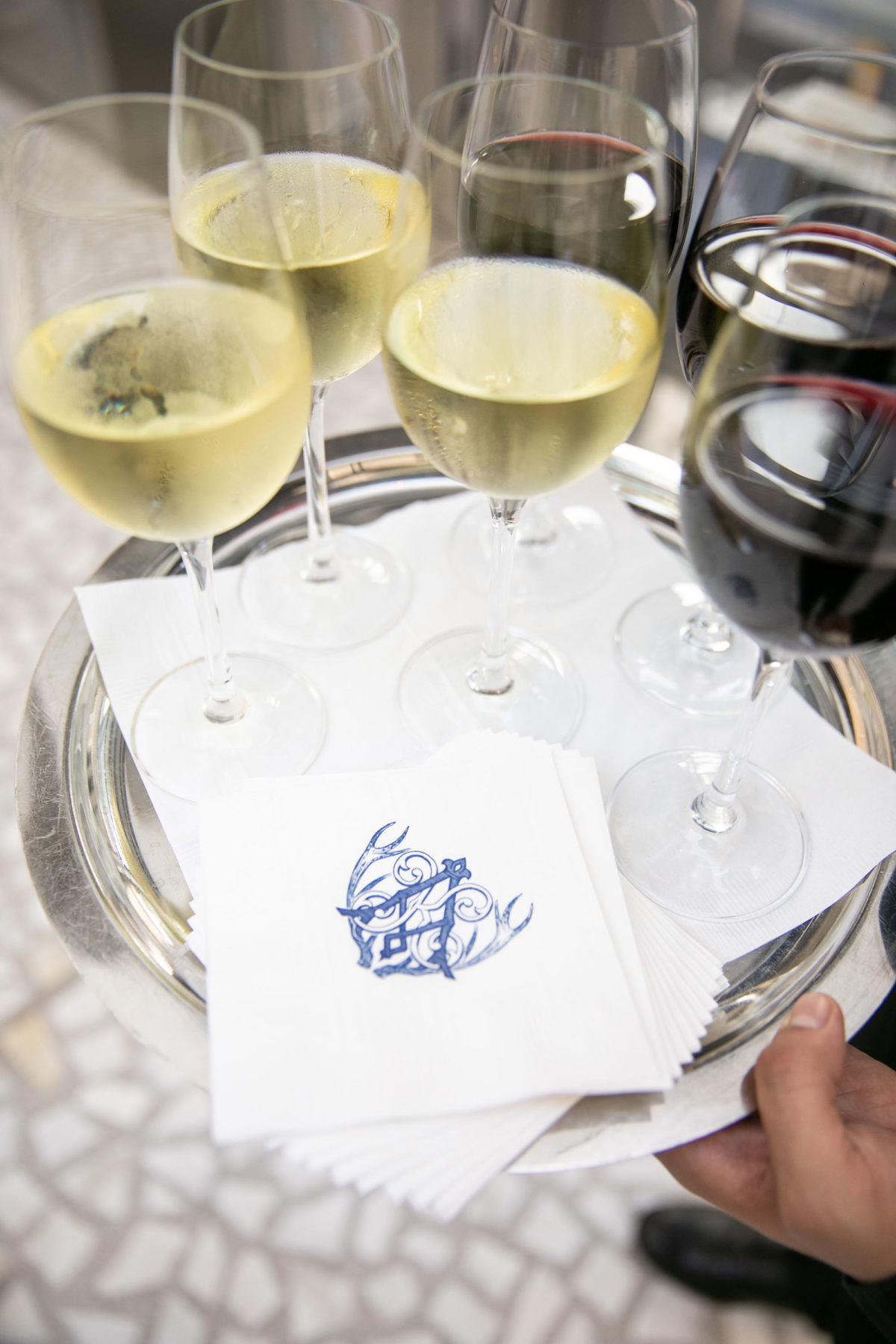 Swoon. I feel as if I'm reliving it all over again looking through these photos! Before I go any further, I want to express my boundless gratitude for all of the love, creativity, and seemingly endless work my beautiful mother-in-law put into making this night perfect in every way!
I'll be the first of many to speak to her unbelievable gift for hosting. Do you remember the surprise party she threw right after Andrew proposed? (Read all about it here!) She has a way of making every event not only stunning, but also convey the exact sentiment of the occasion through every detail.
For our rehearsal dinner, she decided to go with the theme of Arquerro Ranch. Andrew's family's ranch has become, truly, our favorite place in the world, and an incredibly special one in our relationship. It's where we got engaged, after all!
If you look closely, you'll notice details that speak to that theme throughout the entire evening. When I say my mother-in-law is a magician, I mean it. Our custom wedding monogram, for example, was re-designed with antlers behind it and embroidered on the head table linens, placed on the cocktail napkins and even emblazoned onto the chocolate covered Oreos that served as party favors. Beautiful antler and bark accents were incorporated into the table settings and floral arrangements, and don't even get me started on the magnolias, y'all. She brought them from her own yard for the florist to incorporate into the arrangements!
But I'm getting ahead of myself. Let's start at the beginning, shall we? I promised to share details on my dress, so in traditional "blog post" style, let's begin with, you guessed it, the outfit details.
Since I was going with such a traditional wedding gown and bridal look, I really wanted to have fun with my rehearsal dinner outfit and do something a bit more current and sassy. Turns out, finding a rehearsal dinner dress was much more difficult than anticipated! I caught myself wandering back to styles that echoed the look of my wedding dress time and time again until I finally found these beautiful Bronx and Banco gown. It was exactly what I didn't even know I was looking for, and I am so thrilled with how it turned out!
It was so much fun wearing something slim-fitting and, dare I say it, sexy since, as you've seen, my dress was definitely not. :) Between the gorgeous ruffle hem, the slit (which in hindsight I should have pinned down further than it was – it showed way more than I was expecting as I started to move and walk around, haha!) and the illusion back with *my favorite detail*, the pearl accents, it was a dream in every way. Talk about a true party dress!
I rounded out the look with the "Madeley" earring from the bridal collection I designed with Lisi Lerch. I wore the pearl style, which perfectly complimented the pearl detailing along the back of the gown. Stuart Weitzman nudist heels made for a lovely, elongated leg, and I kept my lip color (Chanel Le Rouge in "Merry Rose") and phone in a YSL clutch (similar linked) that's been a staple of mine for a few years now.
One of my favorite memories of the day was getting ready with my mom and sister on Friday afternoon. After my bridesmaids' luncheon (more on that soon!) we had Maitee, who did hair & makeup for my bridesmaids, mother and I on the wedding day, come to our house and get the three of us all dolled up for the rehearsal dinner!
I know I've spoken about it before, but words don't do justice to how much we adore Maitee. We laughed, primped and chatted for hours as she transformed us. Getting ready for big events usually leaves me stressed and crunched for time, and I'm so thankful that this afternoon my mom, sister and I got to simply relax and have fun before the weekend began! I don't think I've ever seen my mother or sister look SO beautiful, and I wish I could make my hair do what Maitee did every single day. A girl can dream!
Now, on to the night itself! After rehearsing at the church, Andrew and I, along with our wedding party, took a charter bus from the rehearsal down to Main Street in downtown Dallas. Our wedding photographer, John, was there to greet us as we got off the bus, and the fun began!
One of the many details of the evening I am so thankful for was the chance to grab a few photos on the lawn across from the Joule hotel, where the iconic "eyeball" sculpture resides! Andrew is training to become an ophthalmologist, and his father has been in practice as an ophthalmologist for years now, so this was such a fun nod to Andrew's family, our immediate move to Gainesville for his residency, and wherever the Lord takes us after that.
After a few photos, we crossed the street and headed up the beautiful glass elevator on Main Street to the Joule Terrace. I'll never forget the moment those doors opened and I was greeted by so many favorite faces, twinkling lights, acoustic guitar, champagne, and so much more. Such a pinch-me moment!
The few hours that followed were some of the most-cherished of my life. Andrew and I sat there, stunned, emotional, grateful and speechless as we heard from the friends and family who gave toasts, said prayers, and blessed our future together. One of the many sweet moments I love looking back on was when his precious grandparents gifted us with an absolutely beautiful, hand-painted Limoges box with our wedding duogram on top. (You must check out Ronda Roush, who I've come to find out created it!) Let's just say I'm so thankful John didn't photograph the entire thing. I was a teary, blubbery mess at the end!
As if the photos don't do enough justice, it was a stunning evening in every way. I feel overwhelmed with gratitude to my sweet in-laws for making the night better than a dream come true! It set the stage for a heartwarming night of stories, toasts, hugs, laughs, tears and all the things as everyone sunk into the reality that Andrew and I would be Dr. and Mrs. Bowman in less than twenty-four hours.
I remember riding home absolutely silent. Andrew kept asking if I was ok, but I had never been better! I was just so overwhelmed by all of the beauty, emotion and love of that night, not to mention the excitement for tomorrow, that I couldn't say a word.
I fell straight to sleep, and in what felt like a two-minute nap, woke up to the day I became Mrs. Bowman. But more on that story later. :) In the meantime, you'll find our wedding ceremony photos here.
As always, friends, thank you from the bottom of my heart for your investment in this special time in our lives. I love getting to share moments like these with all of you, and I hope you enjoyed this peek into our rehearsal dinner!
Love from the Sunshine State,
Kate
Photography by John Cain Photography