I have always been one of "those girls." You know, the kind who dreamed about her wedding from the time she could walk down a pretend aisle with a bouquet of toilet paper and her mom's far-too-big high heels. The kind who would read "Brides" instead of "Seventeen Magazine." Who begged to be taken along to weddings with her parents instead of left at home with a babysitter.
I will never forget the day my mother gave me "The Knot Book of Wedding Dresses". I had never seen so many beautiful gowns! I poured over every page, learning all about the different types of silks and satins, train lengths, and the popular wedding gown styles of each decade. When I came across the following pages, I vividly remember thinking there was absolutely nothing more beautiful than Audrey Hepburn and Grace Kelly in their iconic, timeless gowns. And that one day, I wanted to look just like them.
As years passed, my enthrallment with iconic gowns of generations past slowly turned into a search for current dress designers who brought that same timeless, simple elegance to their creations. And to my surprise, I found that they were few and far between!
So when the search for my very own wedding gown began, I knew it was going to take a bit of legwork. What I never could have predicted, though, was just how difficult the wedding dress hunt would be! I have had more than a few friends find their dress on their first shopping trip, but my story? Let's just say it involved a few more twists and turns… but in the end, it brought me to The Bridal Salon at Neiman Marcus and the wedding dress of my dreams!
the hunt begins
Once Andrew and I were engaged, it was off to the races! My mother and I made appointments all across Dallas, and showed up to our first bright-eyed and bushy-tailed. Once we got to our third or fourth, however, we realized the process was going to be a bit more difficult than imagined.
We experienced just about everything… pushy salespeople, lovely dresses that almost made the cut, unpleasant showroom environments, moments we thought we'd found it only to look at photos after and change our minds… let's just say I was starting to wonder if we'd ever find it! I even looked into a custom option, but the "unknown" aspect of deciding on the dress design before being able to try it on turned out to be a little too much mystery for me.
As scheduling worked out, our appointment at The Bridal Salon at the historic downtown Neiman Marcus was the last one on our list. I'd grown up walking past the beautiful, gold, mirrored room filled with exquisite gowns while shopping with my mom or heading to lunch at The Zodiac Room (those popovers with strawberry butter, am I right?!) and finally stepping through them in search of my own wedding dress gave me chills. Of all the salons we visited in Dallas, none took my breath away quite like this!
There were so many things that made this visit, in particular, the favorite of any I'd been to thus far. Most importantly – the dress selection. Finally, a stunning and expansive selection of dresses that looked, felt and fit like the beautiful, classic wedding gowns I had fallen in love with as a young girl. I remember looking at my mom wide-eyed like "Maybe it's somewhere in here!"
I immediately clicked with our wonderful sales associate Karen (who I now think of as almost a second mother) and with a glass of champagne in hand, we had gathered multiple gowns into the dreamy fitting room. That's when the fun began.
I'll never forget Karen walking into the room with a pink dress. Yes, y'all. A pink dress! But before I could look too shocked (if we know anything at this point, it's that I was a pretty traditional bride) she assured me the dress came in white as well. That was all I needed to slip it on, and once I did… I didn't want to take it off!
My sister was actually the first one to "call" that this was my dress. Let me assure you, she was my toughest critic throughout the entire process, but in a good way – I needed her brutal honesty! So when I walked out and she looked at me and exclaimed "Kate, this is it!" without skipping a beat, I knew something was different about this dress. As she proceeded to fluff the train like a true maid of honor (do you see her in the background of the photo on the right?) something felt right. I finally felt like the bride I had dreamed of being one day.
You know what's funny? I never set out with a certain "style" in mind. I knew I wanted a full, traditional skirt, a loooong train and some sort of strap or sleeve, but more than a specific design element, I was after a "look." That same "look" embodied by the likes of Audrey Hepburn and Grace Kelly. And this beautiful Sareh Nouri design, with it's bateau neckline, gorgeous back, and beautiful, trailing fabric, delivered just that. I felt like a bride and not just any bride, but the bride I had always dreamed of being.
saying yes to the dress
We cheered. We cried. We took photos. We clinked champagne glasses. And you bet we got that obligatory "said yes to the dress" pic. But there was still one thing I could get out of my head. The dress was pink. Would I feel the same way about it in white?
As fate would have it (or God, honestly, because as silly as it sounds, all of this was truly the best answered prayer!) the dress designer, Sareh Nouri, was going to be at the Bridal Salon at Neiman Marcus just three days later for her trunk show!
Those three days felt like an eternity. I felt like finally, after all of the searching, my dream dress was almost within reach. I was utterly terrified that, for some unknown reason, I wouldn't love it in white and we'd be back to square one.
meeting the designer
But three days later, I made what would soon become the frequent drive to downtown Main Street, took those golden escalators up to The Bridal Salon and saw it. In white. And I think my heart stopped for a second!
I walked out in it, took a spin in the larger-than-life mirror, and knew it was the one. And that's when Sareh walked in! Talk about the definition of beauty and joy, y'all. We talked all about the journey of finding the dress, our love for the classic wedding gown silhouette that seems to be so hard to find these days, and our ideas for making the gown fit like a glove.
Needless to say, it was a dream come true. I had finally found my dress, and I think my face says it all!
customizing the gown
Those of you who have been through it before will I'm sure agree… next to waiting for your actual wedding day, waiting for your dress to arrive is the most excruciating and exciting thing ever!
Since the dress samples you try on are usually not your exact size, it's always a bit of a gamble when you place your order. Luckily, the alternations department at Neiman Marcus is insanely talented so I knew I had nothing to worry about. Still, I counted down the days until my dress arrived!
A huge part of the reason I was especially excited to see my dress in person is that we customized a few aspects of it. Every wedding dress designer is different, and some are more agreeable to modifications than others. The Neiman Marcus Bridal Salon team has an amazing relationship with Sareh Nouri, and they were able to translate my vision for the gown to her seamstresses. Then, the Neiman Marcus alterations department (just wait until you meet Thi!) took it to the next level. So, what exactly did I change?
First of all, the neckline! The sample dress was too large on me, so in all of the photos above you'll see it clipped back. This made the neckline higher than it is in the actual design (the original design has more of a scooped neckline than a straight across bateau) but I absolutely fell in love with it! Karen helped to measure the perfect placement so that the neckline hit right at my collarbone. The Sareh Nouri team made this reality absolute perfection, and I'm smitten with the classic look it creates!
Secondly, buttons. I have always loved button detailing on the back of a wedding dress, and wanted to add a few to the waist of the dress. We decided to cover the top of the zipper with them so that they create a subtle touch instead of overwhelming the train. It turned out simple, sweet and everything I had hoped!
You might notice in the photos of the sample gown that there is one single tail extending from the bow. I'm a sucker for symmetry, and really wanted to add an additional tail to balance the whole look. The Sareh Nouri team was able to send the extra fabric, and then the Neiman Marcus alterations department created the perfect, "twin" tail!
Finally, the skirt fullness. The Brooklyn style has a lovely, soft A line silhouette to it, but I was looking for a bit more "oomph." After all, I'm only going to wear a ballgown once in my life! I wanted the train to have a full, voluminous look to it, especially from the side, as opposed to a "deflated" feel. When I shared this vision with Karen, we played around with adding additional crinoline to the skirt for the effect I was looking for. My incredible seamstress at Neiman's, Thi (who I'll gush more about later) ended up crafting an entire crinoline attachment for us to button on for the ceremony and remove before the reception! You should have seen Andrew's face as my mom and wedding planner removed the added petticoat before the reception. "THAT was under your dress the entire time?!"
getting the perfect fit
If I were to give one single piece of advice when it comes to the whole realm of the wedding dress process, it is to find an unbelievable tailor. I would say to prioritize THAT over the dress itself! A fabulous tailor can take a "meh" dress and transform it into a total Cinderella moment, and a bad tailor can take a dream dress and turn it into a catastrophe. It all comes down to the vision, skill, and creativity of the person with the needle!
I was lucky enough to have, truly, the best seamstress in the universe working on my gown. Or at least that's how I felt. Thi is somewhat of a legend at the Flagship Neiman Marcus store, and her work is nothing short of exemplary. From the second I stepped into my real, actual dress upon its arrival, she had hundreds of ideas for making it perfect, and most importantly, uniquely mine.
One of the things I so appreciated about my experience was that I truly felt like the entire team at Neiman Marcus was an advocate for me. They weren't there to just simply sell me a gown. They were there to ensure the entire process was a joy, and they simply wouldn't settle until every detail was not just good, but spectacular. They would see things I wouldn't and tweak perfectly fine elements and turn them into stunning ones. They were invested, dedicated and relentless in making this gown perfection in every way!
Thi was able to take in the dress for an absolutely perfect fit up top, which sounds simple in and of itself but with the material of the dress and the cut of the bodice, was actually a huge undertaking. She even had a video chat with the Sareh Nouri team to learn how the bodice was constructed, and how to best manipulate it to my shape! The result was an effortlessly comfortable fit, a lay that was flush against my skin and not a single pull or wrinkle in the bodice. I'm still in awe!
She also helped me work with the bow to get it just right. We played around with adding fabric to it, tilting it to one side, and endless other options before decided on adding a bit of volume to it and fastening right on top of the bustle.
Next, let's talk about length. Did you know that it's nearly impossible to walk in a full ballgown unless the hem hits just above the floor? I didn't either until Thi showed me! If the dress is too long, it buckles under the hem and results in a lot of tripping and a not very happy bride. She was able to get it right to where it simply skated across the top of the floor as I walked.
And finally, the bustle. Oh my… this detail turned into my very favorite of the dress itself. I've actually received lots of questions from you all asking about what style of bustle it is. Thi actually created it! We tried the American style, the French style, and finally settled on an incredibly intricate technique Thi designed for the dress. It resulted in the most beautiful, billowing folds that spread out into the most beautiful fan as I spun. What a dream!
Here's a video my sweet mama captured right after Thi had pinned up the bustle. I was instructed to give it a spin (literally) to see how it moved, and then I didn't want to stop! I think this little video captures the movement and beauty of this gown that you can't quite get the full effect of in photos. Enjoy!
For a finishing touch, Thi added a delicate, clear loop adorned with small pearls onto either side of my veil so that I could wear it around my wrist after the ceremony.
As it ended up raining buckets on our wedding day (more on that later!) this ended up being the biggest blessing to have!
the finished result
After countless fittings and an endless amount of needles and thread, we perfected the dress the week of my wedding. On Saturday, the Neiman Marcus team delivered it to the church, and I stepped into the most beautiful thing I will ever wear!
Last week, I posted our Wedding Ceremony Photo Reveal, but here are some beautiful images taken by John Cain of the dress itself that I saved for today.!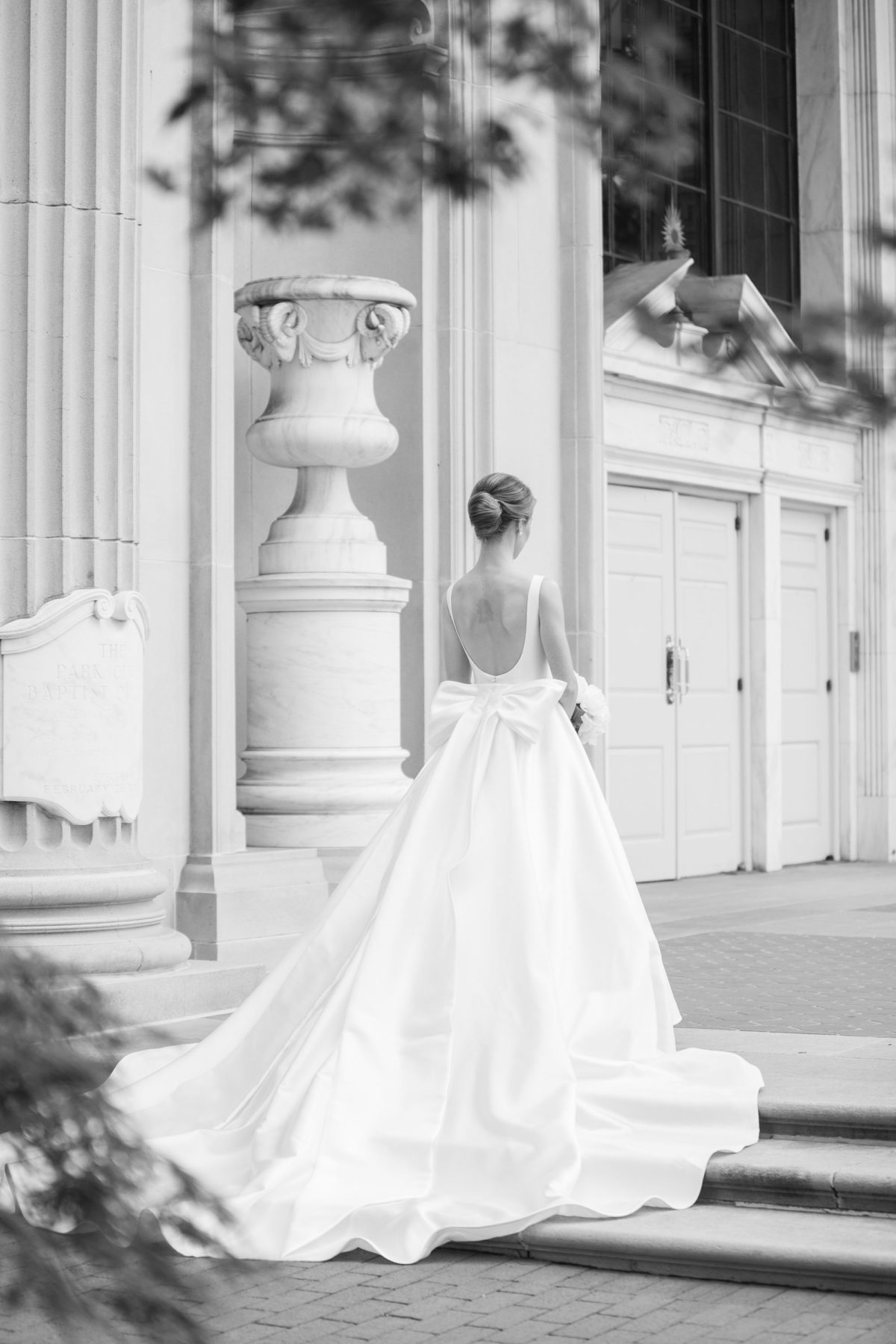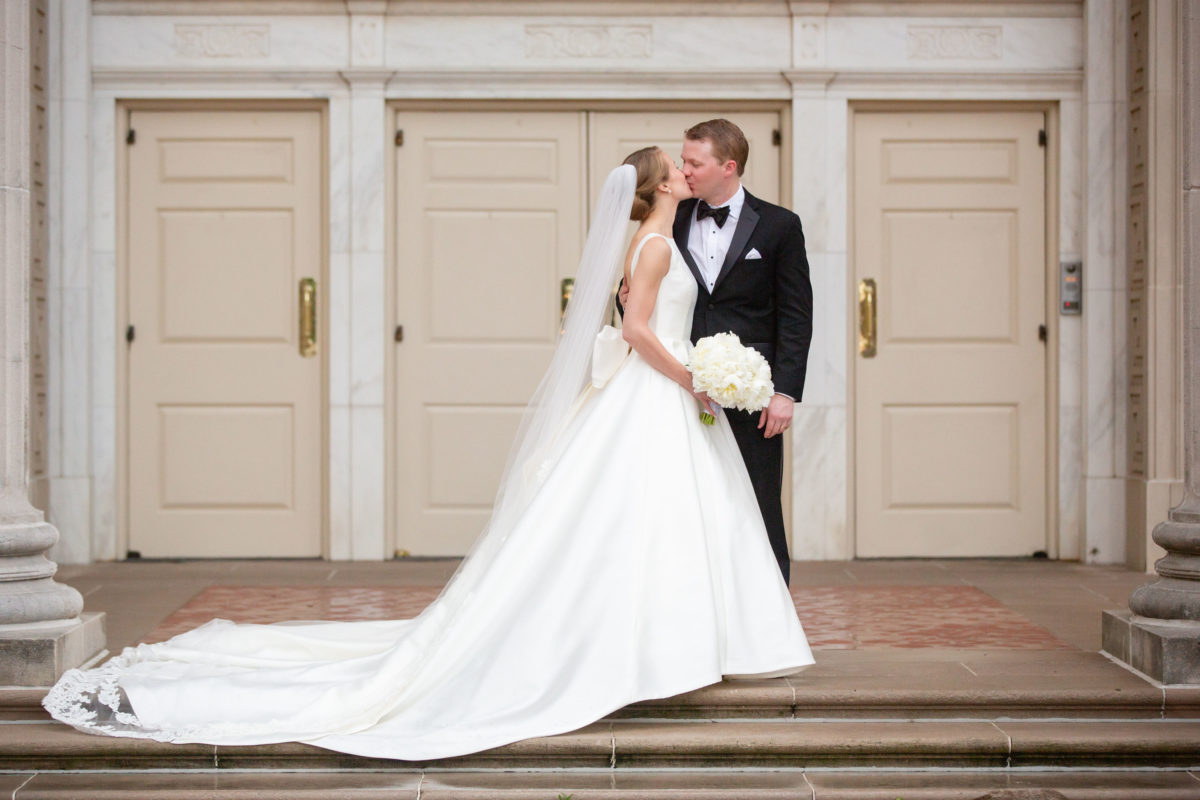 I will never, ever be able to thank the Bridal Salon at Neiman Marcus, along with their incredible team (Karen, Thi, Morgan… I'm looking at you!) for turning what began as a seemingly impossible and fruitless search result into such a happy ending! Like I mentioned above, I visited what felt like every salon in Dallas, and I am so, so happy my search ended in that beautiful room on Main Street.
I plan on writing a post for advice on how to choose your wedding dress, so send in any questions you may have! But in the meantime, my two cents? Make an appointment with Karen at Neiman's. Something tells me you'll be just fine. :) Oh, and don't forget to schedule lunch at The Zodiac Room after your appointment!
the details
Dress Salon // The Bridal Salon at Neiman Marcus
Dress Designer // Sareh Nouri
Dress Style // The Brooklyn
Dress Consultant // Karen at The Bridal Salon at Neiman Marcus
Dress Tailor // Thi at The Bridal Salon at Neiman Marcus
Dress Customizations // Raised Neckline, Additional Crinoline, Added Structure to Bow, Additional Tail, Custom Bustle
Love from the Sunshine State,
Kate
Thank you John Cain Photography for such beautiful images, and The Bridal Salon at Neiman Marcus for such a beautiful dress!