Another Friday, another happy list! It's been a relaxing, restful week here in Gainesville, Florida. Since I've been unplugging to soak up quality time with my little family, I haven't been on Instagram quite as much, and honestly, it's been a wonderful breath of fresh air. (I think a break every now and then is so healthy!)
So while I may have missed a few happy things that have recently happened (say that five times fast) I wanted to send you off into the weekend with a few things making my list! From new recipes to new sales to new IG follows, there's a lot of fun in here. I hope you enjoy!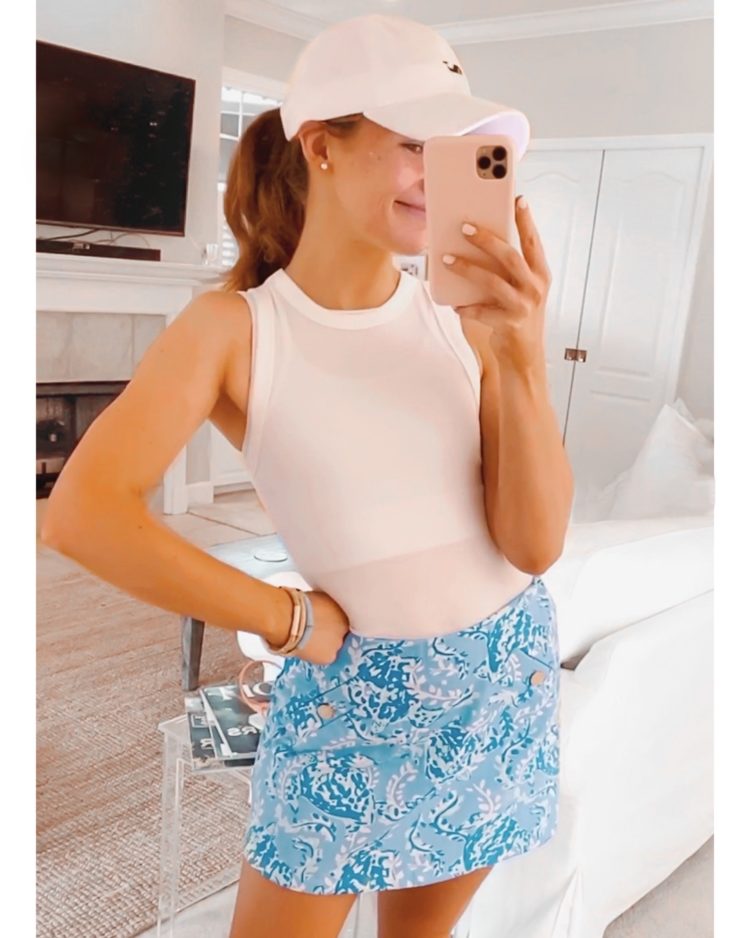 TOP (on sale for $6) | BRACELETS (use code KATE20 for 20% off) | SKORT (old pattern) | HAT
the happy list
Andrew and I just ordered this porch swing (wish we had room for this one!) as the first step in revamping our outdoor porch space. We have been living out here!
One of my favorite photo-editing apps, A Color Story, just released an amazing update that I'm geeking out over.
Target is having a 30% off sale on women's clothes, shoes and accessories! Every dress I featured in this post is included! (Along with this top and this top!) I'm adding these woven slides to my cart, and for those asking for a dupe for my Ancient Greek sandals, here you go!
I always get lots of questions about it: our dining table is currently 40% off!
Recipe alert! I saw this idea on Katie's Bliss Instagram… toss two cans of quartered artichoke hearts in olive oil and sea salt and throw in your air fryer on 375 degrees for about 10-12 minutes. Makes a delicious appetizer Andrew and I have been enjoying all week.
I've been upping my golf game, and have loved this Lilly Pulitzer skort for a cute and comfortable look on the course. Lilly is currently offering 30% off of $100+, 40% off of $250+, and 50% off of $500+! An amazing time to grab a sunshiny piece at an unprecedented discount. Shop it here!
Another amazing sale alert… Nordstrom is offering up to 50% off of thousands of items!
I look forward to more of a "normal" week next week! You can expect to see a lot more of me around then. :) Until then, wishing everyone a lovely weekend!
Love from the Sunshine State,
Kate