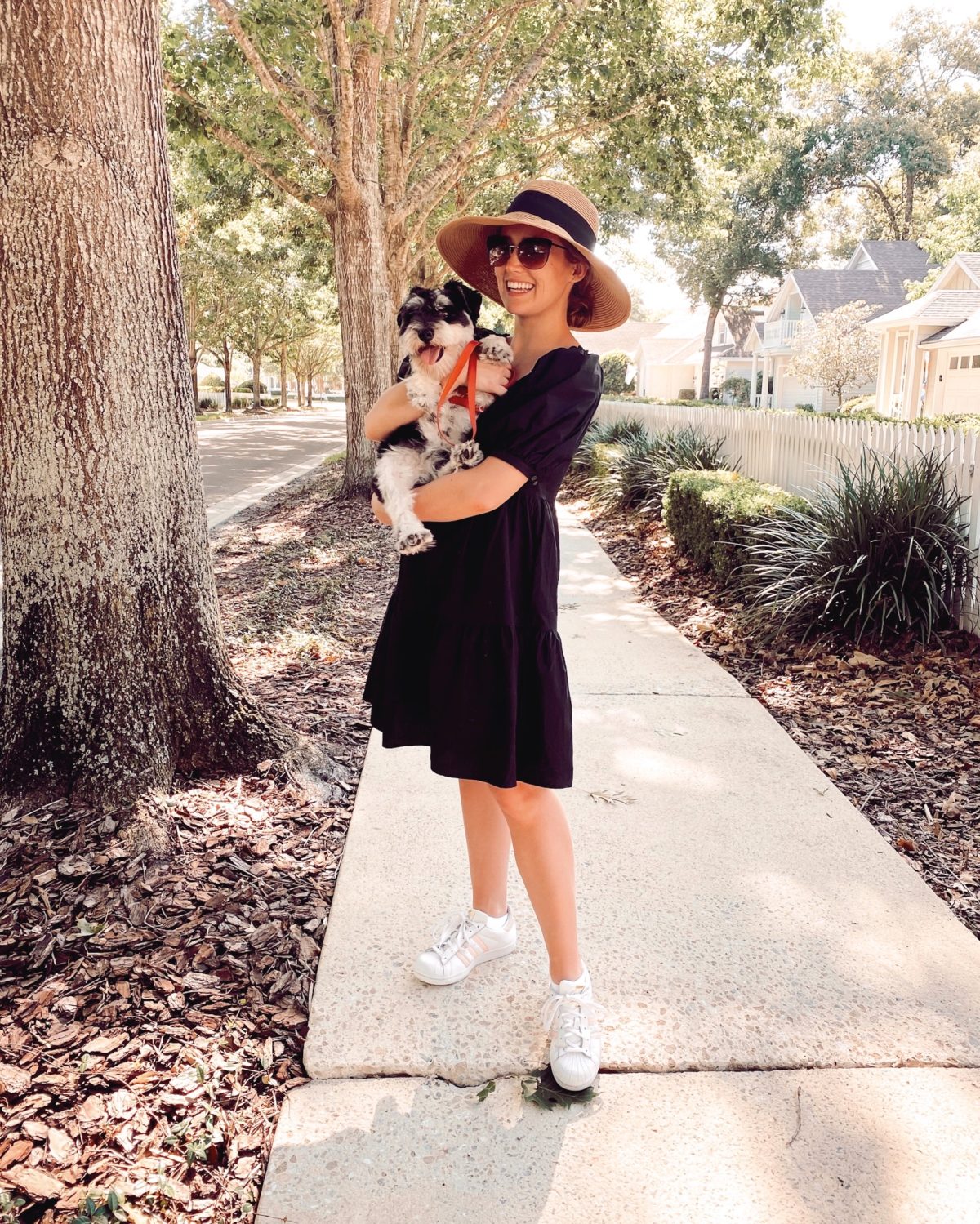 the details
DRESS black puff sleeved dress (wearing XS, also available in plus sizes)
A couple of months ago, I did a little Target try-on haul of a few fun and affordable spring dresses. In it? A roomy little black dress with a few on-trend elements… blousy fit, puffy sleeves, etc.
I thought it was cute! But little did I know it would become the most-worn piece in my closet over these past few weeks by a long shot. So today, I thought I'd give a little shoutout to my current wardrobe MVP, this dress!
why i love it
So comfortable. Take a look at the silhouette and you'll see why. Roomy for days (no buttons or zippers for me, thankyaverymuch) and 100% cotton. I'll throw it on at the start of the day and when Flynn's evening walk rolls around, it's still so comfortable that I won't even change out of it.
On-Trend. The chic, trendy cut makes me feel stylish with zero effort and zero fuss. A little puffed sleeve action goes a long way in giving this easy, simple dress the perfect current touch! Wanting to switch up the look? You can also wear the sleeves off the shoulder.
Machine washable. Because who has time for anything else?
Versatile. When I initially tried it on, my first thought was to pair it with wedges for a more festive look. These past few weeks, though, as I've been spending more time at home, I've been wearing it with everything from sneakers to sandals, fresh blow-outs to messy-buns, headbands to sunhats, the list goes on. It's a "dress it up, dress it down" piece in every way.
Black. Y'all know I love colorful ensembles, but the simple black makes it work with everything. This isn't exactly rocket science, but a fun and chic change from my usual go-to nonetheless.
Comes in plus sizes. This dress is available from XS to 4X! A word on fit: It is definitely meant to fit on the roomy side, so I wouldn't necessarily size down. Keep in mind, I am 5'2″ and it is a bit long on me!
So if you could use a dress to make staying at home feel a bit more sophisticated, walking the dog feel a bit more debonair, zoom calls feel a bit more snazzy or grabbing a socially distanced coffee feel a bit more chic, look no further. I've loved this dress and plan to wear it all the way into fall. I think you will too!
Love from the Sunshine State,
Kate