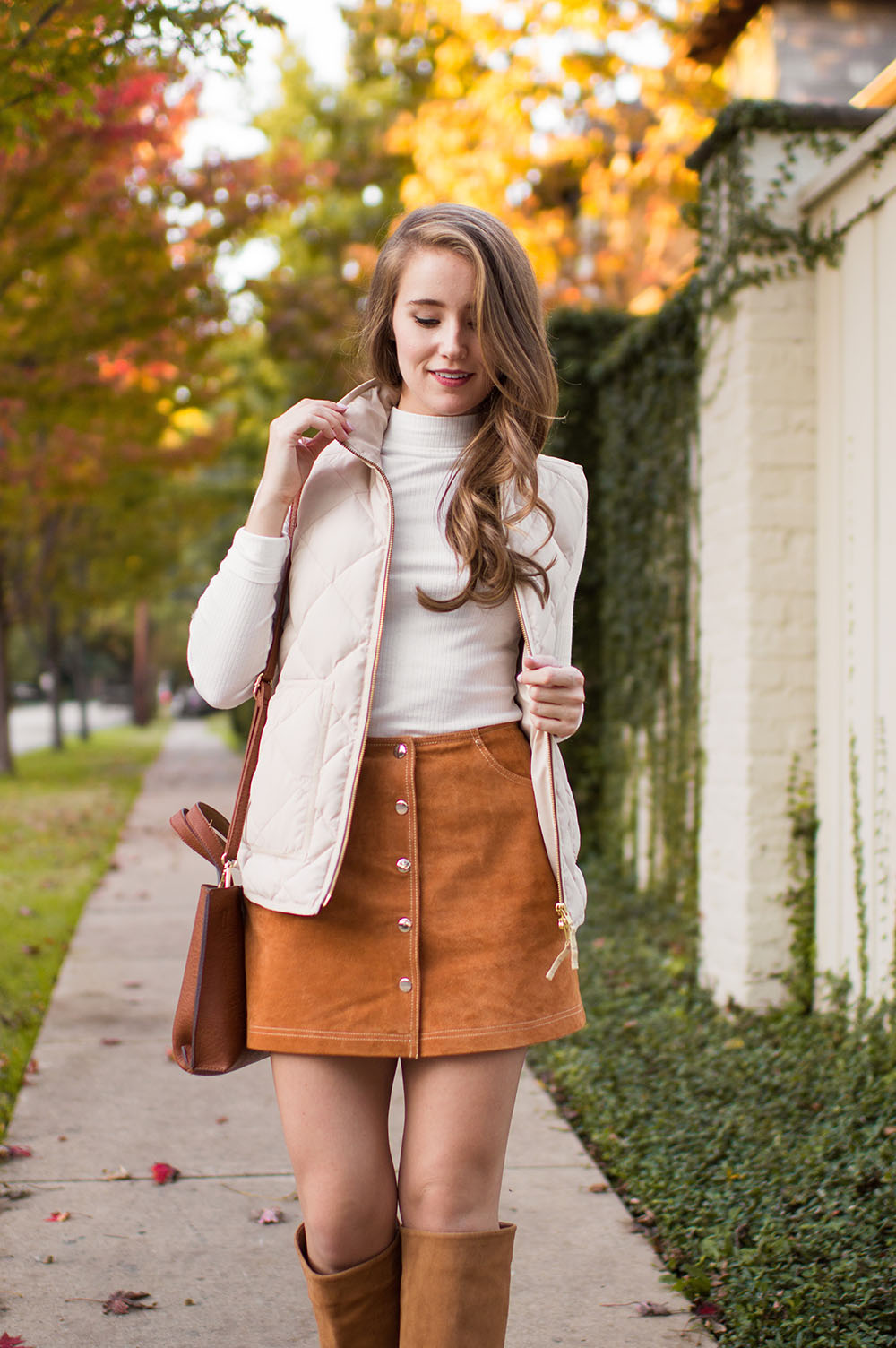 SHOES   heeled tan riding boots (I just purchased them yesterday, and am in love!)   |   VEST   j.crew excursion quilted vest   |   SKIRT   suede button-up mini skirt  (also worn here)  |   SWEATER   mock neck sweater   |   BAG   convertible two-toned crossbody   |   LIP COLOR  pigalle (the perfect fall shade!)
How on earth is it possible that we are officially one week away from Thanksgiving? While the warm temperatures we've been having here in Dallas lately have done anything but put me in the festive mood, a few fall layers paired together to make the perfect Thanksgiving outfit just might! Today, I'm attempting to spread cheer by providing a little turkey-friendly fashion inspiration.
When it comes to dressing for Thanksgiving (we're talking clothes dressing, not turkey dressing) I always opt for a classic, preppy ensemble. When snapped around the table with family and friends, I've found this type of look always looks perfectly elegant in person and ever-timeless in photographs.
This year, I'm sticking to whites and caramels for a soft, cozy look. Layered up in favorites like my J.Crew quilted vest and suede skirt, along with my new pair of knee-high boots (swoon! these things are not only so cute, they're so comfortable!), you've got an easy, elegant look that is completely comfortable and perfectly refined.
If you're still undecided on what to wear come this Thursday, here's my advice. First off, mimic the hues of the season in your outfit selections – burgundies, deep greens, warm tans and crisp navies always befit fall. Secondly, layer up! From blanket scarves to Barbour jackets, there are so many ways to get cozy. Thirdly, incorporate your favorite fall pieces. A great pair or riding boots? A deep lip color you can't get enough of? To me, Thanksgiving is the perfect backdrop for bringing out your most quintessential "fall" outfit before Christmas festivities set in, so bring your A game!
Word on the street is the weather is supposed to get cooler today… everyone cross a finger or two for me. This girl is craving the cold!
Love from Texas,
Kate