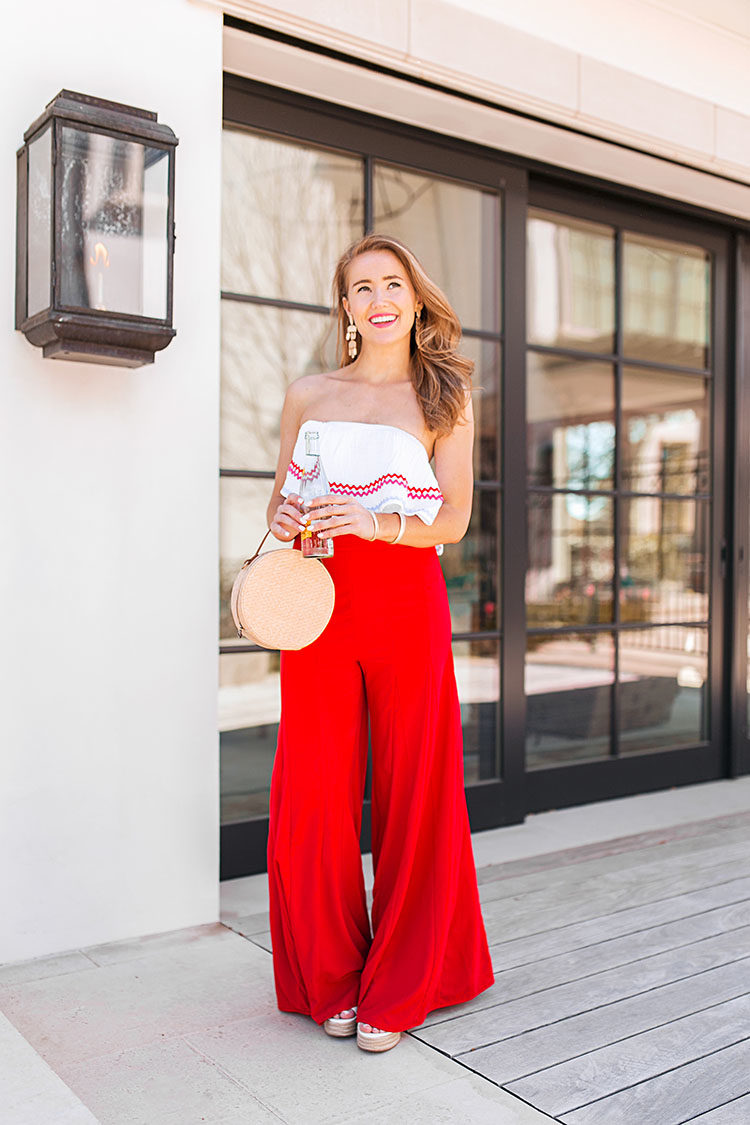 EARRINGS  kendra scott emmet gold statement earrings (also in rosegold, silver, turquoise, and pink)   |   BRACELET   tiana pinch bracelet set (also in rosegold and silver)   |   PANTS   red wide legged pants   |   TOP   strapless ric rac top   |   SHOES   white ankle strap platform wedges   |   BAG   straw circle bag (sold out, similar linked)
What is the perfect statement earring? Oh, to be sure there are lots of fun ones out there. But I'm talking about a pair of statement earrings that is worth investing in. As a self-professed statement earring hoarder connoisseur, I've been through my fair share of statement earrings and am so excited to share my favorite of the season (and the three qualities make them that)… these Kendra Scott Emmet statement earrings!
Before I get into the specifics of why I'm head over heels in love with these beauties, let's take a look at 3 things to consider in finding the perfect pair of statement earrings.
SIZE // When it comes to finding the perfect pair of statement earrings, size and proportion are huge factors. Get a pair that's too small, and the "statement" factor gets totally lost. Instead, the look comes across as awkward and falls flat. (This is my biggest pet peeve when it comes to earrings.) Get a pair too big, on the other hand, and the attention goes away from your ensemble as a whole and straight to your ears… and not in a good way. The perfect pair of statement earrings should be a size that compliments your entire look, adding a "wow" factor that still fits in with the ensemble as a whole.
WEIGHT // Is there anything worse than a pair of statement earrings that ends up hurting your ears an hour into wear? I've had to take off pairs before and stuff them in my purse for the remainder of the evening because of this. Over time, I have come to realize that it doesn't matter how cute the earrings are… if they end up hurting you, you'll never wear them. Luckily, there are plenty of light-weight options out there that are worth holding out for!
VERSATILITY // Versatility in a statement earring? Isn't that completely contradictory? Not when it comes to the perfect pair! While there are lots of big, funky, crazy fun pairs on the market, the perfect pair I recommend you invest in will take you across a myriad of different looks. The easiest way to do this? Find a pair that's made out of one metal-color. I love bright pops of color, but have found that a beautiful gold accent can compliment almost any outfit!
Combine the perfect size, a feather-light weight and a pair made of one monochromatic material, and you've got yourself the perfect statement earring! This Emmet pair by Kendra Scott checks off all of those boxes beautifully. The gorgeous, light gold can be paired with both formal and casual looks, and y'all they are so light! I almost forget I'm wearing them! If gold isn't your color, they also come in a beautiful silver and rosegold as well.
No matter what look I'm wearing the Emmets with, I always pair them with this set of coordinating bangles. Since they're made from the same material, they compliment the earrings perfectly and add such a chic, put together touch any look.
If you haven't had the chance to check out Kendra Scott's spring line, do yourself a favor and click here! I have been wearing a few different styles over the past few weeks, and can't wait to share my five favorite pairs with you tomorrow!
Love from Texas,
Kate
Thank you, Kendra Scott, for sponsoring this post!
Photography by Angie Garcia