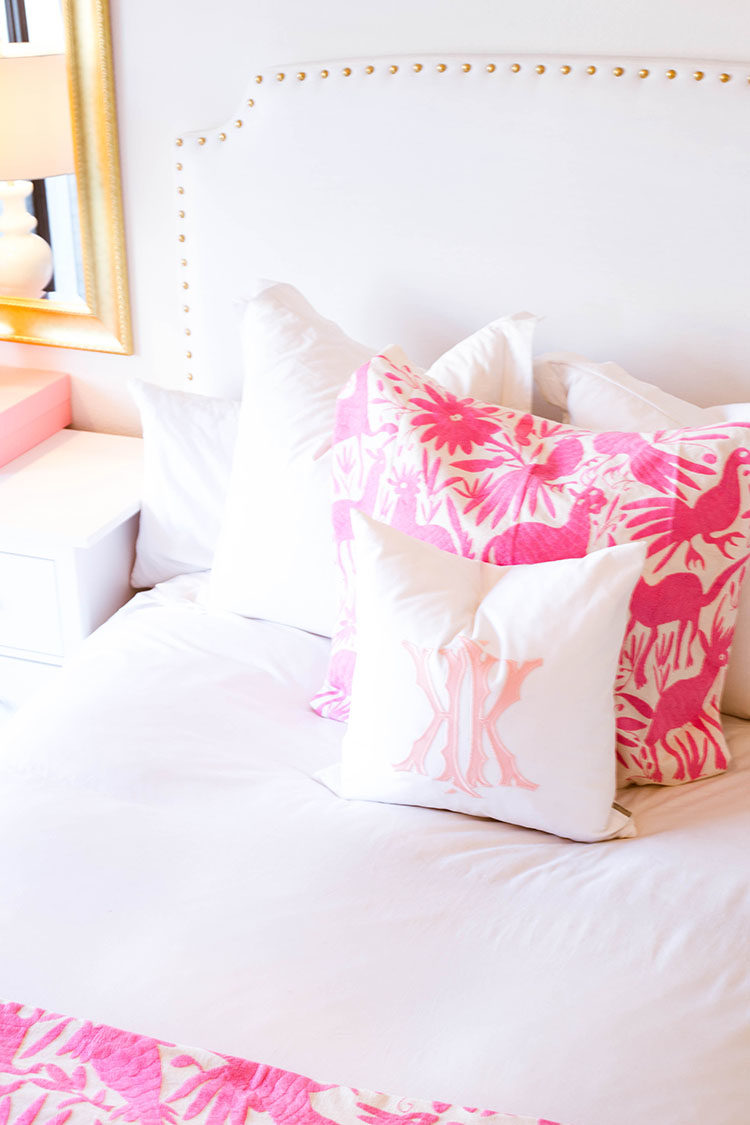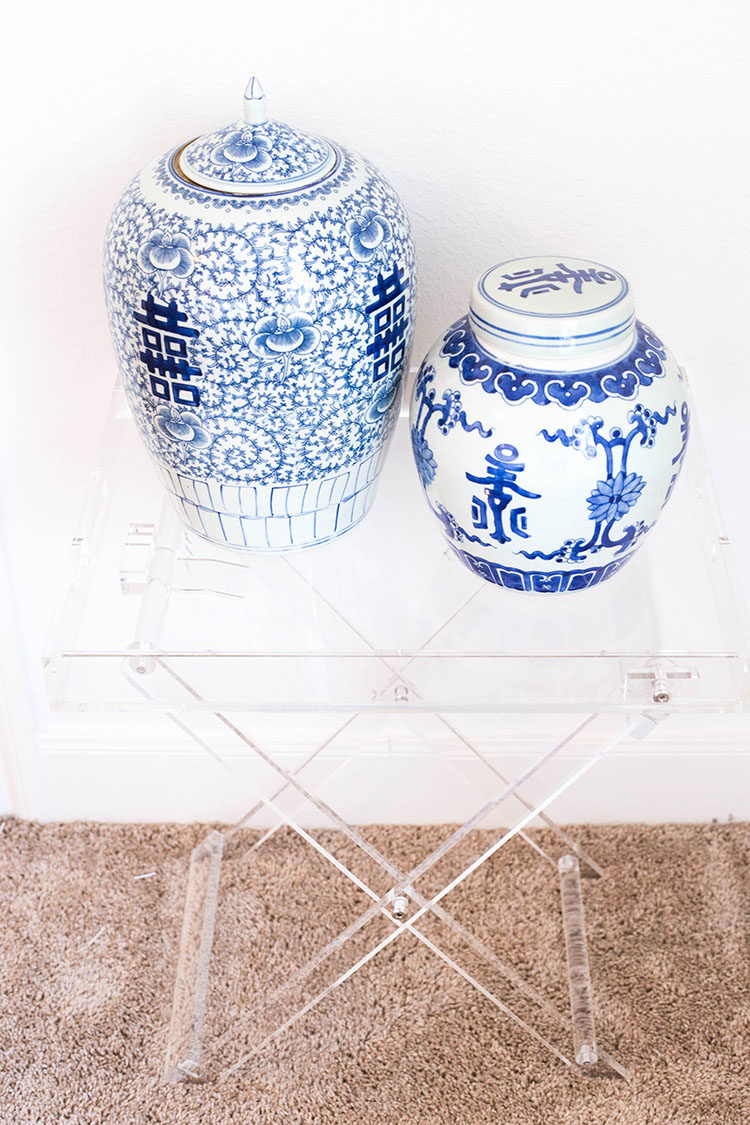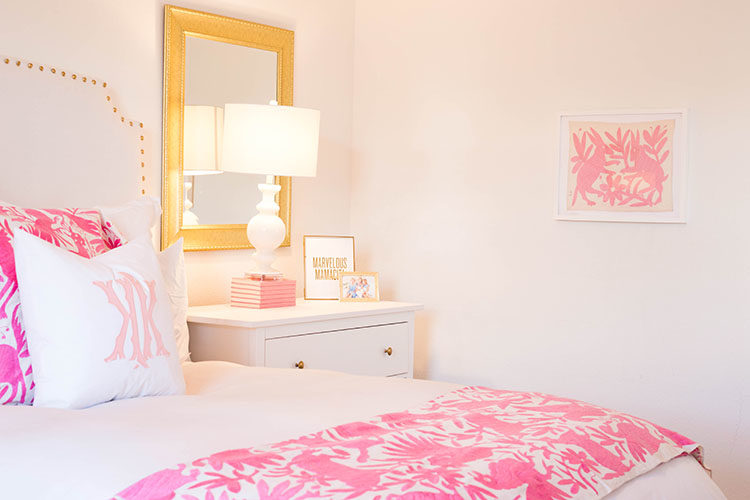 It has been a long time coming (I know, I know… a long time coming) but today I am thrilled to share with you my room tour!
You've seen peeks of it here and there on Instagram and scattered throughout different blog posts, but never in its pink, white and gold entirety until today.
There are so many things I want to cover about this special place in my apartment, so I thought I'd break up my thoughts below. Let's get started!
What was your thought process behind decorating your bedroom?
I knew I wanted something that evoked a classic and timeless look while simultaneously feeling vibrant, crisp, young and feminine. I decided to start with white walls, a white headboard and all-white bedding until I came across pieces I loved that would, in turn, bring their own personality to the space. (While it takes much longer to decorate a room this way, I recommend waiting to find pieces you love rather than rushing into decisions right away just for the sake of being done.)
When I came across these beautiful pink Otomi tapestries in a little shop in San Miguel, Mexico (unfortunately, I can't remember the name) I knew I'd found just the thing! Initially, I had considered hanging the tapestry behind my bed but ended up loving the look of it folded at the foot. After adding a smaller weaving to my center pillow and accenting it with a monogrammed pillow from Emily McCarthy, I suddenly had the perfect mix of fresh whites and vibrant color I had been wanting.
In starting with an all-white room, I had to play around with different amounts of color to keep the space from looking too sterile. In the end, I love how the pinks, whites and golds (along with subtle uses of blue) all came together!
Where did you get everything?
Since this decoration process happened over the course of a year, somethings may not be available anymore! I've linked all I can below:
headboard // I removed the silver studs, spray painted them gold and reinserted them. Size queen.
side drawers // I also removed the knobs and spray painted them gold. I wouldn't recommend these… the drawers come apart easily and don't have a lot of support.
lamps // HomeGoods find
bedding // Peacock Alley outlet find
monogrammed pillow // Emily McCarthy Shoppe, currently unavailable
bookshelf // purchased from Wisteria warehouse sale
ginger jars // assortment purchased from Wisteria warehouse sale
pineapple jar // HomeGoods find, similar linked
marvelicious mamacita print frame // HomeGoods find
painting // Meyer Gallery in Santa Fe
Otomi artwork // Furbish Studio, sold out
acrylic table // HomeGoods find
Why is your TV on top of your bookshelf?
When I decided to have a TV in my room, I really didn't want it to be an eyesore or the first thing you noticed. When I ended up bringing the large bookshelf into my room, it provided the perfect solution! Perched on the top of the shelf, the TV stays out of the line of sight. When I'm laying down in my bed, however, it's perfect for looking up at! I definitely recommend this trick if you're looking for a way to bring a TV into your room without it becoming an eyesore.
What's the exciting news?
I can't believe I'm saying this… but I'm moving! When? TODAY!
I have lived in my current apartment for about a year and a half now, ever since moving out of my parents' house, which I lived in for a year after graduation. I have absolutely loved this little one bedroom of mine, but recently it has become so hard to segregate work and life in it. I use my breakfast nook as my office, and have realised that I've been craving a way to keep work out of sight and separate when I'm wanting to have friends over, relax or entertain.
A perfect unit in my same apartment complex became available about a month ago, so after praying about it, I decided to pull the trigger! I am so excited for this new space, and can't wait to bring y'all into it soon!
I never thought it would happen this way, but this move was the impetus to finally share my first apartment with y'all. Why did it take me so long? Because it never truly felt "finished." I'm sure those of you who've tried to decorate your own place can relate… it just takes so much longer than you initially think. For me, at least!
But this little moment taught me an important lesson… just because something isn't "perfect" or "complete" doesn't mean it's not worthy of being shared or beautiful. Sitting here now, I feel so silly that I didn't think everything was "Pinterest perfect" enough to be shared. My resolve for my new apartment? To share it with y'all way sooner!
Be sure to check back tomorrow, as I'll be sharing photos from the rest of my first apartment! I can't wait for y'all to see it!
Love from Texas,
Kate
P.S. Feel free to add any of these photos to your Pinterest board if you'd like some decor inspiration!