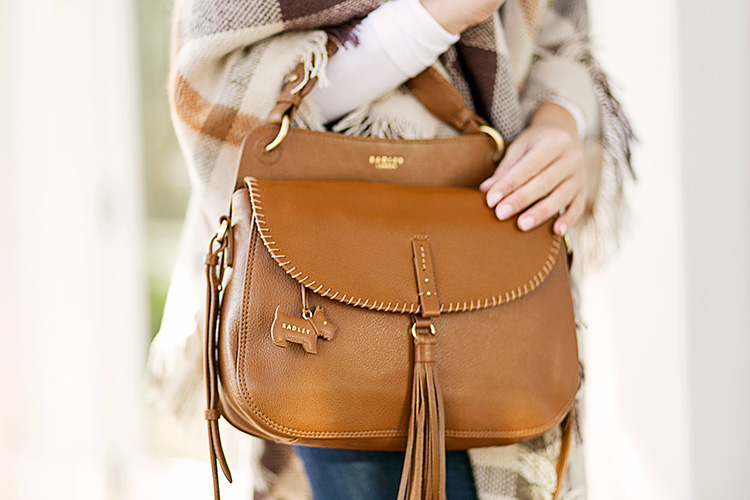 BAG   radley london baylis road bag c/o   |   WRAP   checkered wrap   |   JEANS   high-rise skinny jeans   |   SHIRT   long-sleeve white tee  (similar here) |   SHOES   slouched tan boots
Today I am so excited to introduce you to a new favorite handbag line of mine, Radley London! I was introduced to the brand about a month ago, and instantly fell for the classic design and quality build of each bag. These are gorgeous, versatile pieces that, apart from looking lovely fresh out of the box, will weather and wear beautifully. I can tell you firsthand that the leather work is stunning! (And how adorable is the scottie dog charm?!)
I selected the Baylis Road bag for its fresh style, convenient size and perfectly placed tassel detailing. It has quickly become my go-to, every-day purse. The Baylis Road fits all of my essentials and then some, but without the added cumbersomeness of a tote bag. And let me tell you what… it looks stunning with cognac colored boots! I've been getting so many compliments on it lately. Another feature I'm loving about this bag is it's year-round personality. It will definitely take me from pea coats and quilted vests this winter, to wedges and light dresses come-spring and all the way 'round again!
If you're looking for a stunning gift of beautiful quality to give this year, I'd recommend taking a look at Radley London's full selection here. I know I'd like to find this pink beauty under my tree!
Wishing everyone a lovely weekend! Time to double down on Starbucks, turn up the Christmas music and get those holiday errands done for this girl!
Love from Texas,
Kate
Thank you, Radley London, for sponsoring this post.
Photography by Angie Garcia