In the midst of all of the deep, vibrant hues so closely associated with these winter months, I find it so refreshing to change things up a bit. It's no secret that I love breaking out white jeans in winter, but you know what's even better? Taking that up one notch, and bundling up in pastels!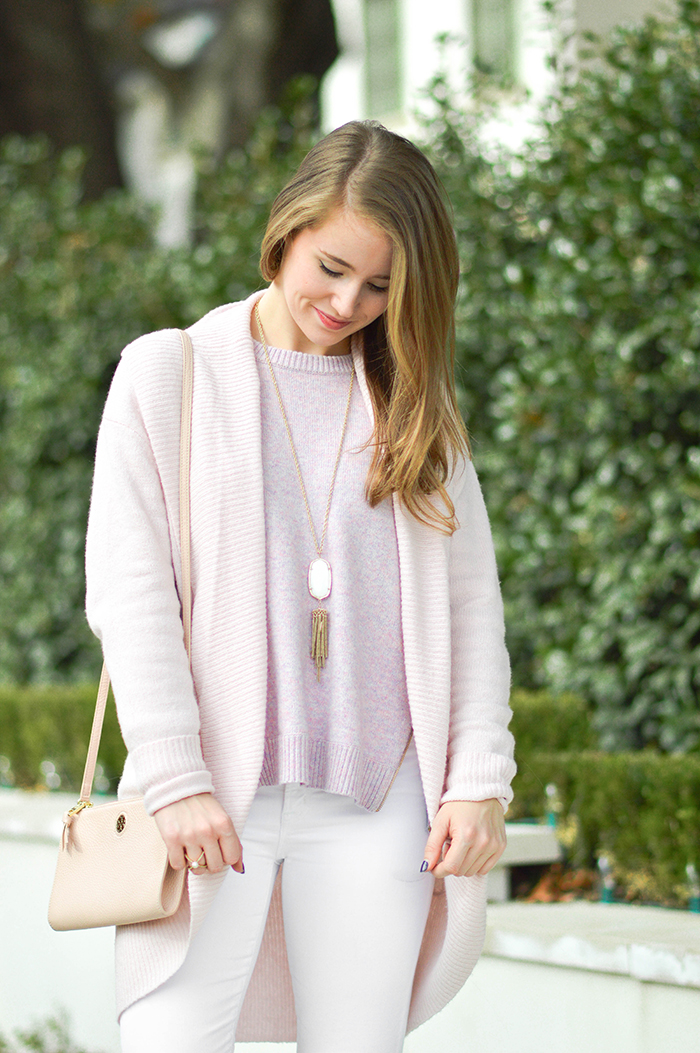 CARDIGAN   Pale Pink Cardigan   |   BOOTS   Grey Riding Boots   |   SWEATER   Lilac Sweater 
(last year J.Crew, similar linked)   |   BAG   Blush Crossbody (sold out, similar linked)   |   JEANS   White Jeans   |   NECKLACE   Kendra Scott Rayne Necklace
I'm in all sorts of love with this dreamy pale pink cardigan. The beautiful color is so unique this time of year, and I love the soft, feminine touch it can bring to any winter ensemble. It's one piece you can wear over pj's for a lazy Sunday morning in, or throw over a little black dress for a night out! Pulling out my favorite lavender sweater (similar) from last year J.Crew, I decided to keep the look light, girly and soft.
The finishing touch? These gorgeous grey riding boots! I've had my eye on them for quite some time, and finally pulled the trigger when I saw them go on sale. Apart from being the most comfortable pair of boots I own, the color has managed to breathe new life into my typical black/brown boot situation. These would make a beautiful, unexpected Christmas gift!
Y'all, we made it through another week, and Christmas is just around the corner! While this week was an incredibly fun one, I'm so looking forward to a weekend of laying low and finishing up Christmas shopping from bed. (Avoiding the mall, thankyaverymuch!) A couple highlights? Going to the Dallas Mav's game with some friends on Wednesday night, and seeing a much-missed friend from out of town last night!
Looks like the fun doesn't stop there for me, though… listen up, my Dallas ladies! I'll be helping to host the Akola Holiday Pop-up shop tomorrow from 6-8pm, and would love to see you there. A few incredible Texas brands that give back will all be in attendance for an evening you don't want to miss. For all of the details, head here. Hope to see some of your cute faces there!
Happy weekend, everyone!
Love,
Kate