Good morning from my little office in our new Gainesville home, y'all! I hinted that I would be sharing photos of the home pre-move in yesterday, and I'm so excited to show them to y'all today!
For those of you who don't know, Andrew and I took a whirlwind trip to Gainesville last February in hopes of finding a house. We looked at tons of homes for two full days, and decided to pull the trigger on one we especially fell in love with!
I'll never forget the call from our realtor that the seller had accepted our offer and we. got. the. house. Fast forward a few months… we officially closed and all that was left to do was eagerly await our move-in after the wedding!
Here's an unfurnished peek at our new home sweet home. Come on in, why don't ya!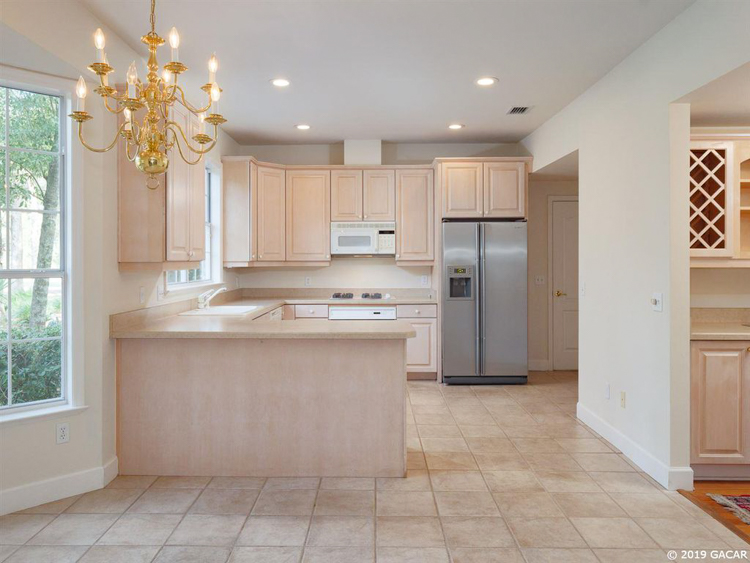 When I think of this house, I can't get George Bank's quote from Father of the Bride out of my mind. "It's a great house." It really is, y'all. It's flooded with tons of beautiful, natural light and backs onto a golf course, which makes for beautiful views every hour of the day.
It also has lots of charm in it's 80's wallpaper and pale salmon-colored cabinets. Oh, and did I mention a golf-themed guest bathroom?! We hope to update these eventually (except the golf-themed bathroom, Andrew has put his foot down) but for now, we are loving every bit of it.
There's room for an office for me, a guest bedroom for our friends and family, and even an office for Andrew where all of this dark brown decor can live. :) We are just so excited!
As far as decor goes, we're planning on using the furniture from my previous two apartments while we save up for newer items we may want to add… like a couch, for example, or a dining room table. Let's just say there's lots of gold, white and pink (y'all know me) and Andrew is being quite the trooper.
I shared a little sneak peek on Instagram stories yesterday and had tons of questions about our living room couch and our living room chair. We're using the Ikea Ektorp sofa with chaise and the Farlov armchair for now, and they look great! (I removed the back cushion of the chair and replaced with two fluffy pillows.)
Now that we're mostly settled (ok maybe "mostly" is a generous term, but we're getting there) I'm so excited to decorate our screened in porch. Ever since I first saw the house, I couldn't stop thinking about hosting friends and family out there. I ordered two of these outdoor love seats and am hoping they turn out!
Can't wait to take y'all along as we turn this house into our home. Let me know of any favorite decor spots you love!
Love from the Sunshine State,
Kate