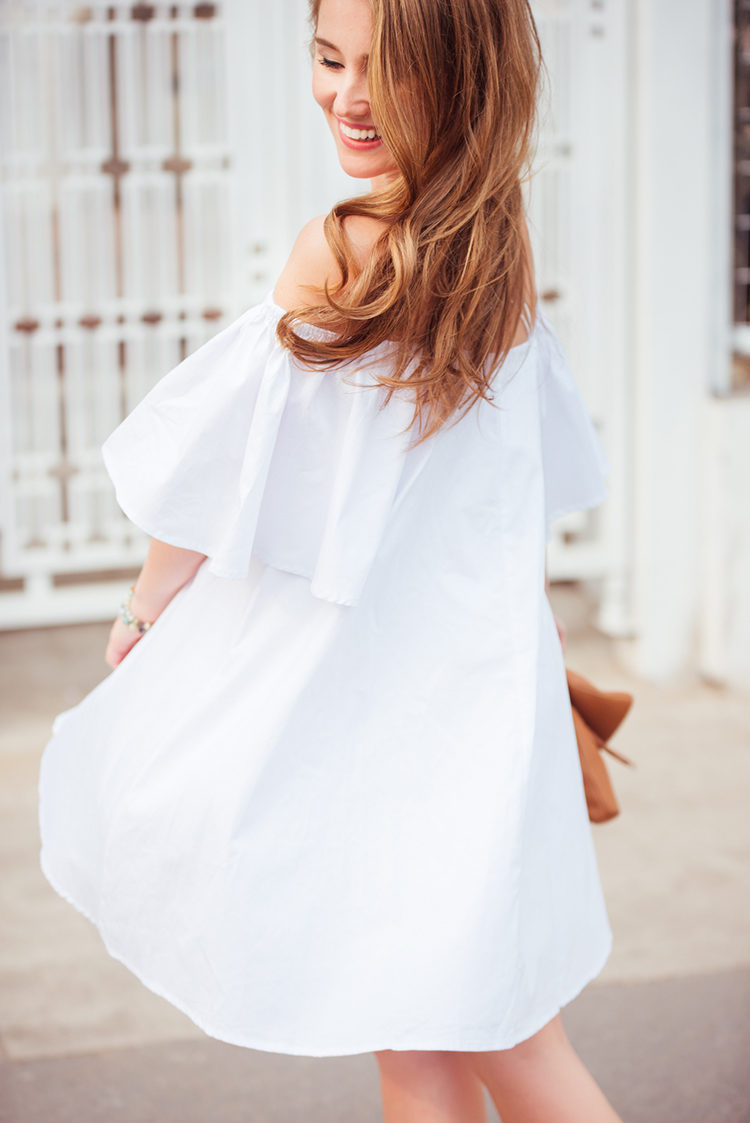 DRESS   open-shoulder swing dress (under $50, also in yellow and orange)   |   SHOES   ankle strap wedges   |   CLUTCH   tory burch crossbody   |   EARRINGS   gold hoop earrings   |   RING   turquoise ring (coming to Starfish Project soon!)   |   BRACELETS   turquoise bracelets   (coming to Starfish Project soon!)
Happy Friday, friends! I want to start off by saying thank you for all of the sweet birthday wishes y'all left for me yesterday! I must confess, it wasn't my finest to date… I spent all day in bed with a terrible cold! The positive side, however, is that I got to binge watch one of my favorite shows all day, and get to re-celebrate it today. :) All that plus the Easter weekend just ahead makes up for it, I'd say!
Now on to the star of today's post, this open-shoulder swing dress! I am in love with the breezy silhouette of this number. It's so fresh and so comfortable, plus this style is under $50 and also comes in the cutest colors… orange and yellow! I think it would look especially darling on those of you who have a few inches on me. (I'm 5'2″.) Height balances out the billowy nature of this dress beautifully!
I'm also smitten with the dainty turquoise jewelry. Any combination of white, tan and turquoise is an automatic favorite in my book! Both this ring and bracelet set is part of the new collection coming to Starfish Project soon. I can't wait to show you more!
Wishing you all a bright and happy Easter weekend! He is risen!
Love from Texas,
Kate
Photography by Cleland Studios