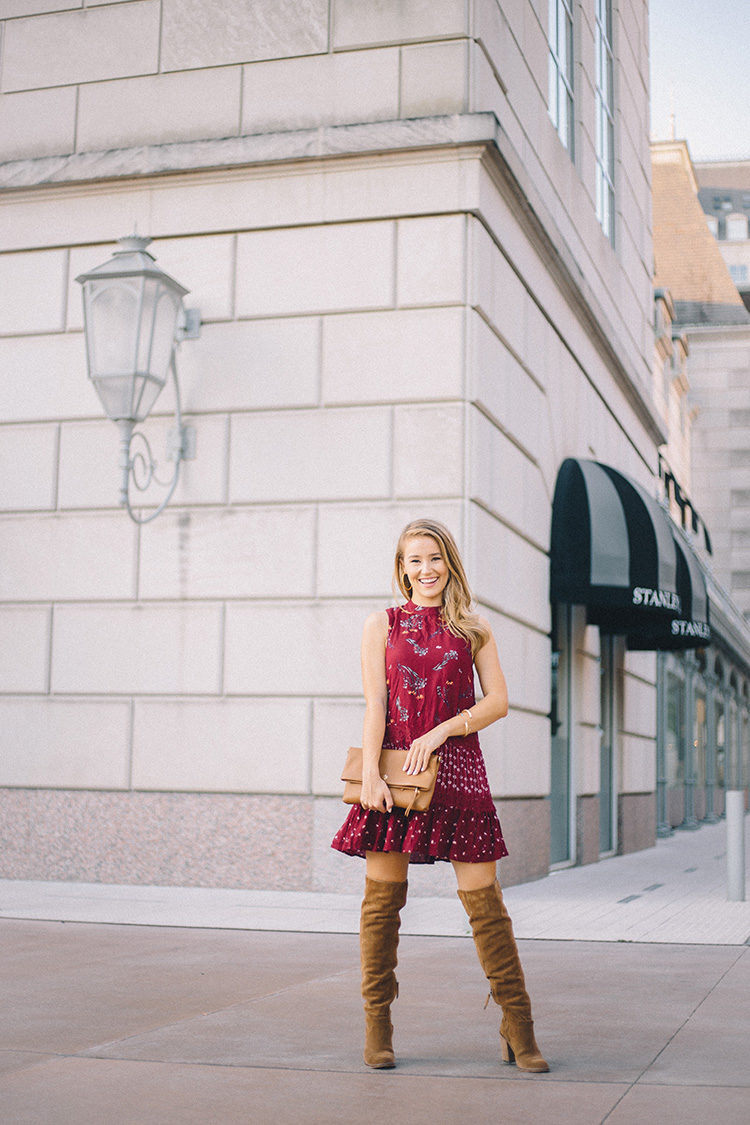 BLACK DRESS   black sleeveless print dress (wearing size XS)   |   RED DRESS   red sleeveless print dress (wearing size XS)   |   HEELS   black block heels (similar linked)   |   BOOTS   suede over the knee boots (similar linked)   |   EARRINGS   white floral earrings (similar linked)   |   EARRINGS   gold hoops (similar linked)   |   BRACELETS   bracelet set   |   CLUTCH   tan envelope clutch (similar linked)
Let's talk about fall down south, y'all. While I do wish we'd get actual cold weather now and then, the mild climate means we can wear dresses well into autumn. Because of that, you won't hear me complaining!
It's no secret that, more than any other piece of clothing, dresses are my absolute favorite to style. When it comes to those I can wear in fall and winter, I can't seem to get enough! Today, I'm so excited to share you one style that comes in two colorways, both of which I'm already excited to break out in the coming weeks!
This sleeveless tiered dress from Belk has an effortless feel to it, with plenty of feminine details to boot. I love the high neck, the lace detailing, the pattern blocking, and maybe most of all… how light it is to wear!
It's the perfect style for fall and it offers so many different ways of wearing it. Some simple block heels would look gorgeous for a more formal occasion, and over the knee boots are always a go-to when things start to get chilly. A pair of pretty ballet flats would make for a practical, classic ensemble. Best yet, pair it with a denim or moto jacket to change up the look even more!
It's clear the options are endless with this little fall frock, which is perfectly priced at under $30. Now one question remains… which color would you pick? Red? Black? Both?
Love from Texas,
Kate
Thank you, Belk, for sponsoring this post.