DRESS   treasure & bond pleated mini dress (wearing XXS, size down one)   |   HOOPS   dean davidson medium tubular hoops   |   NECKLACE   gold circle necklace   |   SHOES   sam edelam heels (old, not included in sale)
JUMPSUIT   surplice jumpsuit (wearing size XS)   |   HOOPS   dean davidson medium tubular hoops   |   NECKLACE   gold circle necklace   |   SHOES   sam edelam heels (old, not included in sale)
DRESS   misty asymmetrical dress (wearing size XS)   |   HOOPS   dean davidson medium tubular hoops   |   NECKLACE   gold circle necklace   |   SHOES   sam edelam heels (old, not included in sale)
TOP   bp raw edge v-neck (wearing XS)   |   LEGGINGS   spanx faux leather leggings (wearing size XS, true to size)   |   SHOES   nike tennis shoes (sized one full size up)   |   HOOPS   dean davidson medium tubular hoops   |   NECKLACE   gold circle necklace
TOP   bp raw edge v-neck (wearing XS)   |   LEGGINGS   spanx faux leather leggings (wearing size XS, true to size)   |   SHOES   nike tennis shoes (sized one full size up)   |   HOOPS   dean davidson medium tubular hoops   |   NECKLACE   gold circle necklace
TOP   bp raw edge v-neck (wearing XS)   |  JACKET   north face westborough jacket (wearing size XS regular)   |   HOOPS   dean davidson medium tubular hoops   |   NECKLACE   gold circle necklace
TOP   socialite thermal henley top (wearing size XS)   |   HOOPS   dean davidson medium tubular hoops   |   NECKLACE   gold circle necklace
TOP   j.crew ruffle popover shirt   (wearing size XS)   |   SCARF   tan scarf   |   HOOPS   dean davidson medium tubular hoops   |   NECKLACE   gold circle necklace   |   JEANS   7 for all mankind skinny jeans (true to size, wearing 24)   |   BOOTS   sam edelman caprice boot (true to size)
TOP   calson long sleeve crewneck tee (wearing size XS)   |   HOOPS   dean davidson medium tubular hoops   |   NECKLACE   gold circle necklace   |   JEANS   7 for all mankind skinny jeans (true to size, wearing 24)   |   BOOTS   sam edelman caprice boot (true to size)
TOP   vince camuto ruffle sleeve blouse   (true to size, wearing XS)   |   HOOPS   dean davidson medium tubular hoops   |   NECKLACE   gold circle necklace   |   JEANS   7 for all mankind skinny jeans (true to size, wearing 24)   |   BOOTS   sam edelman caprice boot (true to size)
TOP   vince camuto ruffle sleeve blouse   (true to size, wearing XS)   |   COAT   lauren ralph lauren quilted coat (true to size, wearing XS regular)   |   HOOPS   dean davidson medium tubular hoops   |   NECKLACE   gold circle necklace   |   JEANS   7 for all mankind skinny jeans (true to size, wearing 24)   |   BOOTS   sam edelman caprice boot (true to size)
TOP   navy stripe top (sold out)   |   HOOPS   dean davidson medium tubular hoops   |   NECKLACE   gold circle necklace   |   JEANS   7 for all mankind skinny jeans (true to size, wearing 24)   |   BOOTS   sam edelman caprice boot (true to size)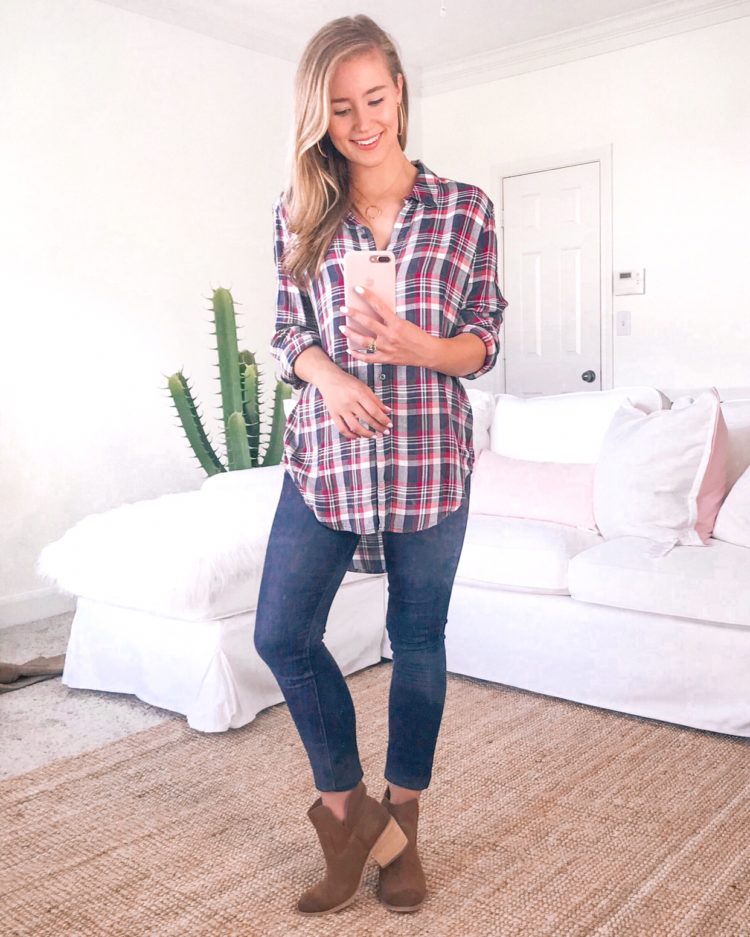 TOP   caslon plaid shirt (true to size, wearing XS)   |   HOOPS   dean davidson medium tubular hoops   |   NECKLACE   gold circle necklace   |   JEANS   caslon skinny jeans (true to size, wearing 24)   |   BOOTIES   bp brice notched bootie (true to size)
TOP   cece scallop edge top (true to size, wearing XS)   |   CLUTCH   calf hair leopard print clutch (also a crossbody)   |   JEANS   old forever 21 white flare jeans   |   HOOPS   dean davidson medium tubular hoops
TOP   cece scallop edge top (true to size, wearing XS)   |   CLUTCH   calf hair leopard print clutch (also a crossbody)   |   JEANS   old forever 21 white flare jeans   |   HOOPS   dean davidson medium tubular hoops
TOP   cece scallop edge top (true to size, wearing XS)   |   JACKET   halogen tweed jacket (true to size, wearing XS Petite)   |   JEANS   old forever 21 white flare jeans   |   HOOPS   dean davidson medium tubular hoops|   HOOPS   dean davidson medium tubular hoops
The Nordstrom Anniversary Sale is finally live to everyone, and I for one am so excited about it! If you've been waiting to join the party, get ready for some amazing steals.
Today, I'm sharing the second of my two Nordstrom Anniversary Sale try on posts. (Catch the first one here!) I stocked up on everything from jeans to jackets, and couldn't be happier with what I received!
I will say, I'm definitely bummed to see that there weren't very many restocks for the public access portion of the sale. If you had your eye on something that's out of stock, my advice would be to bookmark it and keep checking back. We'll start seeing returns trickle in now, and you'll most likely be able to snag one of those!
One department that doesn't sell out quickly? Home decor! Don't forget, I've got a huge roundup of my favorite home finds HERE.
Finally, I'm so excited to announce the second of five winners of my $100 Nordstrom gift card giveaway, Morgan Ruff! (Morgan, check your email to claim your prize!) I'll be announcing the remaining three winners over the weekend. Be sure to check back here to see if it's you!
Love from Texas,
Kate
P.S. In case you missed my first try on, I'm sharing those pics here:
basics
SWEATER   Leith Ribbed Shawl Cocoon Sweater (wearing size XXS, size down one)  |   TOP    Calson Long Sleeve Scoop Neck Cotton tee (true to sixe, wearing XS)   |   JEANS   Calson Sierra Skinny Jeans (true to size, wearing 24)   |   BOOTS   Sam Edelman Caprice Knee-High Boot (fit true to size, wearing 7)   |   BAG    Tory Burch Marsden Leather Crossbody Bag
SWEATER   Leith Ribbed Shawl Cocoon Sweater (wearing size XXS, size down one)  |   TOP    Calson Long Sleeve Scoop Neck Cotton tee   |   JEANS   Calson Sierra Skinny Jeans (true to size, wearing 24)   |   BOOTS   Sam Edelman Caprice Knee-High Boot (fit true to size, wearing 7)  |   BAG   Tory Burch Marsden Leather Crossbody Bag
SWEATER   Leith Ribbed Shawl Cocoon Sweater (wearing size XXS, size down one)   |   SCARF   Shiraleah Ripley Scarf   |   TOP    Calson Long Sleeve Scoop Neck Cotton tee   |   JEANS   Calson Sierra Skinny Jeans (true to size, wearing 24)   |   BOOTS   Sam Edelman Caprice Knee-High Boot (fit true to size, wearing 7)   |   BAG   Tory Burch Marsden Leather Crossbody Bag
SWEATER   Leith Ribbed Shawl Cocoon Sweater (wearing size XXS, size down one)   |   TOP    Calson Long Sleeve Scoop Neck Cotton tee   |   JEANS   Calson Sierra Skinny Jeans (true to size, wearing 24)   |   BOOTS   Sam Edelman Caprice Knee-High Boot (fit true to size, wearing 7)
JACKET    BlankNYC Cloud Nine Drape Jacket (wearing size small)     |   TOP    BP Raw Edge V-Neck Tee (wearing size XS)   |   JEANS   Calson Sierra Skinny Jeans (true to size, wearing 24)   |   SHOES   Tory Burch Benton Ballet Flat (true to size, wearing a 7)
sweaters
SWEATER   Gibson Convertible Cozy Fleece Wrap Cardigan (wearing size S)   |   JEANS   Calson Sierra Skinny Jeans (true to size, wearing 24)   |   BOOTS   Sam Edelman Caprice Knee-High Boot (fit true to size, wearing 7)
SWEATER   Leith Rib Wrap Sweater  |   JEANS   Calson Sierra Skinny Jeans (true to size, wearing 24)
SWEATER   Leith Rib Wrap Sweater (wearing size XS)   |   JEANS   Calson Sierra Skinny Jeans (true to size, wearing 24)   |   BOOTS   Sam Edelman Caprice Knee-High Boot (fit true to size, wearing 7)
SWEATER   Leith Rib Wrap Sweater (wearing size XS)    |   JEANS   Calson Sierra Skinny Jeans (true to size, wearing 24)   |   BOOTS Sam Edelman Caprice Knee-High Boot (fit true to size, wearing 7)   |   SCARF   Halogen cashmere wrap
SWEATER   Topshop Colorblock Knit Pullover (wearing size US 4)   |   JEANS   Calson Sierra Skinny Jeans (true to size, wearing 24)   |   BOOTS Sam Edelman Caprice Knee-High Boot (fit true to size, wearing 7)
SWEATER   BP Exposed Seam Sweater (wearing size XXS)   |   JEANS   Calson Sierra Skinny Jeans (true to size, wearing 24)   |   BOOTIES   Kork-Ease Elfa Bootie
SCARF   Sole Society Mixed Plaid Scarf   |   TOP    Calson Long Sleeve Scoop Neck Cotton tee   |   JEANS   Calson Sierra Skinny Jeans (true to size, wearing 24)   |  BOOTS   Sam Edelman Caprice Knee-High Boot (fit true to size, wearing 7)  |   BAG   Tory Burch Marsden Leather Crossbody Bag
SWEATER   BP Twist Front Sweater (wearing size XS)   |   JEANS   Calson Sierra Skinny Jeans (true to size, wearing 24)   |   BOOTIES   BP Brice Notched Bootie
outerwear
JACKET   Hinge Feminine Leather Moto Jacket (wearing size XS)   |   TOP   |   JEANS   Calson Sierra Skinny Jeans (true to size, wearing 24)   |   BOOTS    Sam Edelman Caprice Knee-High Boot (fit true to size, wearing size 7)
JACKET   Hinge Feminine Leather Moto Jacket (wearing size XS)   |   TOP      |   JEANS   Calson Sierra Skinny Jeans (true to size, wearing 24)   |   BOOTS   Sam Edelman Caprice Knee-High Boot (fit true to size, wearing size &
JACKET   Barbour Fairway Quilted Jacket (wearin gsize 8UK)  |   TOP   1901 Long Sleeve Ranger Tee (wearing size S)       |   JEANS   Calson Sierra Skinny Jeans (true to size, wearing 24)   |   BOOTIES   BP Brice Notched Bootie
PULLOVER   Thread & Supply Wubby Fleece Pullover (wearing size S)   |   JEANS   Calson Sierra Skinny Jeans (true to size, wearing 24)   |   BOOTS   BP Brice Notched Bootie
basics
TOP   Free People January Tee (wearing size XS)   |   JEANS   Calson Sierra Skinny Jeans (true to size, wearing 24)   |   BOOTIES   BP Brice Notched Bootie
TOP   1901 Long Sleeve Ranger Tee (wearing size S)   |   JEANS   Calson Sierra Skinny Jeans (true to size, wearing 24)   |   BOOTIES   BP Brice Notched Bootie
TOP   BP Raw Edge V-Neck Tee (wearing size XS)   |   JEANS   Calson Sierra Skinny Jeans (true to size, wearing 24)   |   SHOES   Tory Burch Benton Ballet Flat (true to size, wearing a 7)
TOP   Calson Long Sleeve Scoop Neck Cotton tee (wearing size XS)   |   JEANS   Calson Sierra Skinny Jeans (true to size, wearing 24)   |   BOOTS   Sam Edelman Caprice Knee-High Boot (fit true to size, wearing size 7)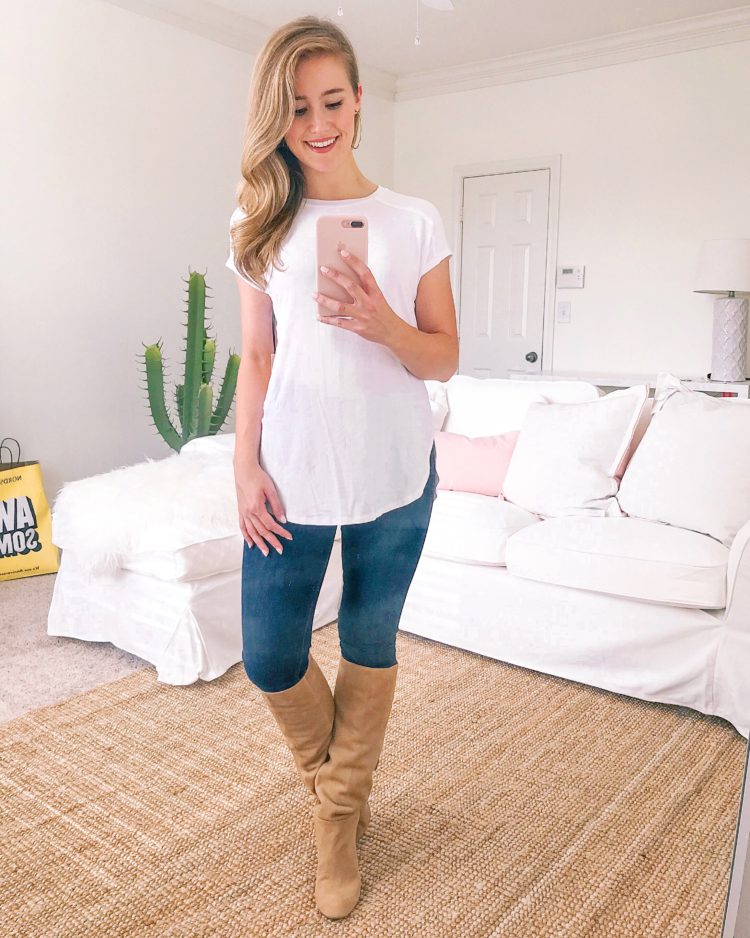 TOP   Halogen Crewneck Top (wearing size XS)   |   JEANS   Calson Sierra Skinny Jeans (true to size, wearing 24)   |   BOOTS Sam Edelman Caprice Knee-High Boot (fit true to size, wearing size 7)
blouses
TOP   1901 Baloon Sleeve Bow Neck Blouse (wearing size XS)   |   JEANS   Calson Sierra Skinny Jeans (true to size, wearing 24)   |   BOOTS    Sam Edelman Caprice Knee-High Boot (fit true to size, wearing size 7)
TOP   Hinge Ruffle V-Neck Blouse (wearing size XXS)   |   JEANS   Calson Sierra Skinny Jeans (true to size, wearing 24)   |   BOOTS Sam Edelman Caprice Knee-High Boot (fit true to size, wearing size 7)
TOP   CeCe Scallop Edged Top (wearing size XXS, will return for my normal size XS)   |   JEANS   Calson Sierra Skinny Jeans (true to size, wearing 24)   |   SHOES  Tory Burch Benton Ballet Flat (true to size, wearing a 7)
TOP   Vince Camuto Jacquard Striped Top (wearing size XS)   |   JEANS   Calson Sierra Skinny Jeans (true to size, wearing 24)
TOP   O'Neill Twirl Longline Shirt (wearing size XS)   |   JEANS   Calson Sierra Skinny Jeans (true to size, wearing 24)   |   BOOTIES   Kork-Ease Elfa Bootie
TOP   1901 Ruffle Sleeve Top (weraing size XS)   |   JEANS   Calson Sierra Skinny Jeans (true to size, wearing 24)   |   BOOTS   Sam Edelman Caprice Knee-High Boot (fit true to size, wearing size 7)
dresses
DRESS   Rails Juliette Blouson Dress (true to size, I'm wearing a small because a XS wasn't in stock)   |   BOOTS   Sam Edelman Caprice Knee-High Boot (fit true to size, wearing size 7)
DRESS   ASTR V-Neck Crepe Shift Dress (wearing size XS)   |   SHOES   Tory Burch Benton Ballet Flat