Things I love: bows, stripes, navy blue. Luckily for me, the three seem to be everywhere this season! From bow bikini tops to striped tees to timeless, navy shift dresses, it's clear I'm not the only one who can't get enough of them. But y'all… never have I ever come across a more perfect combination of the three than in these darling shorts.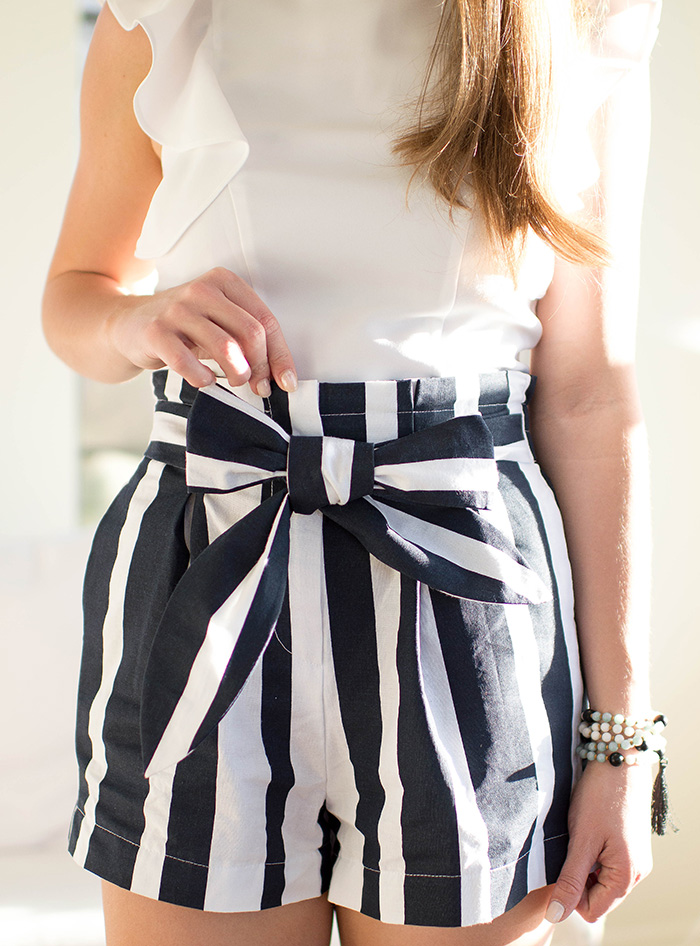 SHORTS   navy striped bow shorts (similar here, here and here)   |   SHOES   navy bow wedges (also in stripes)  |   SHIRT   flutter sleeve blouse (wearing xs, a little tight on me)  |   BRACELET   navy tassel wrap bracelet   |   LIP COLOR   heat wave lipstick + scandal gloss   |   EARRINGS  pearl studs
I don't think I could dream up a more perfectly nautical piece if I tried! The high waisted silhouette gives this pair the cutest retro look, making them a must-have for many a seaside vacation ahead. They have me giddy for summer already.
I was so excited to find that they went perfectly with my navy bow wedges… a pair I had picked up in January for fear of them selling out before spring! I can already tell you they are going to be on serious repeat within the coming months. Navy is such a beautiful neutral, that pairs with darker and lighter shades alike and it's safe to say I'm smitten.
Well y'all, I'm sad to say that I'm finally home after a wonderful mini vacation at the lake! Nothing like some time in the sun (and away from the email inbox) to leave you feeling refreshed. Today will be a busy one as I play catch-up before embarking on another weekend getaway. Wishing everyone a productive day! :)
Love from Texas,
Kate
P.S. Y'all, Tory Burch is having an AMAZING private sale! The items included are up to 70%, plus there's free shipping. My favorite pair of Derby riding boots from this fall are included, along with this blush bag I'm dying to get my hands on! It ends soon and is sooo good so giddy-up and get with it!