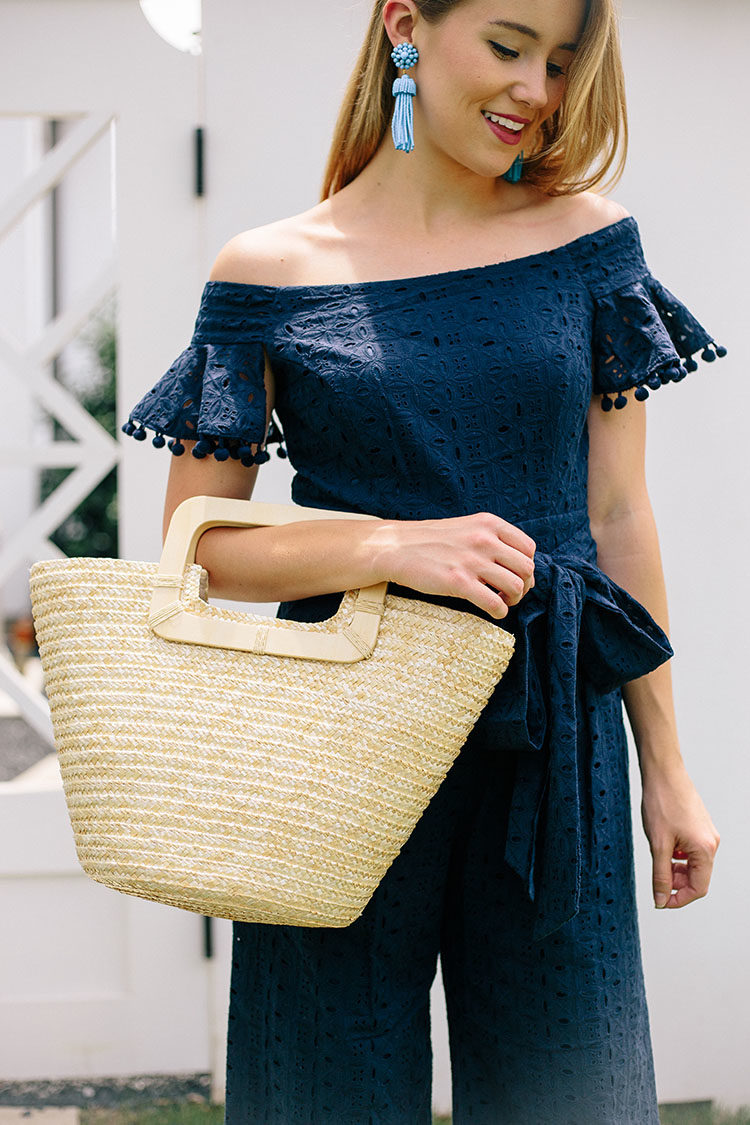 JUMPSUIT   navy eyelet pom pom jumpsuit   |   BAG   straw basket (removed the tassel)   |   SHOES   steve madden ankle strap wedges   |   EARRINGS   lisi lerch turquoise tassel earrings
The title of this post really says it all, doesn't it?
Navy. Eyelet. Pom Pom. Jumpsuit. What's not to love?!
If I'm being honest, for me it was initially the "jumpsuit" part. I think my height (5'2″) has kept me away from the jumpsuit trend we've seen over the past few months. For some reason, I've been so intimidated by it!
I think it also comes down to the actual jumpsuit designs I've seen. I've seen a couple of cute, well-done ones, I really haven't cared for the majority I've seen.
That is until I came across the perfectly put-together jumpsuit of my dreams… this beauty. Not only is it comprised of classic, darling details (I love anything eyelet, and those pom poms? I mean, come on!) but it also comes in petite sizes as well as regular!
I finally gathered up my courage and ordered it. The 2 Petite gave me the proportions needed for a perfect fit, and now that I've found one that fits, I'm obsessed with the jumpsuit trend!
How about you? Do you love the jumpsuit or is it not for you?
Love from Texas,
Kate