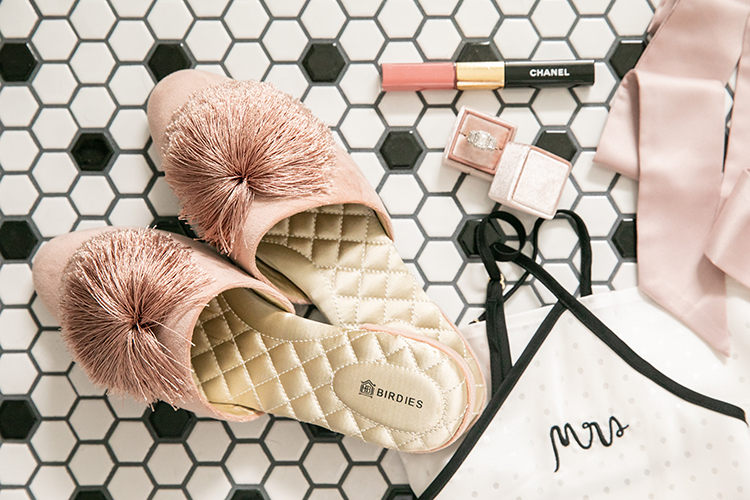 Who else watched with rapt attention the wedding of Meghan Markle to Prince Harry?! I will never forget streaming it in the middle of an airport. The moment she joined hands with Prince Harry literally took my breath away.
I loved every piece of her big day. I loved the timeless, elegant dress. I swooned over the gorgeous tiara. And that veil. Don't even get me started!
It's no secret I devoured every detail of her royal romance-turned-fairytale, and today I'm thrilled to be in the most stunning pair of bridal slippers by a brand favorite of Meghan Markle, Birdies!
This pom-pom'd pair in particular, The Songbird, was inspired by the custom slipper the Birdies team designed for Meghan to wear on her wedding day. (I'm sorry, how cool is that?!) Meghan's bespoke pair was crafted out of blush duchess satin with pearl embellishments and, of course, the fabulous pom pom. The Songbird was designed to emulate that very same, special shoe.
I am absolutely giddy to wear these on my wedding day as my bridesmaids and I all get ready. Not only are they absolutely stunning (every detail, y'all… perfection!) but they are so incredibly comfortable. Did I mention the ball of the foot is supported by memory foam?! You can bet I'll be taking them to the reception to throw on once it's time to ditch the heels!
The whole collection of Bridal Birdies is to die for, and I know you're going to love them whether or not you have a wedding on the horizon. From tasteful embellishments fit-for-a-princess to fun tassel detailing, there's a slipper for every bride. Which would you choose?

These classic and elegant beauties have just the perfect amount of fun to them, which is exactly how I would describe my wedding. Take it from me, Birdies are a bridal must, and a perfect way to treat yourself or a soon-to-be-wed friend!
It's taking everything in me not to wear them immediately, but I am determined to keep them all boxed up and ready for the big day. I love having special things like that to look forward to!
So, I'll be counting down the days until I take my first real turn in them. If only they came with a tiara and charming cottage on the grounds of Windsor palace!
Love from Texas,
Kate
Thank you, Birdies, for sponsoring this post.
Photography by my wonderful wedding photographer, John Cain.