I know it's not Wednesday yet, but I couldn't wait one more day to share the exciting news. Today, I'm giddy to finally fill you in on my bachelorette party plans, and to introduce you to all of my bridesmaids!
If you're enjoying your morning cup of coffee while reading this, I'm going to suggest you put it down. This bachelorette party isn't just any bachelorette party, y'all, and it's taken literally everything in me to keep things hush hush until now. Let's just say it has something EXTRA special involved.
The reservations are booked, the envelopes are stuffed, and today I'm sending out my bachelorette party invitations and inviting YOU to take a peek at what we have planned! Curious? Check out the photos below for all of the fun. (And to see what all this fuss is about!)
DRESS lillypulitzerliz dress | EARRINGS gold hoops (sold out, similar linked) | SHOES nude wedges
Yes, you read that right!
Watercolor, Florida. Lilly Pulitzer. 12 of my best friends.
Will someone pinch me?
For those of you who have been following along for a while, you know that I'm a Lilly girl through and through.
To this day I vividly remember the strawberry-print shift I wore through recruitment at the University of Texas. And when the Lilly Pulitzer store in Charlotte, North Carolina invited me to stop in and try on a few of their new arrivals a year into blogging, I couldn't believe it! Needless to say, traveling to Palm Beach with the Lilly Pulitzer team two springs ago to help debut their new Spring Break Sunseekers line was a once-in-a-lifetime whirlwind I will never, ever forget.
The privilege of getting to know and work with a brand I loved long before my blogging days has truly been a dream come true.
So when I started thinking about my bachelorette party a few months back, I landed on two ideas. One, that it take place in my favorite spot in the world, Seaside, Florida. Two, that there be a strong Lilly Pulitzer feel to the whole extravaganza… tons of color, endless sunshine, and lots of fun!
In my "dream world scenario," one night my bridesmaids and I would all wear Lilly Pulitzer to dinner. Never could I have ever imagined that the Lilly Pulitzer team would actually want to throw my bachelorette party!!!
But somehow, it's true! And for the last few months, the Lilly team and I have been dreaming up, planning and putting together the most unbelievable bachelorette party weekend.
Now that invitations (how amazing is the custom design the Lilly team whipped up?!) are printed, addressed and on their way, I am actually letting myself believe this is all real… not just something I dreamed up out of wedding-planning- induced delirium!
It's. Happening.
In officially three weeks, my girls and I are headed to Watercolor, Florida (the nearly identical next-door neighbor of Seaside) for a weekend of Lilly Pulitzer-approved fun in the sun with Sanders Beach Rentals! The house, y'all… more like mansion! I absolutely cannot wait for y'all to see it. The itinerary above gives you a glimpse at what we'll be up to, and of course, we'll be documenting all of the fun and sharing with you!
And what makes this a million times better than any fun blog-related trip I've had the opportunity to go on is that it involves all of my favorite people! Y'all have been asking for the details on my bridesmaids, so let me introduce you to this "I do crew."
Steele
All hail the maid of honor! Odds are you've seen my sister Steele around here from time to time. She's three years younger, infinitely funnier, and the cutest little thing you've ever seen. She's also my very best friend, and has been since, well, she was born! While we are pretty much the opposite in every single way, eighteen years of being each other's number one has resulted in too many stories and inside jokes to count. I am so excited to have her standing beside me on the big day… although I'm equally nervous she has some prank up her sleeve!
(Kidding. Kinda.)
Kelly
If you've ever seen Kelly in real life, you know why I call her my "barbie doll." This blonde bombshell has been one of my very best friends since high school! How it all began? I Facebook messaged her before our junior year to ask about the musical auditions. Thank goodness she didn't write me off as a creep! We ended up driving to school together every day (after grabbing chicken minis at Chick Fil A, which is still one of our favorite traditions), going to the University of Texas together, and are now both engaged to the loves of our lives! Her fiance popped the question just a few weeks ago!
Camille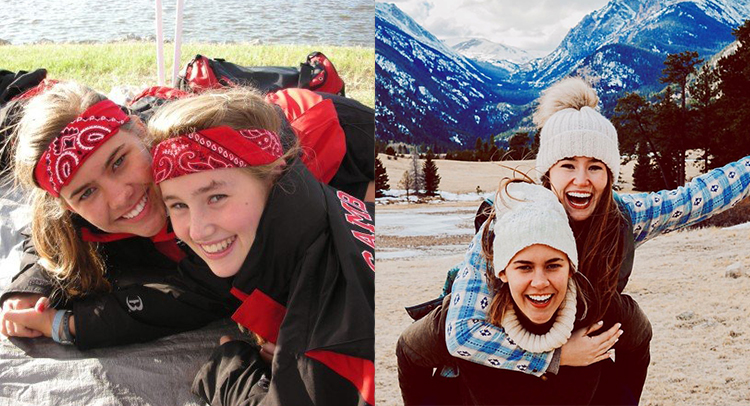 I have the one and only Camille to thank for introducing me to Gossip Girl, making sure I had a burned CD for every high school scenario possible, and somehow making crew regattas during our freshman year of high school the most fun. things. ever. (If you were to ask us why we joined the golf team, we would assure you it had nothing to do with the lack of running involved.) Transferring to different high schools, choosing different colleges and landing in different cities after graduation has made us long-distance for far too long, but she is still one of my favorites in the world!
Julie
While Julie and I graduated in the same high school class, we didn't really become friends until pledging Kappa Kappa Gamma together our freshman year. It wasn't long until our mutual love for dramatic sing-alongs to Taylor Swift, eating Kraft Mac N' Cheese on the floor of my freshman year dorm and bing watching low-budget TV series made us fast friends. After graduating, we both moved back to Dallas where I watched Julie meet, date and marry her now husband Tim. As fate would have it, Tim had a cute best friend from Baylor they wanted to introduce me to… and now Julie will be standing by me as I marry him!
Sally
Sally, or "Sal Pal" as I call her, and I grew up going to the same church, playing on the same soccer team, and staring in the same Christmas nativities for years before becoming friends our junior year of high school! Some of my favorite memories of high school involve the LOST watching parties she would throw and the countless nights we'd spend driving around finding random things to do (like sneaking to the top of the waterfall billboard) with our group of friends. Fun fact… she and the Cinderella in Disneyland had a lot in "common" while she lived in Los Angeles. ;) I think that means I can officially say royalty is attending my wedding, no?!
Amanda
Sometimes I think Amanda and I are twins separated at birth. We constantly make ourselves laugh at how crazily identical our personalities are! I am forever grateful I mustered up the courage to ask to be in a group project together our junior year of college… we clicked instantly and have been best friends ever since! A couple of fun facts about Amanda? She was in the same class that I started Lonestar Southern in (she created an Austin bucket list blog for her assignment!) and she's getting married just a few weeks before me! It's so surreal to be in this season at the same time!
Carole Anne
Some of you may remember Carole Anne all the way back from my senior year of college! She was my roomie in the KKG house, in our shoebox of a room I wrote a post about. We have gone through so much together, from college graduation to breakups to job hunts to moves, and the list goes on. We've both lived in Dallas ever since graduating but love nothing more than to get out of the city for a ranch weekend! When we're in Dallas, I love nothing more than evenings at her house with a glass of wine, a bowl of Blue Bell ice cream and her English golden retriever, Harper!
Caroline
I didn't just luck into the world's most handsome fiancé when I said yes to Andrew, I got another sister out of the deal, too! (And brother, while we're at it, but this is just about GIRLS if you're reading this, John Bradley!) Caroline just graduated from Baylor and is now interning at Disneyworld… and is therefore much cooler than I will ever be. Andrew and I are so excited that she'll only be a couple of hours away when we move to Gainesville! (And I'm so excited to make my first ever trip to Disney when she's there!)
Virginia
You know what I hate? That it took me 23 years to become friends with Virginia! Our dads were actually roommates at the University of Texas, so I grew up knowing her name, but not actually knowing her. It wasn't until I graduated from UT and moved back to Dallas that we finally got together for coffee and the rest is history! Virginia truly changed my life by introducing me to the incredible work that Starfish Project does, inviting me to Asia with her, and modeling what it looks like to be a faithful friend and live out our faith in a daily, real way. Can you tell I adore her?!
Molly
Molly and I like to joke that if she were to have a blog, it would be the antithesis of Lonestar Southern… she is all things minimalistic, chic, modern and monotone. Ha! :) I have known this precious one since the third grade, but it wasn't until high school that we truly opened up to one another and, in doing so, became bests! She is one of the strongest women I know. and also one of the most hilarious. The stories we have! It was just last summer that I stood by her as she married her forever, and so I'm so excited for her to stand with me a year later!
Olivia
Olivia (or Livy as I like to call her) and I sealed our fate senior year of high school when we spontaneously decided to be roommates at the University of Texas *if* we both got in. I'll never forget running to find her in the hallway after we were both accepted! We ended up living together both our freshman and sophomore year. I am endlessly thankful we had each other to go through the highs and lows of that all with! It feels so surreal that we'll both be married this summer since we used to talk daydream about future spouses and weddings all the time.
Courtney
I had no idea the blessing that was in store for me when I pref'd Courtney as my big during my freshman year at UT! I hardly knew her, but it turned out to be a match made in heaven. College wouldn't have been the same without her! I had the joy of watching her and her now-husband date all through college, get engaged and then get married the summer after they graduated. (And I got to be her maid of honor!) She has been the best example to me of a true friend, a loving wife, and a girl who never backs down from a fun adventure!
There you have it, friends! It feels blasphemous to trim down all I could say about these beauties into one small paragraph, but hopefully this gives you a feel for these ladies and the huge role each of them has had in my life!
I absolutely cannot wait to celebrate with them in just a few weeks as we take on Watercolor, Florida with the Lilly Pulitzer team! Is it weird that I already feel sad about the weekend having to end? Can we just relocate indefinitely?!
Lilly Pulitzer currently has TONS of gorgeous white options for all of you fellow bride-to-be ladies. Here are a few of my favorites! Which do you think I should bring along?!

As always, thank you so much for your interest and investment in this fun season of my life. Getting to share news like this with y'all is the greatest joy! I absolutely cannot wait to bring y'all along with us here in just a few weeks. In the meantime, I'd love all of your Watercolor and/or bachelorette recommendations below!
Love from Texas,
Kate