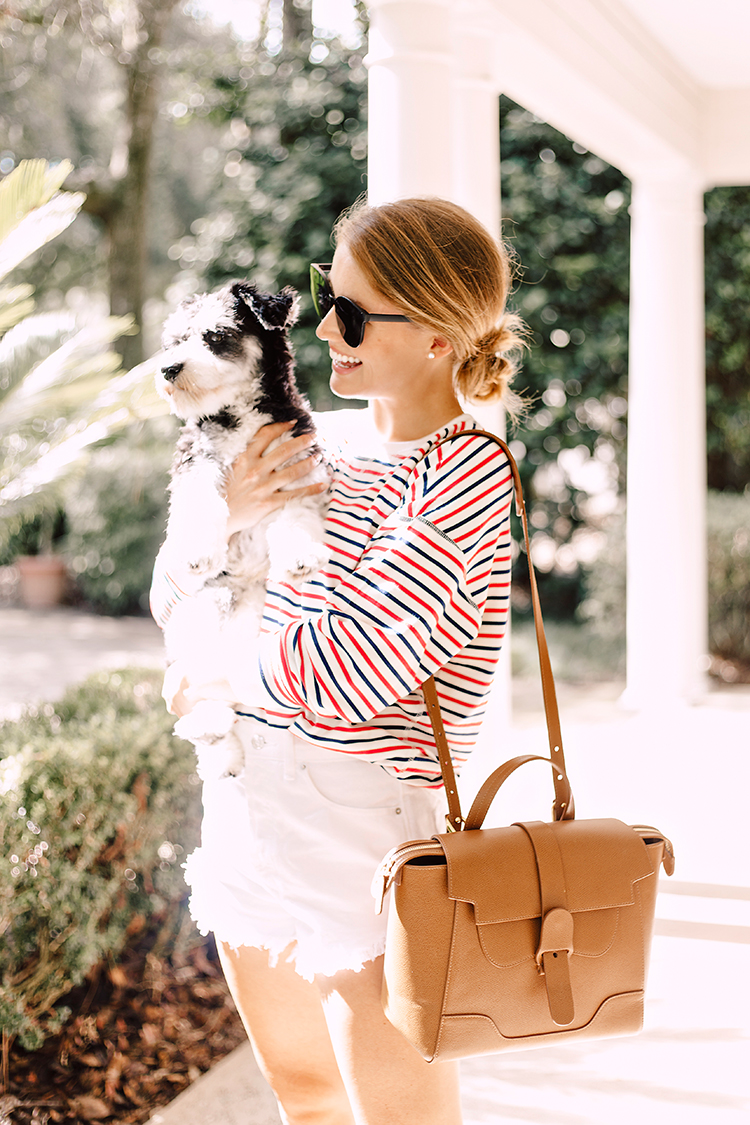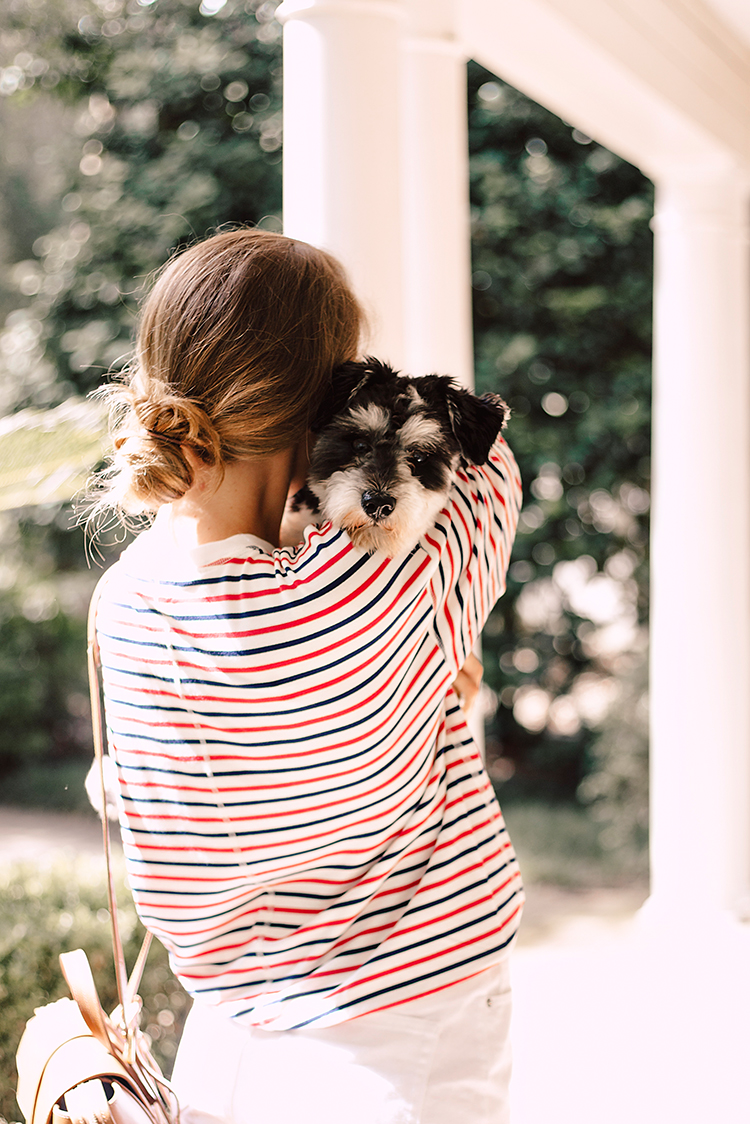 TOP red and blue striped top (I sized up one but wish I'd ordered my usual, an XS) | SHORTS white denim shorts (sold out, similar linked) | BAG senreve midi maestra bag | SHOES tan ballet flats (chanel, similar linked) | SUNGLASSES oversized black sunglasses | EARRINGS pearl studs (similar linked)
Well friends, I hope you're ok with a bit of puppy spam. Flynn would argue that he doesn't get nearly enough screen time here on Lonestar Southern, so I hope this appeases his little diva heart!
During the months of spring and summer, I live in loud color, fun prints and flowy, feminine silhouettes. To me, they're the most fun pieces to wear… and I'm a firm believer in wearing what's fun!
As the transition to fall starts to creep in, however, I always notice that my style tends to get a bit more classic and bit more muted. Structured pieces, neutral palettes… a bit more preppy, a bit more polished. (See this look from last September for a perfect example.)
That's why this darling red and blue striped sweatshirt was a no brainer. Not only is it absolutely timeless and insanely soft, but it's also a top you can truly wear year-round. It's perfect for this time of year with white jean shorts and flats, and I'm already looking forward to wearing it with riding boots and dark-wash denim come fall! Especially with a few layers… like this fabulous cashmere scarf. (Part of this year's #NSale!)
Speaking of autumn wardrobes, I'll be sharing my favorites from the Nordstrom Anniversary Sale 2020 in collage-form tomorrow on the blog! My focus this year, as ever year, are lovely, classic pieces I can wear year after year. You can see a few pieces I've already been eyeing here!
Then, tune in to my IG stories on Saturday morning for an Instagram Story try on haul of some timeless, feminine looks I put together from the sale, which I'll be shopping on Friday. If you're shopping the sale this year (more power to ya if you're not!) I'd love to know what you're excited to see!
On that note, here's a little schedule of my Nordstrom Anniversary Sale content so you can know what to expect from me these next few weeks. I won't be posting about it like crazy, but you can find the content you've come to expect from me on these dates:
Thursday, August 6 – my favorites post
Saturday, August 8 – try on haul
Thursday, August 13 – try on haul
Wednesday, August 19 – in stock roundup
Love from the Sunshine State,
Kate
P.S. If you're wondering about the title of today's post… this is one of my favorite nicknames for Flynn. It felt fitting with the Parisian blue and red look!