This dress in particular, the MLM Maison Off Shoulder Dress, has been my absolute favorite dress silhouette of the season thus far. Not in the slightest bit kidding, y'all… I now own it in two colors! This deep red, which you saw me wear here, and now, this perfect, pretty pink gingham. (Which I just saw is currently sold out. I'd bookmark the page and check back every so often… with returns and restocks, this dress has fluctuated between "in" and "out of stock" a few times already!)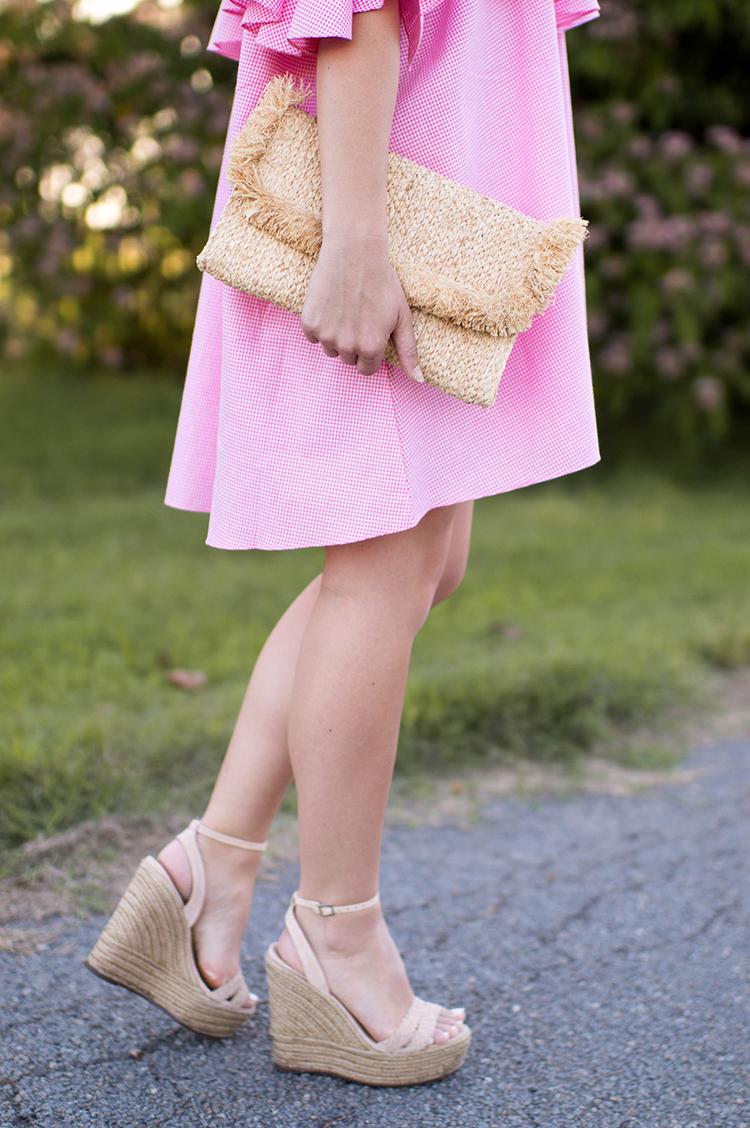 DRESS   mlm maison off shoulder dress (wearing size XS)   |   SHOES   schutz shoes wedges   |   CLUTCH   straw clutch (sold out, similar linked)   |   EARRINGS   pearl studs   |   WATCH   gold watch   |   BRACELET   gold tory burch wrap bracelet
It makes a statement while being wholly on-trend, and is wearable across many different scenarios. Even though the pink gingham is currently sold out, it's still available in a wear-with-anything black and navy, as well as a lovely blue gingham and large gingham. I know I shouldn't, but I'm dying to add the navy to my wardrobe as well. Third time's a charm, right? Thinking about pairing it with bright, summery accessories is making me drool
I packed this cute thing up for a nice dinner with my family at the family farm this past weekend, but if you follow along on Instagram, @LonestarSouthern, you might have noticed one slight style edit! I traded in my favorite pair of nude wedges (seriously, the best shoe I've ever owned) with my favorite pair of worn-in cowboy boots! Sun dresses + cowboy boots will always be a favorite combination of mine, and one I repeat often in summer months. This dress is perfect for the look!
If you'd like to browse through the current color options available, take a scroll below!

One final note… in terms of sizing, I'm wearing an XS. It's a full dress, with a shorter hem at the front than at the back.
Love from Texas,
Kate
P.S. Remember when I gave you all at the sneak peak piece I had just ordered for my living area? It arrived yesterday, and sadly it's a huge bust. The colors look nothing in person like they do online. Womp, womp. Back to the drawing board!
[do_widget id=pw_profile_widget-2]