Friends! They're here!!!
I have been excited about this post ever since Andrew and I met up with our wonderful photographer, John Cain, to take our engagement portraits a few weeks ago! It was an unbelievably gorgeous, golden, balmy afternoon in downtown Dallas, and in all seriousness, we had the. best. time. Which I think you'll be able to tell from the photos!
We shot two looks, and I thought I'd start out by sharing the first, more casual look today! Check back next week for the second, more dressy look.
Ok… I'll stop typing so you can get to scrolling, and will meet you at the bottom of this post for a few words on the whole experience. Enjoy!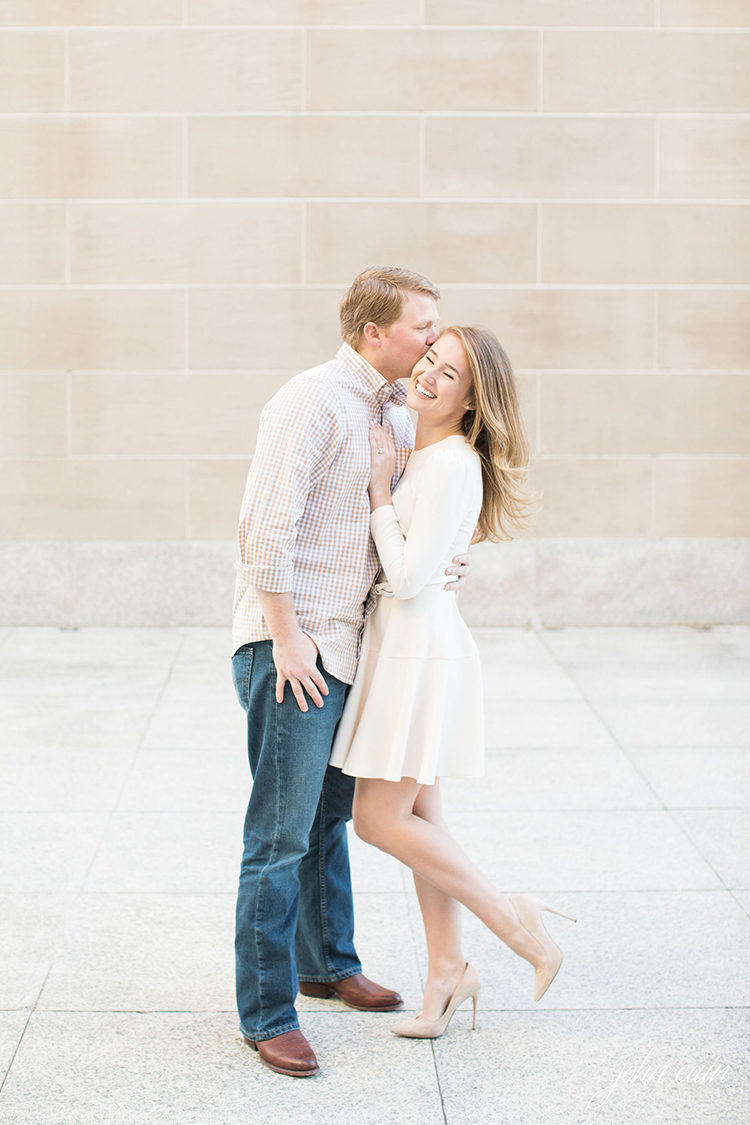 Photography by John Cain
DRESS   gal meets glam celeste dress (more sizes here)   |   BELT   white bow belt   |   SHOES   suede pointy toe pumps   |   BUTTON DOWN   vineyard vines check button down
I swear I smile every time I look through these! And… may or may not have cried when I first got to look through the entire gallery. Oops!
Want to know something funny? As much as I'm in front of the camera, I was a bit nervous going into these. Why? I had heard horror stories from friends about how awkward taking engagement photos can be, and I really didn't want Andrew to hate the experience. But y'all, it turned into one of our very favorite memories to date!
Like I said above, the weather was perfect, John made us feel so comfortable (which I think is key), and Andrew was so incredibly FUN! As much as he claims to hate being in front of the camera, the boy can turn on the charm, that's for sure. :)
What I love most about these photos, and there's a lot that I love, is just how true to Andrew and I they feel. I attribute that 100% to our photographer John. He did such an incredible job of capturing the personality of us as a couple. That was my biggest hope for these photos, and what I'm most thankful for in how they turned out!
The two of us aren't really the intense, serious, gaze-into-each-others-eyes kinda couple. Those are beautiful, yes, but just.. not us. And since I take so many photos for this blog, I wanted something that felt real, authentic and really captured Andrew and I's lighthearted dynamic.
And man, did John deliver. His style is so natural and in-the-moment instead of "Andrew, gaze at Kate's temple and Kate, don't smile," and his shots captured real moments that I'll cherish for forever. (All of those dips, kisses on the cheek, etc? Totally Andrew being candid and spontaneous! Does he deserve a gold medal or what?!)
The entire afternoon feel like a date for Andrew and I… laughing, goofing off and having fun! I wish we could go back and do it all over again!
As for the outfits, I was inspired by the neutral color palette of William and Kate's engagement portrait. (What better inspiration, no? :) I really wanted looks that would translate into neutral and beautiful photographs and look lovely and timeless in any setting. Andrew looked so handsome in this beige Vineyard Vines button down, and I wore a simple white dress (more sizes available here) with this delicate bow belt. I loved how it all turned out!
So, friends, I hope you enjoy looking through these photos as much as Andrew and I have! It is so fun to be able to share these with you. I'm so excited to reveal our second look with y'all next week. In the meantime, if you have any questions about engagement portraits, either for myself or our photographer John, let me know in the comments below!
And to our photographer John… thank you so much for an experience Andrew and I will look back on for years and years. I am so endlessly thankful for these memories!
Love from Texas,
Kate