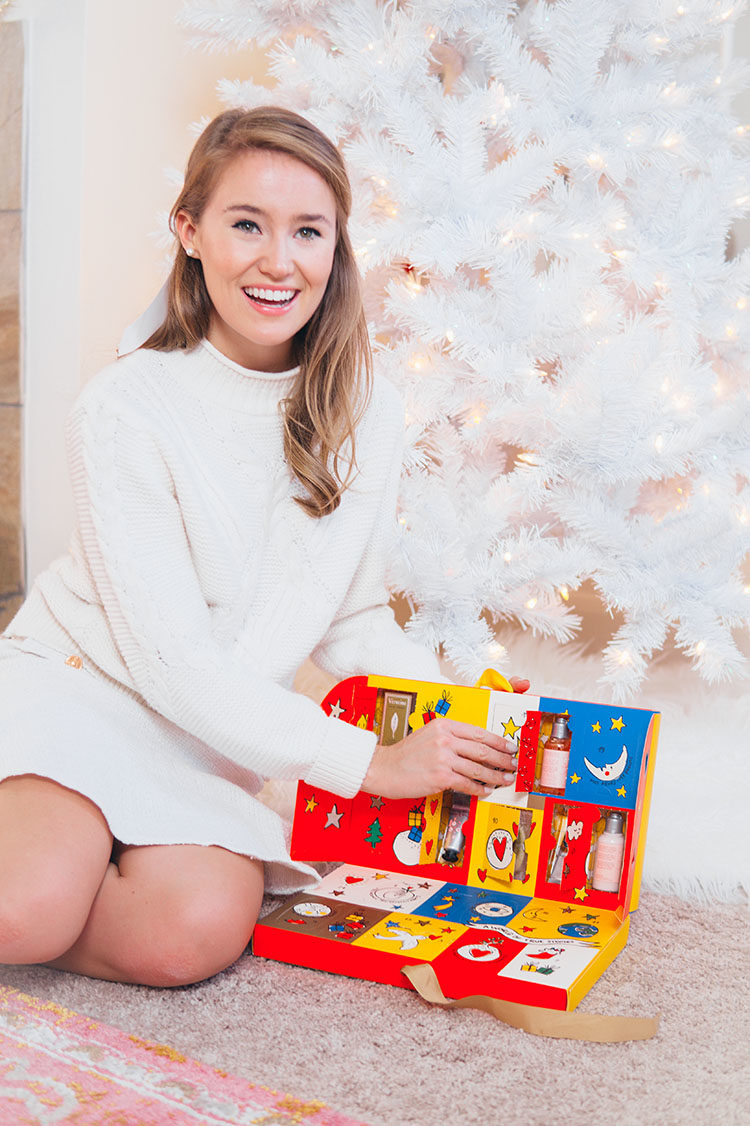 GIFT   l'occitane signature advent calendar c/o   |   SWEATER   chunky cable-knit mock-neck sweater   |   SKIRT   white ruffle hem skirt   |   SHOES   black and white check heels (old)   |   EARRINGS   faux pearl studs
It's hard to believe the holidays are finally here, and along with it, the time to start making lists and checking them off twice! If you, like me, have yet to finalize your "gifts to give" list, this post is for you.
Today, I'm thrilled to be partnering with the gorgeous French skin, fragrance, and home product line L'Occitane in sharing with you a gift that does so much good… the Signature Advent Calendar!
This year, L'Occitane has partnered with UNICEF to join the fight against preventable childhood blindness. So, with each purchase of the Signature Advent Calendar, L'Occitane will help UNICEF provide Vitamin A supplements to children in the fight against preventable childhood blindness. Don't you love that?
As if the cause behind this gift wasn't wonderful enough, let's dive into just how much fun this gift is.
Growing up, my mother would bring home an Advent calendar each year. My sister and I loved taking turns opening up each little box as we counted down the days until Christmas. (This may have had something to do with the chocolate candy inside!)
It's been a few years since we've done this as a family, and seeing the Advent Calendar idea incorporated into this L'Occitane gift brought those sweet memories right back. As I was opening each little compartment in order to review and photograph the calendar just last week, it felt like I was opening 25 individual gifts!
And unlike chocolate that gets consumed in a second, I loved discovering a new beauty product in each box. L'Occitane has the most heavenly-smelling lotions, soaps, and oils, and getting to try so many of them with this Advent Calendar was a dream.
So as you're mapping out your holiday shopping strategy, consider placing this L'Occitane Signature Advent Calendar under your tree for someone special. You're gifting so much good, and joining the fight against preventable childhood blindness, when you do!
Love from Texas,
Kate
Thank you, L'Occitane, for sponsoring this post.