In packing for a five day trip to Paris in the summertime, I had a few objectives:
1. Not having to lug around a huge suitcase. 2. Being chic AND comfortable during long days spent walking around outdoors. 3. Not having to mess with pulling together ensembles with multiple different pieces.
Comfort, chic and ease? The natural choice was dresses! Before my trip, I spent time combing through my favorite stores to find pieces that were timeless, comfortable, and hassle-free. In the end, I selected 6 dresses to take me through the week, which (along with one skirt + blouse combination to mix things up and a cozy airport outfit) ended up being the magic number – I had enough options to choose from every day without feeling overwhelmed by excessive clothing and heavy luggage.
Below, you'll find my Paris style diary… a roundup of the pieces I wore throughout the entire trip as I trotted around Paris with my friend Katie (who has lived in Paris all year as an Au Pair.) I hope it inspires and assists you in your next adventure!

For long plane rides, I always make it a point to bundle up! I found this incredible, roomy sweater the day before I took off, and it turned out to be perfect for the ten hour trip to Paris! I can't get over how soft and comfy it is. It's the perfect "summer sweater" – one you can wear in chilly environments (like crazy cold office buildings) that still looks fresh and bright. I've been wearing it in my apartment non-stop since returning, and can already predict it's gonna be a favorite piece all through fall and winter! For size reference, I'm wearing an XS. The fit is roomy!



On a whim, I decided to throw in a tried-and-true faux leather skirt I've owned since last fall while packing. I'm so glad I did, as Katie and I decided to head to the posh Miss Ko restaurant one evening and the leather skirt was just the edge the outing called for. Before heading to dinner, we climbed out of Katie's apartment window to take in the view from the city. All of the sudden, the tower began sparkling! Seeing it against the pale blue remains of the sunset, as opposed to a black night sky, was nothing short of breathtaking. You know those moments you remember forever? This was one of them.


This bubblegum pink swing dress emsemble was one of my favorite ensembles of the trip! I added in European touches like the scarf and pairing sneakers with a dress, but stayed true to my love for bright, happy colors. This dress is a great buy, and one I'll be wearing the rest of the summer! The designer, Charles Henry, has the easy, bright, lighthearted look down. Check out his affordable line here! Fit tip… the dresses run long on me at 5'2″ so I usually get them hemmed!
As for the sneakers, they are dang cute but I was only able to wear them over the course of a couple days before the blisters made them too painful. (Amateur mistake on my part.) I'd recommend breaking yours in first before taking them abroad!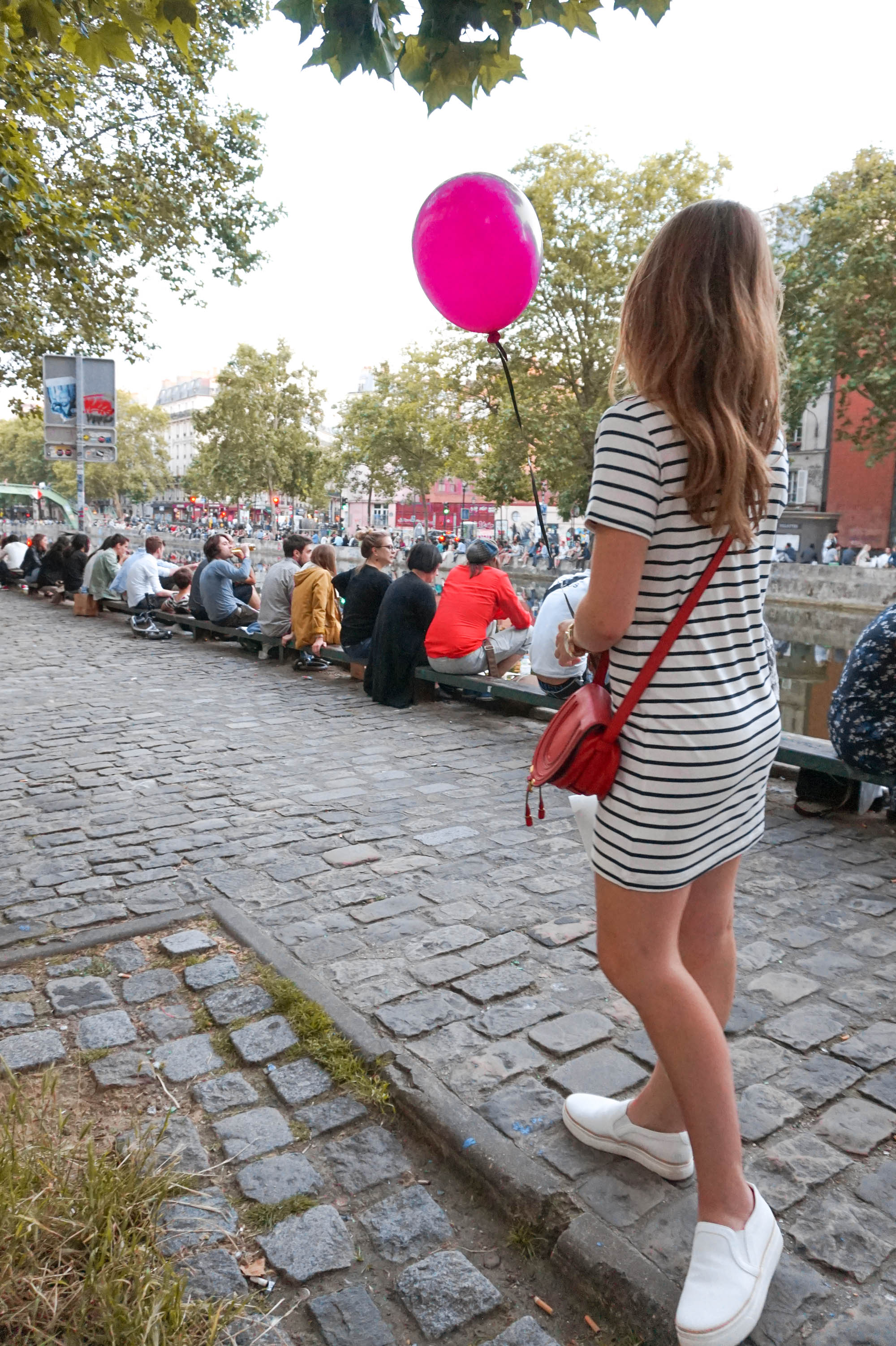 This was one dress I wore on three separate occasions… definitely a staple! Although fitted, this dress proved to be flattering in the right places and soft as a blanket. I wore it for a day of exploring with black platform sandals and a black Chanel cross body, then threw it on with a red Chloé cross body and white sneakers (plus a French flag wrapped around the waist) to watch the Eurocup in!
I am excited to have this to transition into fall with. Think about how cute it would be with a light jacket and booties!

Ok friends. This is one dress I ended up being madly in love with. Why? It is timeless, incredibly comfortable, and far less expensive than it looks at $50! Plus, it has pockets. Game. Changer. I made use of my scarf yet again for a pop of color, and added tan Chanel flats and the cross body from earlier for neutral, light touches. Of all the outfits I brought, I felt this fit most seamlessly into the Paris landscape.

Recognize this dress from yesterday's post? I've had this dress since early spring, and it's one I've gotten so much use out of. You wouldn't guess it from the neckline, but it proved to be perfectly comfortable throughout a full day of exploring!
On my first visit to Paris, I purchased the most amazing pair of Antik Batik pom pom + embellished sandals (there weren't any on the market at that time) and I decided to bring them back to Paris for fun. Not only did they end up being the most comfortable shoe I wore the whole trip, but multiple Parisian women complimented me on them! Cue me trying to keep my cool while squealing on the inside.

This was one dress I didn't get too many pictures of. I pulled it out right after landing my first morning in Paris, and as evidenced by the face I'm making above, I was incredibly jet lagged. I can't tell you how perfect it was for a breezy, sunny afternoon of exploring the city on my own, though. It has pockets and a billowy hemline, giving off that flawless, effortless vibe I'm in love with. I wrote about wearing this around Paris here, where you'll find more images of the dress as well!.

(currently 40% off!)

One of the most magical evenings I spent in Paris was in this embroidered swing dress, which is currently 40% off and available in all sizes! My friend Katie and I, along with her friend Paul, took a bottle of wine to the bank of the Seine river to watch the sunset. Interestingly enough, the sun doesn't go down until 10:30 pm in Paris around this time of year. The soft golden light landing on the beautiful Pont Alexandre III truly felt like a scene from a movie.

There you have it, y'all! I can't recommend easy swing dresses enough while traveling abroad in warm climates. Do you have any European packing tips you've adopted? I'd love to hear!
Don't forget to check back here first thing tomorrow morning! I'll have a video recap of my Paris trip up, along with a complete guide to the Nordstrom Anniversary Sale that goes live to card holders tomorrow morning! If you aren't one, it's SO easy to apply and SO worth it. Head here for the details!
Love from Texas,
Kate
P.S. Shopbop just announced a surprise sale! Take 25% off their designer boutique with the code DESIGNER25. You'll find Michael Kors, Tory Burch, Sam Edelman, Rebecca Minkoff and more!