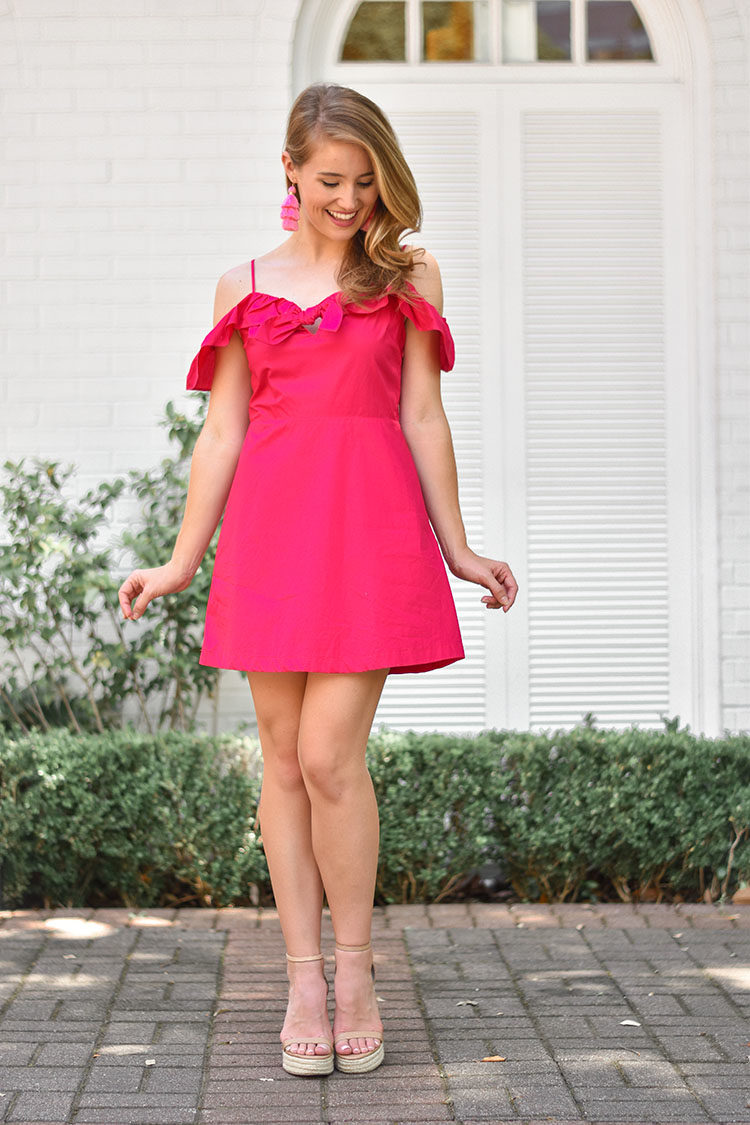 DRESS   pink tie sun dress  (under $100, wearing a size small)  |   EARRINGS   pink tassel earrings (just $20!)   |   SHOES   ankle strap wedges
I always pack up for trips abroad with grand aspirations of fitting in seamlessly with whatever style I'm surrounded by, but one step out of my hotel reminds me that I am very, very Southern. And you know what? I'm very, very ok with that.
Let's put it this way… I was the only girl in Paris wearing pink. I'm writing this 30,000 feet above on my flight home to Dallas, and I'm still laughing to myself about how I will never, ever be able to dress like a true European. I just love color too much! It's hopeless! :)
For our final night in Paris, I decided to wear this lovely little pink number (that's under $100!) from my Impeccable Pig collection. I wore it to the launch party a couple weeks ago, and have been dying for an excuse to don it ever since! It's so light, comfortable and perfectly summery, which also makes it a perfect dress to pack up!
To navigate the walk to dinner, I opted for my Superga platforms instead of these wedges. I don't know what has gotten into me, but I'm loving the spunky edge these sneakers give any look!
I went for classic pearl earrings instead of these fun, pink tassels ($20) and wore one of my favorite monogrammed bags as a true crossbody. (Everyone in Europe seems to wear crossbody bags across, instead of over one shoulder – style tip, taken!)
It was lovely and oh so comfortable for an evening wandering Paris on our final night. I won't lie though… I am so looking forward to some Tex Mex, seeing my family's puppy and climbing into my own bed tonight! See you around here tomorrow, where I'll finally be back in the states!
Love from somewhere wayyy far above you,
Kate
P.S. Don't forget, you can shop my entire Lonestar Southern X Impeccable Pig collection HERE!