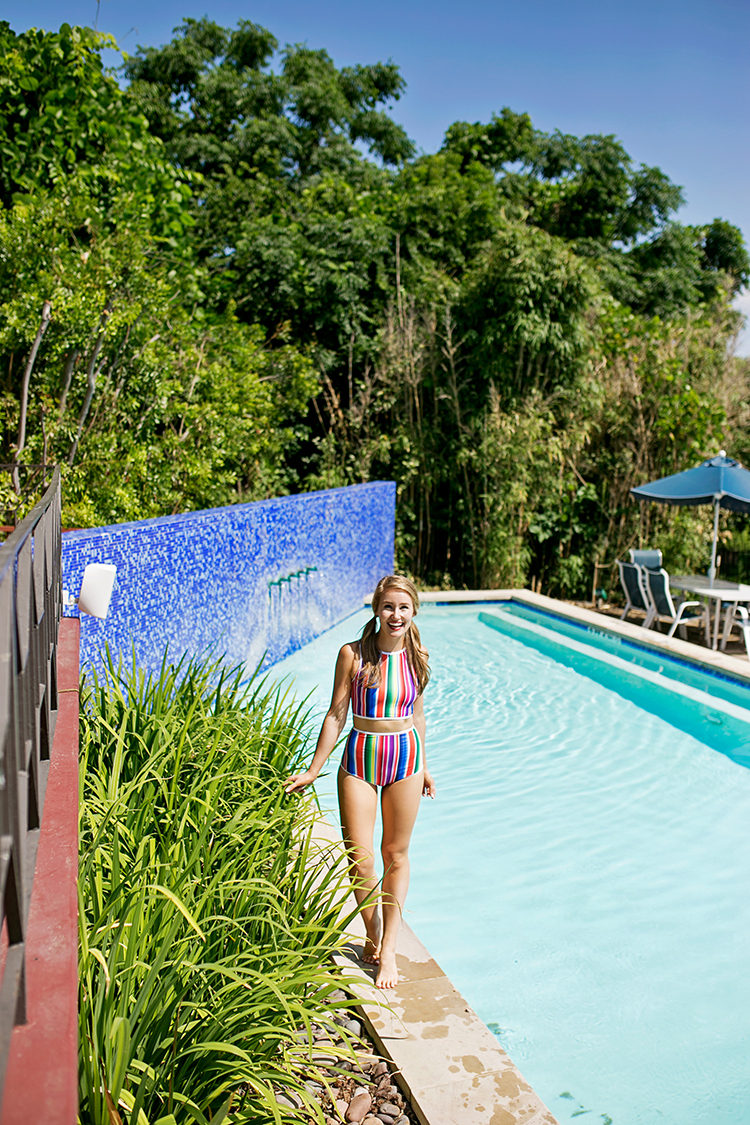 TOP   multi colored strip swim top c/o   |   BOTTOMS   multi colored strip swim bottoms c/o   |   CUP   pineapple cup
Today's post makes me so excited, because it's finally swimsuit season! Memorial Day weekend is just ahead, and weeks of summer sunshine are all in front of us. My family and I took our inaugural summer lake house trip this past weekend, and let me tell you… it made me so excited for the next few months spent out in the sun!
I've found that finding a swimsuit you love and feel confident in is essential to enjoying all that summer has to offer. It can be so easy to get in a swimsuit rut, though, whether that be re-wearing the same tired silhouette over and over or visiting the same store year after year, continually winding up in a style that three of your friends already own.
That's why I'm so excited to be partnering with Modcloth to  introduce you to their swim collection! I just know you're going to love their fresh, fun selection of swimwear as much as I do.
One of my favorite things about Modcloth's swimwear department is how unique the suits are. The selection is incredibly vibrant, and you won't find the same styles there that you see all over the rest of the web!
It's also a great destination for swimwear that's a bit more modest, which I love. Whether it be cute one pieces (like this navy number) or high waisted separates like the one I'm wearing in today's post, there are plenty of options that keep you on-trend without showing too much skin.
I loved wearing this striped two piece on a recent trip to the Belmont Hotel in Oak Cliff. The colorful print fit right in with the gorgeous landscaping (cactuses everywhere) and bright blue pool that has a great view of the Dallas skyline!
I've rounded up some of my favorite Modcloth suits below. (Did I mention they have the best selection of pool floats?) Click here to see the full line!


Love from Texas,
Kate
Photography by Angie Garcia
Thank you, Modcloth, for sponsoring this post!