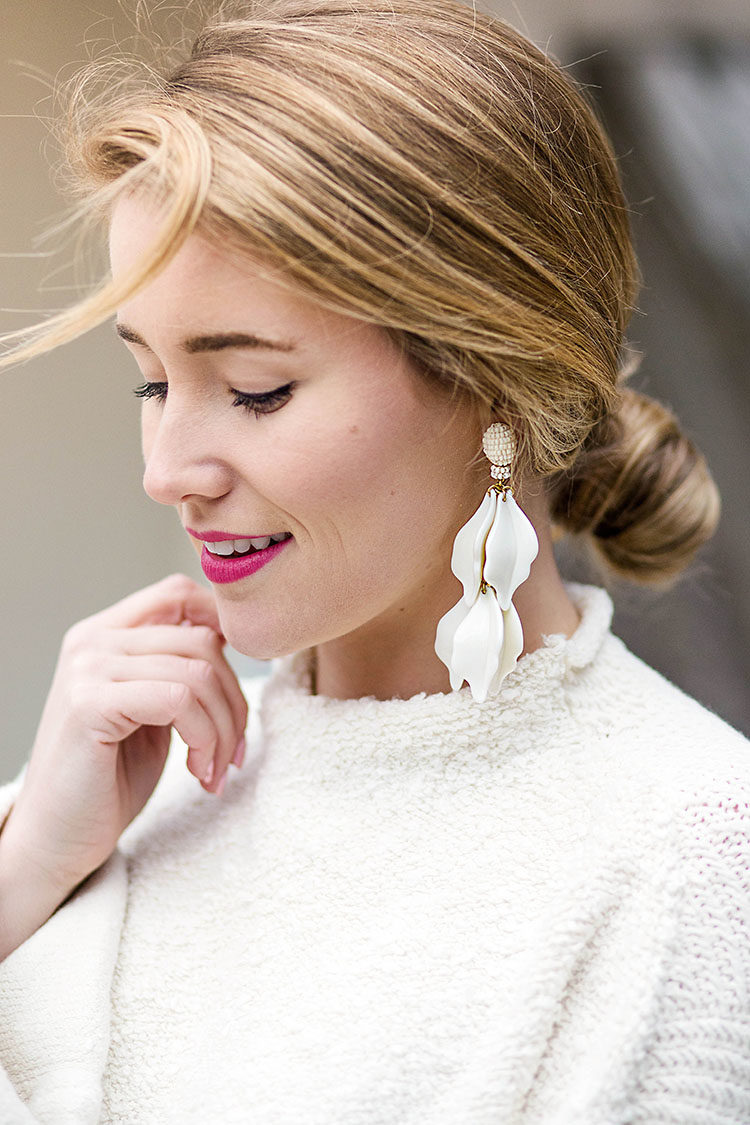 TOP   free people cuddle up pullover (wearing size XS, also available here)   |   CLUTCH   ysl clutch   |   EARRINGS   tuckernuck statement earrings   |   SHOES   daisie pointy-toe pumps   |   JEANS   rag & bone jeans
I'm going to be honest… I've never really loved sweaters, y'all. Since I'm drawn to bright colors and flattering, feminine silhouettes, the same colors and shapes that sweaters always seem to come in bore me pretty quickly.
That's why during the cold, winter months when sweaters are my best (and most practical) option, I'm always on the lookout for those pieces that are a little different. Whether it's the cut, the texture or the hue, little details that differentiate are my favorite.
So when I stumbled across this gorgeous top, I added it to my cart right away! Even though it's incredibly roomy (and therefore incredibly cozy) this sweater manages to also be flattering. From the mock neck to the way it lays across the shoulders to the flared sleeves, it has a polished-yet-effortless feel to it that automatically catches your eye.
I also love it's versatility! I cringe at the thought of paying more than $50 for a top, but if it's a beautiful, classic piece I'll get tons of wear out of, that makes all the difference. This sweater arrived at my doorstep last week, and I've already worn it to dinner with friends, to church, and for a day of errands!
Safe to say, it's one of my favorite purchases of the new year. I'm wearing a size XS, and you can find it here and here!
Love from Texas,
Kate