I have been compensated by QVC for my participation. All opinions expressed are my own.
Oh boy oh boy, am I excited about today's post! Why, might you ask? For the past couple of weeks, my mama and I have been testing out the Elemis pro-definition 3-piece skincare set. Today, we are thrilled to finally share our experience with you in collaboration with QVC! Below, you'll learn how we use these products and our thoughts on the effectiveness of this skincare system. (Spoiler alert, we're in love!) Let's go ahead and get started.
To begin with, let's take a second to clarify what exactly this Elemis pro-definition skincare set does. In a nutshell, it claims to "help improve the appearance of skin texture"  with a daily moisturizer, cleansing oil and night cream that all work together to give the look of smoother, more hydrated skin.
Who wouldn't want that? The promises (and reviews!) all sounded great, but I was especially interested to see how this skincare system worked on the different skin types of my mother and I. Would we both see similar results?
After a couple of weeks of daily and nightly application, I was surprised and so excited to discover that we both loved the results we were seeing! Not only did my mom and I individually enjoy the feel of these products, we both agreed that our skin appeared more luminescent and hydrated after each use. In fact, when we decided to splurge on a girls-only staycation at the Ritz Carlton last week, we laughed about this being the first trip we didn't try to steal the other's beauty products on. We both had our Elemis sets packed up and ready to go.
Before I get ahead of myself, let's walk through a small tutorial on how to use these products, and what we love about each one!
To Use: Apply a pea-sized amount to your fingertips, and rub gently to warm up the product. Then, smooth evenly over your face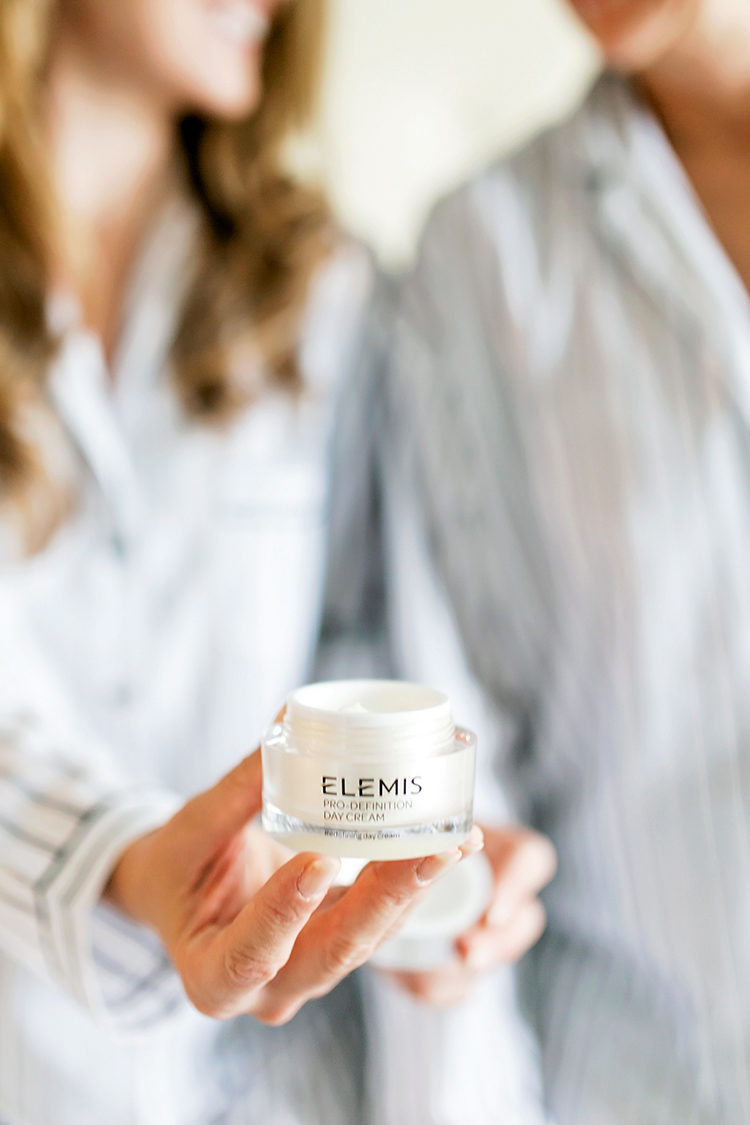 To start off on a completely honest note, my mom was hesitant to try this regime. As one with sensitive skin, she's endured horror story after horror story of investing in highly promising products only to have them result in full-blown breakouts. As you can see in the images above,  however, she was so excited to finally find a product that worked with her skin, from application to removal!
This pro-definition day cream glides on beautifully, and you immediately begin to notice its effect upon application… your skin looks bright, and luminous! I especially loved how even after makeup application (we're talking primer, foundation, the whole nine yards…) my skin still looked radiant. This non-greasy, luscious goodness has become my favorite start to the day.
Nourishing Omega-Rich Cleansing Oil
To Use: Massage a nickel sized amount of cleansing oil across your face. Then, add warm water to your fingertips and work in a circular motion to create a milky lather. Finally, rinse.
The concept of a "cleansing oil" was new to me, and I was almost disbelieving that this little concoction could wipe away a full day's worth of wear and tear. But friends, it did and does, and with the most heavenly, citrus scent you can imagine!
Before trying this regime, I would turn to your generic drugstore makeup remover towelettes to remove anything I'd worn that day. But the harsh stinging sensation always made me feel like I was doing more harm than good to my skin. That's why I adore this cleansing oil. Instead of a stripping sensation, applying this oil feels relaxing, and most importantly, nourishing. My mom and I both loved how it makes your skin feel replenished, as opposed to depleted, after a long day.
To Use: After cleansing your skin with the Elemis cleansing oil, rub a pea-sized amount of the night cream between your fingertips and gently spread all over your face.
If there's one skin care item I love, it's a good night cream, and this pro-definition formula by Elemis is one of the best I've tried. Both my mom and I particularly appreciate that this doesn't feel greasy at all, rather, it absorbs beautifully and leaves a soft, dewy look. Waking up after this night cream has soaked in all night, my skin feels hydrated and so smooth!
Final Thoughts
It's safe to say that after testing out this product, my mom and I are both huge fans. I love that it felt nourishing and replenishing on my skin, and worked just as beautifully on her more mature skin. I think my favorite part about this Elemis pro-definition skin care set, though, is how it works together so cohesively. Rather than mixing and matching different moisturizers and cleansers, it's so nice knowing that the ingredients in each of these steps work together from day to night to leave you with the look of softer, younger-looking skin.
I'm not the only one who thinks so! Check out some incredible reviews at the bottom of this page, and let me know if you've tried these products yourself!
Love from Texas,
Kate
Thank you, QVC, for sponsoring this post.
Photography by Angie Garcia