Oh the wonders of a summer scarf. As I learned in Paris, there's nothing quite so chic as the statement one makes… yes, even in the heat! Today, I am thrilled to be debuting this beauty by Draper James, Reese Witherspoon's clothing line. Speaking as a girl who adores color and classic pieces inspired by the south (oh, and Reese of course) it was a head-over-heels, love-at-first-sight kinda thing. Know what I mean?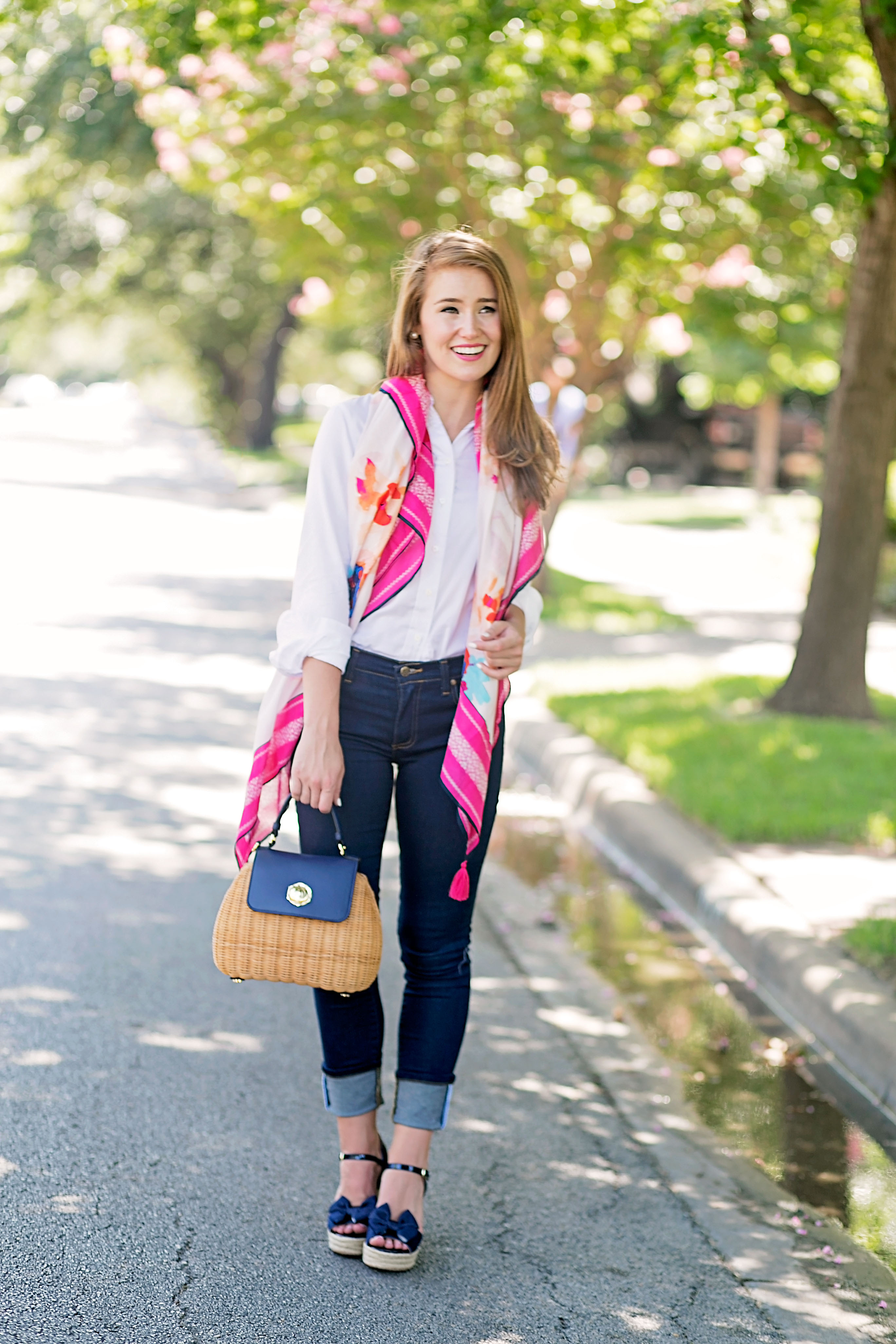 SCARF   printed lightweight tassel scarf   |   TOP   elliot down shirt   |   JEANS   tootsie jean   |   BAG   overlook straw bag   |   SHOES   navy bow wedges (on sale!)
The beauty of this scarf is that it's lightweight enough to wear during the high temperatures of summer. Draped loosely around your neck, it adds a bold impact to a sophisticated ensemble without inducing even the smallest of heat strokes. And the good news is that there is more than just one way to style it! Try tying it around your favorite purse or tote for an elegant pop of color. Multiple outfits from one piece? Yes please!
And can we talk about the gorgeous, vibrant floral print? As if that weren't enough, the pink tassel detail on each of the corners takes it to a new level altogether. But wait, there's more… it's currently on sale for $39! Since this scarf is incredibly generous in size, I'll be packing it up on my family beach trip next week and tying it up as a sarong swim suit cover.
I am so thrilled to be working with Draper James, as it's a line I've admired from the very start. I know you'll love it, packed to the brim with southern charm as it is, just as much as I do! Be sure to check their blog later today for a fun little interview I did with the team, and head back next week for another darling Draper James look!
Love from Texas,
Kate
Photography by Angie Garcia